Brad Paisley Reveals New Album's Title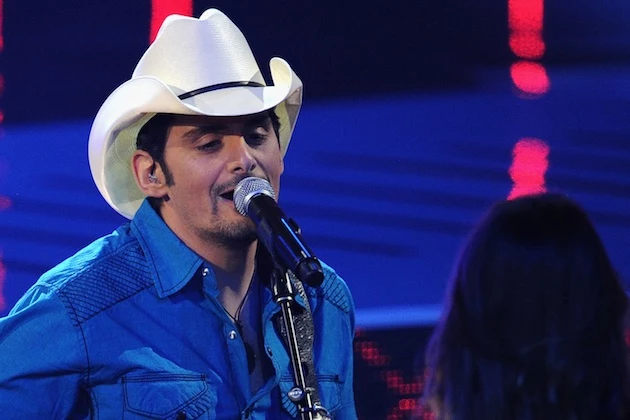 Brad Paisley has kept mum about many details for his forthcoming studio album, but he's finally dished the album's title, and it's not 'Thoughts From a Bumpkin.'
The record will be titled 'Moonshine in the Trunk,' and it's a reflection of how this project came together: with a bar in the studio house and a fun atmosphere. "At certain times, your career should be a party," Paisley tells Billboard. "It was a lot of fun this time. We built a bar in our studio house, and it was kind of a 'if you build it, the band will come' approach."
'Moonshine' interestingly combines EDM and dubstep with classic country, and it's possible that no one is more excited about this new sound than Paisley. "When you hear a banjo through stutter edit, it's the coolest thing you ever heard," he says. "I have a song that's a basic love song, it's got a great groove, and I cut this guitar part that gets distorted when I turn the nob up."
Adds the singer, "The rulebook's gone, or was there ever one? They try, but I don't play by it."
In fact, even though Paisley has found much success with 22 No. 1 singles, three Grammys, and 14 ACM Awards, he's not focused on that in his music. 'River Bank' is a prime example; he sings about buying lottery tickets in order to afford a six-pack of beer, inspired by the country star's roots in rural West Virginia.
"If you were to hold me to a standard of, 'What are you doing, singing about a scratch-off ticket at your level of success?' then my music's gonna be ridiculous," he admits.
Paisley's upcoming album streets Aug. 26 and holds some of his best songs ever, according to the singer.
Source:
Brad Paisley Reveals New Album's Title