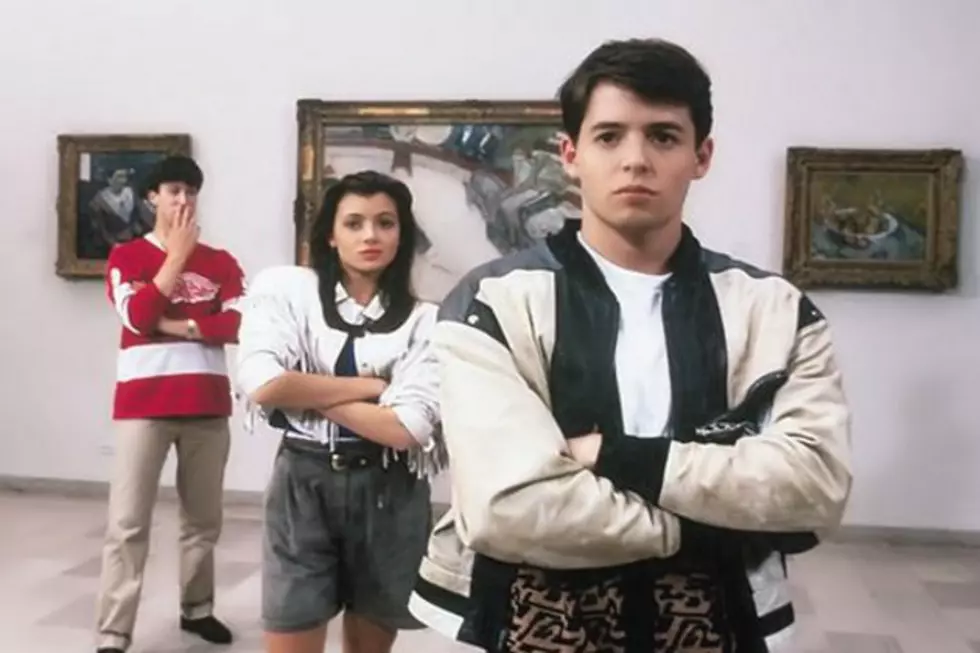 See the Cast of 'Ferris Bueller's Day Off' Then and Now
Paramount
Of all the movies on late writer/director John Hughes' impressive resume, it seems that his 1986 comedy hit 'Ferris Bueller's Day Off' has the most staying power.
Ferris, played Matthew Broderick, actually made his return in a 2012 Super Bowl Commercial, and over the past few years there has been quite a bit of debate over whether the high school senior who played hooky is a proper film hero or a self-indulgent, over-privileged jerk.
See what Broderick and the rest of the cast of 'Ferris Bueller's Day Off' are up to now below.
Matthew Broderick, Ferris Bueller

Then: Tapping deep into his reservoir of smarmy charm, Matthew Broderick was the title character in 'Ferris Bueller's Day Off.' Already a well-known actor who had played leading roles in 'WarGames' and 'Ladyhawke,' Broderick went onto star in films like 'Glory' and 'The Freshman.'

Now: The two-time Tony Award winner has long been as big of a star on the stage as he is on screen, and he currently leads the Broadway musical 'Nice Work If You Can Get It.' In 2012, Broderick guested on '30 Rock' and 'Modern Family.' The 51-year old has been married to actress Sarah Jessica Parker since 1997.

Paramount/Mike Coppola, Getty Images

Paramount/Mike Coppola, Getty Images

Then: One of the pleasures of viewing 'Ferris Bueller's Day Off' is watching Cameron (Alan Ruck) go from tightly wound to "berserk." Thanks to his baby face, Ruck was able to play the teenage character even though he turned 30 shortly after the movie's release. Ruck made his film debut in the 1983 Sean Penn film 'Bad Boys.'

Now: Like Broderick, Ruck is also an accomplished stage actor. He's also been a regular presence on TV -- most prominently as Stuart Bondek on 'Spin City' and most recently as Hubble Flowers on 'Bunheads.'

Paramount/Alberto E. Rodriguez, Getty Images

Paramount/Alberto E. Rodriguez, Getty Images

Mia Sara, Sloane Peterson

Then: Having just made her acting debut opposite Tom Cruise in 'Legend,' Mia Sara snagged her signature role as Ferris' girlfriend Sloane. She also starred in the 1994 Jean Claude Van Damme flick 'Timecop.'

Now: Sara's last credit had her playing Princess Langwirde in the 2011 miniseries 'The Witches of Oz,' which was later released as a feature film. In 2010, she married puppeteer Brian Henson, son of 'Muppets' creator Jim Henson.

Paramount/Frederick M. Brown, Getty Images

Paramount/Frederick M. Brown, Getty Images

Then: In 'Ferris Bueller's Day Off,' things go quite poorly for Principal Ed Rooney, who was played to perfection by Jeffrey Jones. Jones had been known for his roles in 'Amadeus' and 'Easy Money' and went on to movies like 'Beetlejuice' and 'The Hunt For Red October.'

Now: Jones last big role was as A.W Merrick in the western 'Deadwood,' which ran between 2004 and 2006. In 2012 he had a very small role in the HBO movie 'Hemingway & Gellhorn.' The past decade has been a scandal plagued one for Jones to say the least.

Paramount/Frederick M. Brown, Getty Images

Paramount/Frederick M. Brown, Getty Images

Jennifer Grey, Jeanie Bueller

Then: If playing Ferris' jealous sister Jeanie wasn't enough for '80s immortality, Grey even more famously starred as Baby Houseman in 'Dirty Dancing.' And to top it all off the daughter of Broadway legend Joel Grey was also in the Cold War classic 'Red Dawn.'

Now: An appearance altering nose job may have set back Grey's career but it certainly didn't affect Baby's dancing skills --- in 2010 Grey took top prize on 'Dancing With The Stars.'

Paramount/Frazer Harrison, Getty Images

Paramount/Frazer Harrison, Getty Images

Cindy Pickett, Katie Bueller

Then: Sporting perhaps the finest mom mullet ever seen on screen, Cindy Pickett was Katie Bueller in 'Ferris Bueller's Day Off.' During that time period she was also playing Dr. Carol Novino on 'St. Elsewhere.'

Now: Pickett was recently on an episode of 'The Client List.' She will be in the upcoming movie 'A Chance Of Rain.'

Paramount/Michael Buckner, Getty Images

Paramount/Michael Buckner, Getty Images

Then: Lyman Ward was Ferris' (too) trusting dad Tom. A few years later he almost become another prominent pop cultural pop -- Ward was cast as Jim Walsh for the pilot of 'Beverly Hills 90210,' but was replaced by James Eckhouse when the show was picked up.

Now: Ward's last movie was 2010's 'Privileged.' Between 1986 and 1992 he was married to Cindy Pickett, with whom he has two children. Yes, the actors who played Ferris' parents got married after meeting on the set. Perhaps they bonded over their difficult fictional son.

Then: You surely remember Edie McClurg's Grace character, a secretary in the principal's office who has an uncanny grasp on all her school's social cliques. During that time period she was also starring as Mrs. Poole on 'Valerie'/'The Hogan Family.'

Now: McClurg continues to put her signature upper-midwestern accent to use both in traditional roles and as a voice actress. You've recently heard her in the animated movie 'Wreck-it Ralph' and seen her on an episode of 'Desperate Housewives.'

Paramount/David Livingston, Getty Images

Paramount/David Livingston, Getty Images

Charlie Sheen, Boy in Police Station

Then: We were first introduced to Charlie Sheen's now famous bad-boy philosopher schtick during his memorable single scene in 'Ferris Bueller's Day Off.' 1986 proved to be big year all around for Sheen, as he also starred in 'Lucas' and 'Platoon.'

Now: While his lucrative run on 'Two And Half Men' ended in a spectacular media-covered meltdown, Sheen has picked up the pieces and now stars on the FX series 'Anger Management.' The son of Martin Sheen and brother of Emilio Estevez also recently played the title character in the movie 'A Glimpse Inside The Mind Of Charles Swan III.'

Paramount/Theo Wargo, Getty Images

Paramount/Theo Wargo, Getty Images

Ben Stein, Economics Teacher

Then: Ben Stein has been a presidential speechwriter, a bestselling author and an Emmy-award winning game show host ('Win Ben Stein's Money') but is probably best known for the infamous repetitive line ("Bueller... Bueller... Bueller") he deadpanned as the economics teacher in 'Ferris Bueller's Day Off.'

Now: Stein is rumored to part of the cast of the upcoming movie 'The Engagement Ring.' He's also a television regular, on late night talk shows like 'The Late, Late Show With Craig Ferguson' and on politically-oriented gabfests like 'The O'Reilly Factor.'

Paramount/Jerod Harris, Getty Images

Paramount/Jerod Harris, Getty Images