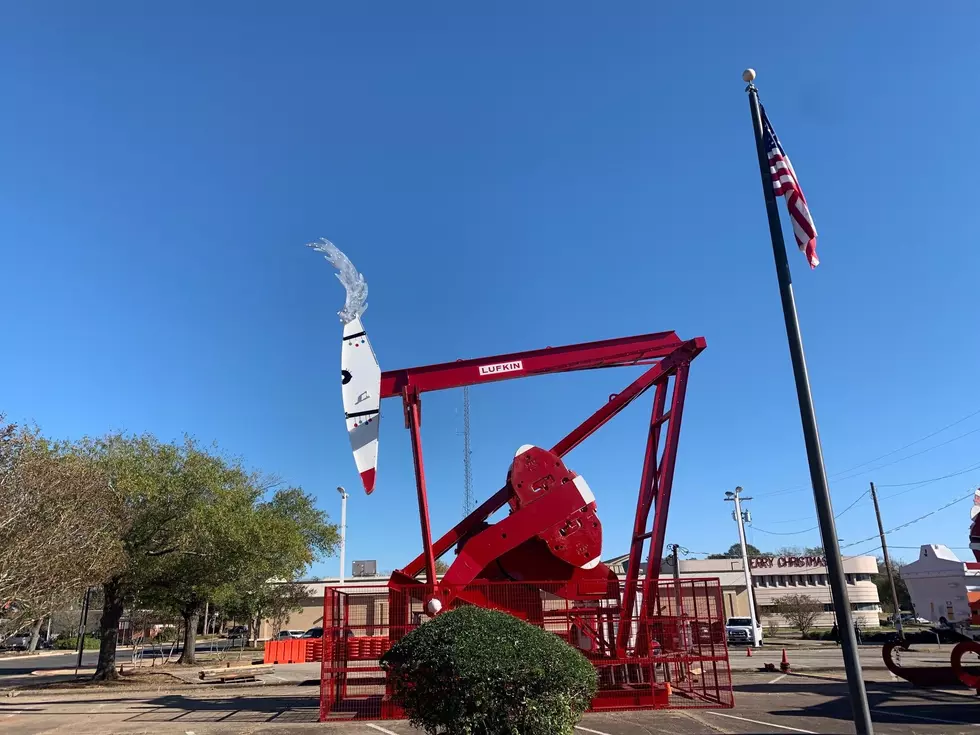 Get This Swag To Wear To The Lighting of Rudolph In Lufkin, Texas
Dan Patrick TSM
Visit Lufkin has now set a date for the lighting of Rudolph The Red Nose Pumping Unit. The City of Lufkin is making a full day of festivities leading up to the big moment.
Vendors will be lining the downtown streets for the event that starts at 2 pm on December 3, 2022. It's being billed as a shopping extravaganza, and they have also made plans for all your favorite local area food trucks to attend.
Starting at 2 pm there will also be live entertainment on the main stage from local groups. Santa Claus will make an appearance early starting at 2:30 pm inside the Pines theater for complimentary photos from Texas Size Selfie.
When Is The Lighting Of Rudolph The Red Nose Pumping Unit?
All of these festivities are leading up to the lighting of Rudolph. The main event and the biggest reason that we all go downtown is to see him all lit up and set into motion ushering in the holiday season in Lufkin.
At 5:30 pm Lufkin Industries will be honoring this long-standing Lufkin tradition of lighting Rudolph The Red Nose Pumping Unit. Brookshire Brothers will be there to provide milk and cookies.
Once Rudolph is lit, the celebration will continue with entertainment from the Pineywoods Jamboree presented by Hughes Entertainment until 8 pm.
Wear This Swag To The Celebration At The Lighting Of Rudolph In Lufkin, Texas
If you want to really be styling at the event then you must get some Lufkin Rudolph apparel. This site has long and short sleeve t-shirts for adults and youth.
I like the black design with the pumping unit prominently featured on the back. They also have a coffee mug and Christmas ornament to complete the 56th anniversary gear you need for the holidays.
Place your orders on or before Friday, October 21st, 2022 to get yours in time for the celebration. They will be constructing Rudolph soon. Take a look at how it all starts in the gallery below.
Rudolph The Red Nose Pumping Unit Gets Lights
Workers have erected Rudolph The Red Nose Pumping Unit in downtown Lufkin. Now they are putting on the lights.
Zoo Boo - A Look Back At The Ellen Trout Zoo in Lufkin, Texas
See if you can find a younger version of yourself at the Zoo Boo in these photos.
The Most Charming Historic Home In Lufkin On Airbnb
If you are looking for a unique getaway close to home this one is within walking distance of downtown Lufkin.
Brookhollow Mid Centry Modern Masterpiece In Lufkin, Texas
There are so many interesting features in this home. There are many things you may have never seen before. Like a toilet right next to the shower doors, yet it works.