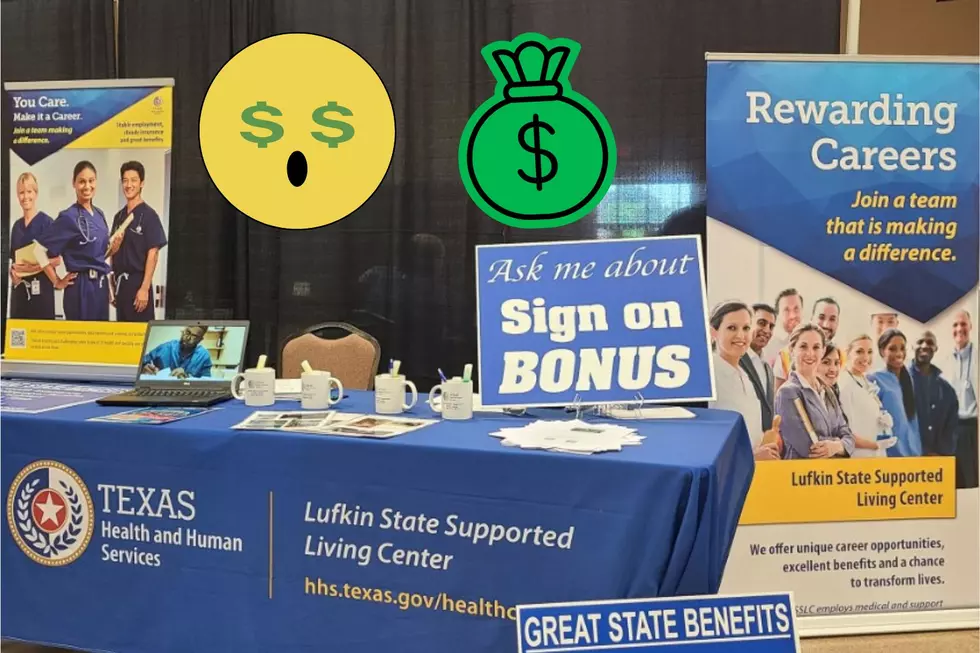 Job Fair in Lufkin Features Starting Pay for Nurses at $90,000+
LSSLC FB Page
💖 Lufkin State Supported Living Center is hosting a job fair on Thursday
💖 They are offering unprecedented salaries for many positions
💖 As an example, RN's starting pay is over $58K
---
This is not the type of day where you would rather stay indoors and not brave the nasty, cold weather we have going on right now. However, there is a job fair going on today that is featuring salaries that have never been offered before.
The Lufkin State Supported Living Center (LSSLC) is hosting this job fair that begins at 10 this morning and continues until the last applicant walks through the doors.  The event is taking place at Workforce Solutions, which is located behind the new Chick Fil A on the west loop in Lufkin.
Over the past few years, representatives from LSSLC have joined me on the Merrell in the Morning show to promote upcoming job fairs.  The main point that they usually drive home is the great and rewarding career that they offer along with the outstanding state benefits.
Unprecedented Salaries
When they spoke on my show this week, the main focus was on the unprecedented salaries that are now being offered. Take a look at these starting salaries!
RN's - $90,393 per year
LVN's - $58,399 per year
Direct Care Professionals (no experience necessary) - Up to $3504 per month
Keep in mind that all these offers come with paid training, overtime opportunities, and those full state benefits that are tough to beat.
Want to Know More About LSSLC?
You may have never worked in the setting or environment of a state-supported living center. Two major requirements are that you have a willingness to work and a loving and caring heart.
If you would like more details about the facility or the job fair, click here.
Brave the Weather
It's cold, rainy, and just downright yucky today. But, a trip to the Lufkin State Supported Living Center's job fair at Workforce Solutions could embark you on a rewarding life-long career. So, don't let this opportunity pass you by.
By the way, sunshine and warmer temperatures should return tomorrow and for the weekend.
Dr. George Fidone's Artwork
Dr. George Fidone is a very popular pediatrician in East Texas. Recently, he discovered he also has quite a talent for painting. Here are some of his wonderful paintings.
Goodwill in East Texas Will Not Accept These 24 Donations
Goodwill is a great place to donate some items you don't need anymore. However, there are things that they will not accept.