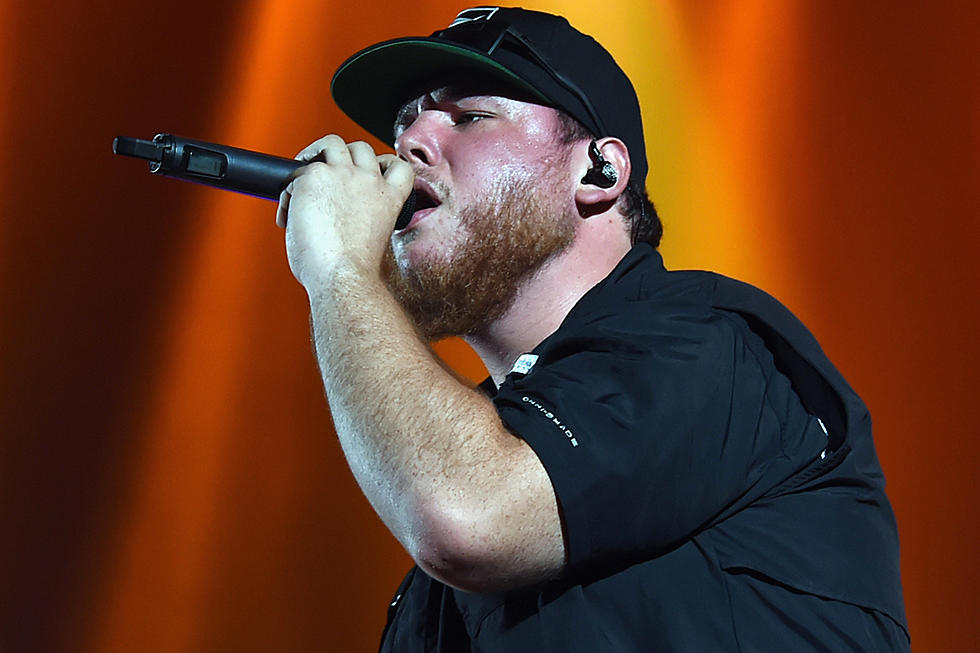 Lyrics Uncovered: Luke Combs, 'When It Rains It Pours'
Rick Diamond, Getty Images
The irony of writing a breakup song that ultimately paid for his fiancee's engagement ring isn't lost on the "When It Rains It Pours" lyrics co-writer, Jordan Walker of duo Walker McGuire.
The story of how Luke Combs' chart-topping second single off his debut album This One's for You came together is something you would expect of a country song: it involved a six-pack of beer, three writers and their guitars and post-breakup feelings. What started as three guys meeting for a beer at a bar in Nashville turned into a writing session that would score Combs a huge hit. Walker co-wrote the track with Combs and Ray Fulcher.
"They come up, we start talking, we're having a couple beers and Luke goes, 'Well I like your music, the Walker McGuire music that I've heard," Walker explained to Taste of Country during a recent visit to St. Jude Children's Hospital for the Country Cares event. "And he was like, 'I'd love to write with you one day if we could.' So we left the bar right then and went to my house, pulled out a couple guitars and a six pack and started writing."
The timing couldn't have been more right, as Combs entered the writing session fresh off a breakup, and the mood inspired the "When It Rains It Pours" lyrics. The idea for the song came from Walker, who couldn't help but notice that much of Combs' attention was pointed at his ex-girlfriend.
"The idea kind of fell out, but the whole time we were writing the first verse, he was texting his ex-girlfriend and I just kept going, 'Dude should we just not write and just got back to the bar?' Like I know how this goes, and he's like, 'No, we're going to write a song,'" Walker recalls. "And then it hit me — I was like, 'We should write a song about her,' and he was like, 'No, no, no that'll make her so mad.'"
"And then it clicked, he was like, 'Wow dude, we should write a song just to make her mad,'" he continues, laughing.
"Sunday morning, man, she woke up fighting mad / Bitching and moaning on and on 'bout the time I had / And by Tuesday, you could say that girl was good as gone," Combs sings in the opening lyrics of "When It Rains It Pours."
Much like the not-so-broken-hearted lead character in the song, Walker found himself experiencing good fortune from the song's success. "When It Rains It Pours" topped both the Billboard Hot Country Songs and Country Airplay charts and has been certified gold, impacting Walker's life in a meaningful way — more than just "a hundred bucks on a scratch off ticket."
"It's been a huge game changer," he says. "It's definitely changed my life and anything that happens musically with either one of us outside the band, is going to help us."
Walker proposed to his fiancée, Annie, over Thanksgiving weekend 2017, using the money he earned from the track to buy the ring. He laughs now at the irony of a breakup song helping to pay for one of the most important purchases in his life.
"It's funny, my future mother-in-law, ironically enough, she called Annie the day she heard the song, she goes, 'Hey I got a question: What is this about ex-future-mother-in-law?' And Annie was like, 'Mom, that's not about you, they wrote that three years ago.'"
"But now it's funny because every time I talk to my mother-in-law I'm like, 'You inspired this song,' it's really funny," he adds. "It is funny how a breakup song bought an engagement ring. Oh, the irony."
"When It Rains It Pours" is the crowning glory for Combs, but was just as significant for Walker. Walker McGuire include the hit song in their live show and always getting a lively response from the crowd. Each time they perform, it's a full circle moment, putting Walker right back in that seat at his house with his guitar, not realizing the breakup song with a unique twist would become such a career milestone.
"He told me it was going to go on the record and I was stoked," he remembers. "Then he called me when 'Hurricane' just went No. 1. He goes, 'Hey, I think it's the next single' and I drank myself half to death that night celebrating."
Luke Combs, Wait! We Have One Last Question!