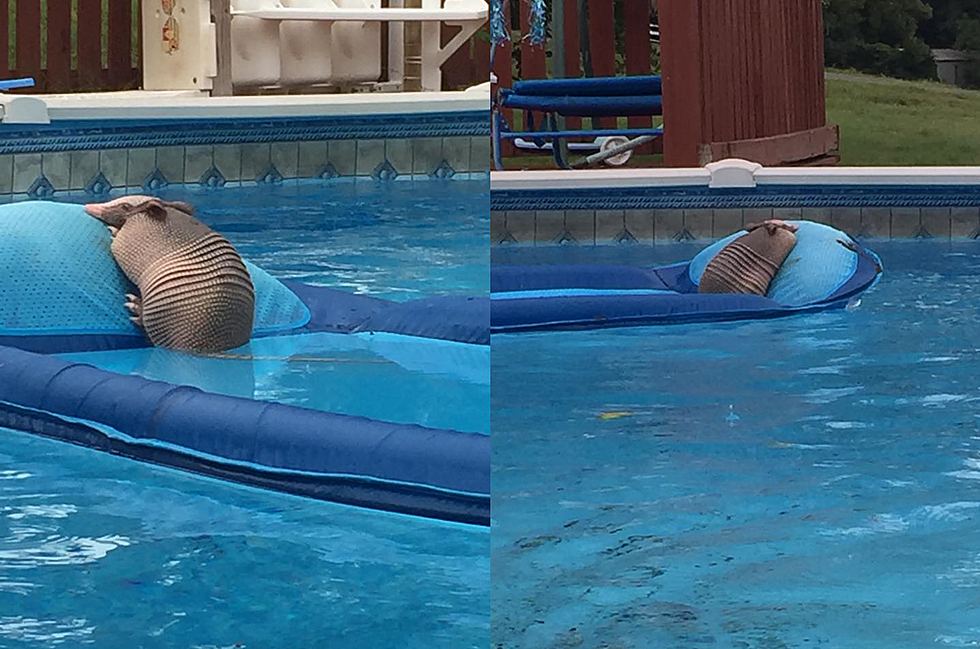 Only in East Texas: Armadillo Catches Rays in Nacogdoches Pool
Photos courtesy of Kristy West/Tammy Anderson
There's nothing strange about seeing an armadillo in East Texas.  Most times, they're on the road, not moving much...well, not moving at all.  Judging by years of experience of observing nature's little tanks, armadillos do two things well:  they dig and they become permanent fixtures in asphalt.  Well now, add cooling down and catching rays on a pool float to that list.
It was Sunday, and all Tammy Anderson of Nacogdoches had intended to do that afternoon was to go check on her sister-in-law's house and dog, Dolly.  Kristy West had taken some of the family to Galveston for an extended weekend getaway, and she asked Tammy to make sure all was okay at her house in the northern part of Nacogdoches County.
At first glance, nothing looked out of the ordinary.  Then, from a distance, Tammy saw a dark object near the above ground pool.  As she got closer, it became clearer that this object was on top of a pool float...floating in the pool.  A few more steps and it became very clear what it was, but it was very puzzling how it got there.
It was an armadillo.  Hang on...that deserves all caps.
IT WAS AN ARMADILLO...RELAXING ON A FLOAT IN THE POOL!!
The only other thing that would have made this more Texas was if the armadillo had a bottle of Lone Star beer beside him (for those that remember that advertising campaign)
Tammy had a hard time believing what she was seeing so she had her mom take a look as well.  In fact, it was her mom that videotaped the event, which is linked below.  As you can tell, the armadillo was in no hurry to leave the pool, and Tammy wouldn't be surprised to see the critter show up at the pool again...or digging in a pasture...or motionless on a road.
You can just never tell with armadillos.