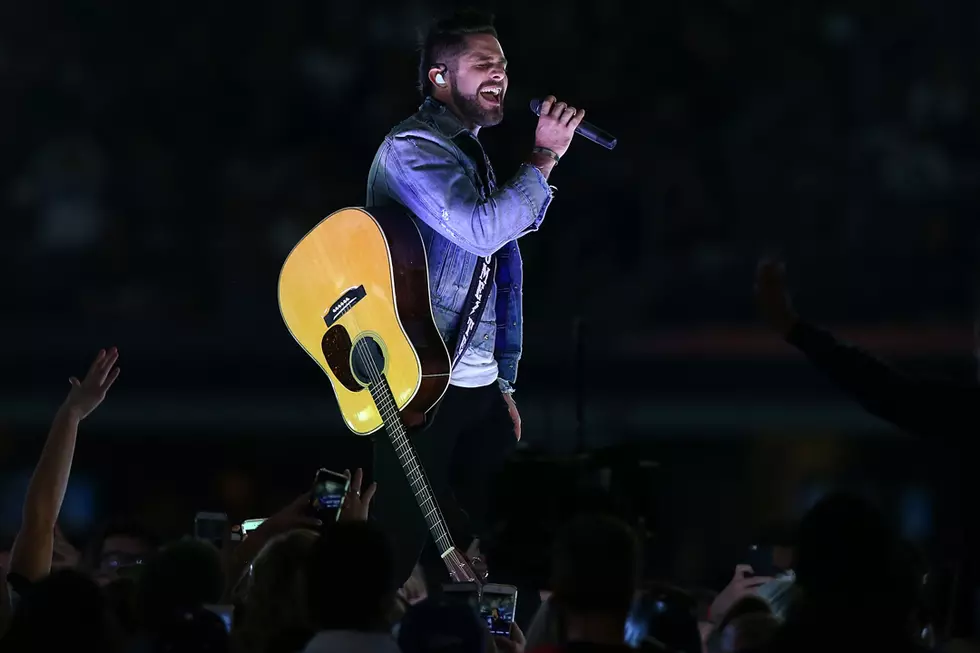 Thomas Rhett Finds Magic With 'Craving You' and 'Unforgettable'
Tom Pennington, Getty Images
At a party celebrating his back-to-back No. 1 hits, Rhett revealed that he was scheduled to be in the room the day "Craving You" was written by Julian Bunetta and Dave Barnes, but had to cancel due to illness. Had he been there for the session, the song may have taken on a whole new meaning.
"All songs are written how they're supposed to be written," he tells Taste of Country and other media. "If I had been in the room, we might've written 'Craving Her,' it might have not been 'Craving You.'"
Though the song ended up being a big hit for Rhett as the first single off his highly anticipated Life Changes album, he wasn't sold on it when he first listened. It took some persistence from Bunetta to show him what the song was capable of for his career. Rhett listened to the track on repeat in the car, at the gym and even before falling asleep. Coupled with star support from Maren Morris (supporting vocals), "Craving You" has become one of Rhett's most dynamic singles.
"When I first heard the song, I liked it, but I don't think I thought I was going to record it," he recalls. "Sometimes when I hear songs I'm like, 'Well, I didn't write it, so I can't fully attach myself to it.' But Julian was super persistent."
Bunetta viewed "Craving You" like filling a hole in Rhett's catalog. After watching and listening to Rhett cut many of the tracks off Life Changes, he thought the song was something different for the country star that he could effectively pull off.  "We also took a little bit more of a non-traditonal Nashville approach and didn't start from a title or a concept or an idea, it was more of a tempo and chord change place," Bunetta explains of trying to match the emotion with the melody.
"We were going for a certain type of song that would give you a certain type of feeling as opposed to an idea first." I thought it was really cool, different, fun, uptempo for me to come with on the first single of the third record," Rhett says.
Thomas Rhett's "Craving You" Is Emotional
Similar magic was in the air during a 2AM writing session with Ashley Gorley, Shane McAnally and Jesse Frasure, when "Unforgettable" was written. The song was actually penned at the same time as "Marry Me," Rhett's emotional single that's currently climbing its way to the top. Gorley started with the chord progression and Rhett came in with the melody, which led to the hook: "Girl, that night was just like you / Unforgettable."
"From that point, we just decided to tell a very colorful, unique story that a lot of people think is mine, but actually it's not, it's made up," Rhett says.
"On those two in particular, we really felt like the marriage of the two worked really well," Gorley says, speaking of the lyrics and melody in "Unforgettable" and "Marry Me." "It kind of stood the test of time."
10 Pics That Prove Thomas + Lauren Are a Match Made in Heaven