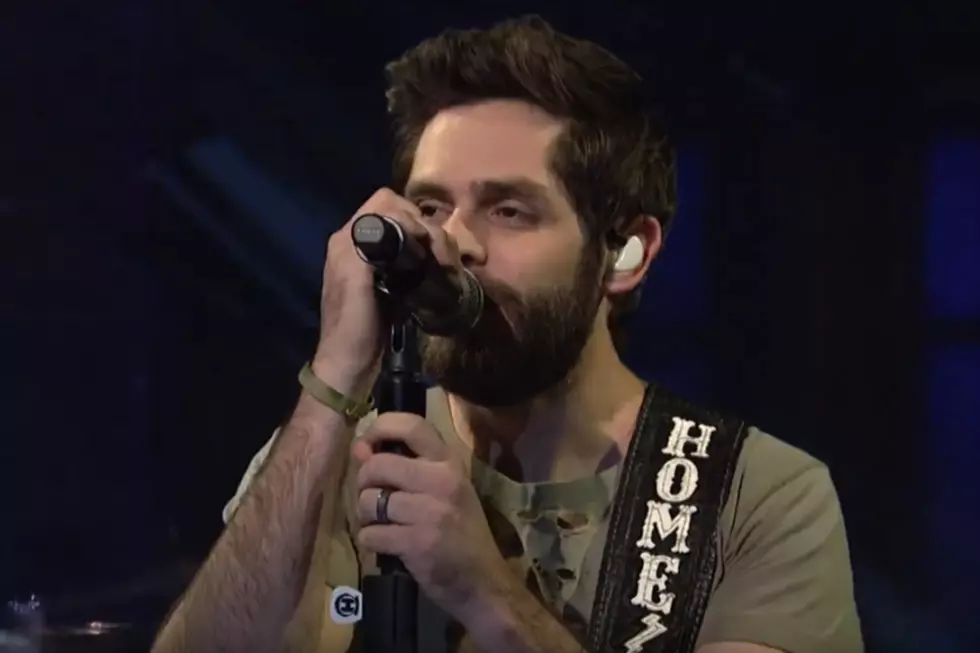 Watch Thomas Rhett Perform 'Look What God Gave Her' on 'Saturday Night Live'
YouTube
Thomas Rhett hit the stage on Saturday Night Live on Saturday night (March 2) for his debut performance of his new single, "Look What God Gave Her."
Rhett was introduced by SNL's host for the evening John Mulaney. Wearing his signature "Home Team" guitar strap, Rhett performed the single to an enthusiastic in-studio audience.
Like many of his best songs, "Look What God Gave Her" is a lyrical ode to Rhett's wife, Lauren.
"Look what God gave her / How perfect he made her / She walks in the room it's like he answered my prayers / The way that she moves / How could anybody blame her / I know she's got haters / But it ain't her fault / No / Look what God gave her / Oh oh," Rhett sings in the chorus.
"''Look What God Gave Her' to me is a song about my beautiful wife, inside and out," Rhett says. "How amazing she is, how funny she is, how caring, how much of a great mom she is.  And I think you can dance to it, I think you're gonna love it."
The catchy song marks the first single from Rhett's upcoming fourth studio album, Center Point Road, which is set for release on May 31.
Rhett also debuted another new song titled "Don't Threaten Me With a Good Time" during the broadcast Saturday night.
10 Pics That Prove Thomas + Lauren Are a Match Made in Heaven