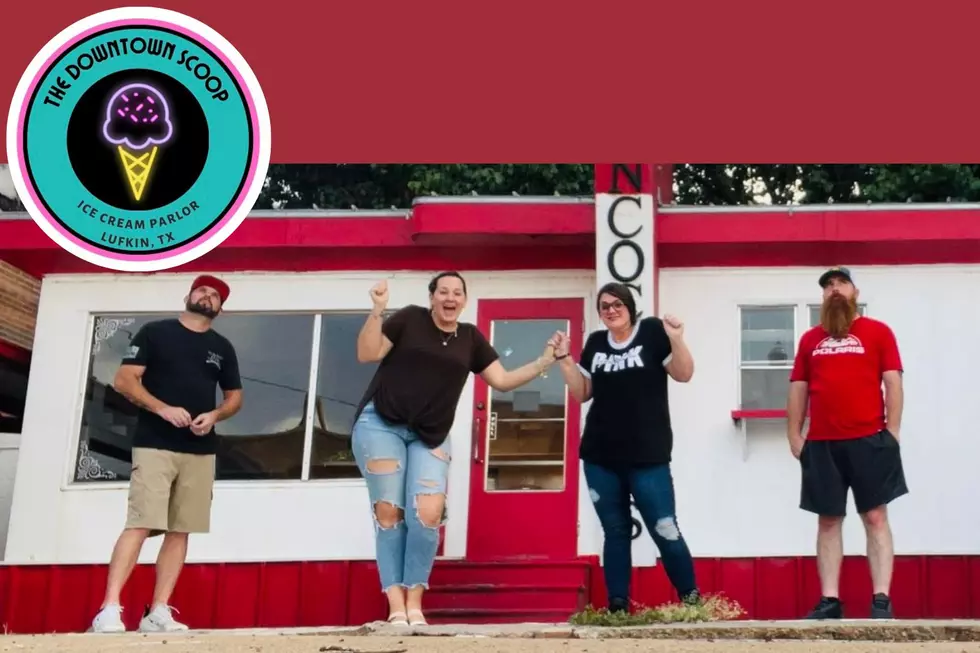 Your Ice Cream Dreams Will Soon Come True in Downtown Lufkin, Texas
The Downtown Scoop via Facebook/ Canva
If you want the scoop on what is happening to the old storefront for Confections located at 117 West Shepherd Avenue in downtown Lufkin, you have come to the right place. There is something cool coming to the most quirky address in the city's center.
The Downtown Scoop will be opening soon to what I am sure will be tons of patrons. Sisters, Brandi Durham and Kristin Thacker, along with their husbands, Rodney Durham and Colton Thacker, are hard at work making this sweet dream a reality.
There is much to be done to turn what was previously a bakery into an ice cream parlor, and they are down for the adventure. The ice cream they will be serving is also a local favorite with 300+ locations in 30 states.
The Downtown Scoop Will Be Serving Ashby's Sterling Ice Cream In Lufkin, Texas
Ashby's Sterling Ice Cream is also a family-owned and operated company that has been making ice cream in Michigan since 1984. Their claim to fame is the fact that they use a 14% butterfat recipe to make their ice cream.
They offer over 70 unique flavors of ice cream, sherbert, sorbet, and yogurt. They also offer some sugar-free and fat-free ice cream treats.
They specialize in a co-branded business model that helps local ice cream parlors succeed all over the country. They help along the way, but they're basically a vendor that will be providing the ice cream for the Downtown Scoop.
When Will The Ice Cream Parlor Downtown Open in Lufkin, Texas?
So far all we know is that it's coming soon. Starting an ice cream business in the fall with winter coming soon would seem like a hard thing to do.
Luckily here in East Texas no matter the weather, ice cream is always a treat of choice. I wish them the best in this endeavor and I am hopeful for their success.
Angelic Cupcakes Reopens In Lufkin, Texas
This popular bakery found a new home at the Angelina County Farmers Market.
Zoo Boo - A Look Back At The Ellen Trout Zoo in Lufkin, Texas
See if you can find a younger version of yourself at the Zoo Boo in these photos.
See Inside 'Merica Beverage Co. In Lufkin
This is where Dickey's Barbecue Pit was in the Medford Plaza. It has a great drive-thru and is easy to find.
5 Best Places To Get Your Car Detailed In Lufkin
Looking for a recommendation on the best vehicle detailing in Lufkin? These are the ones we use to keep our personal cars shiny.