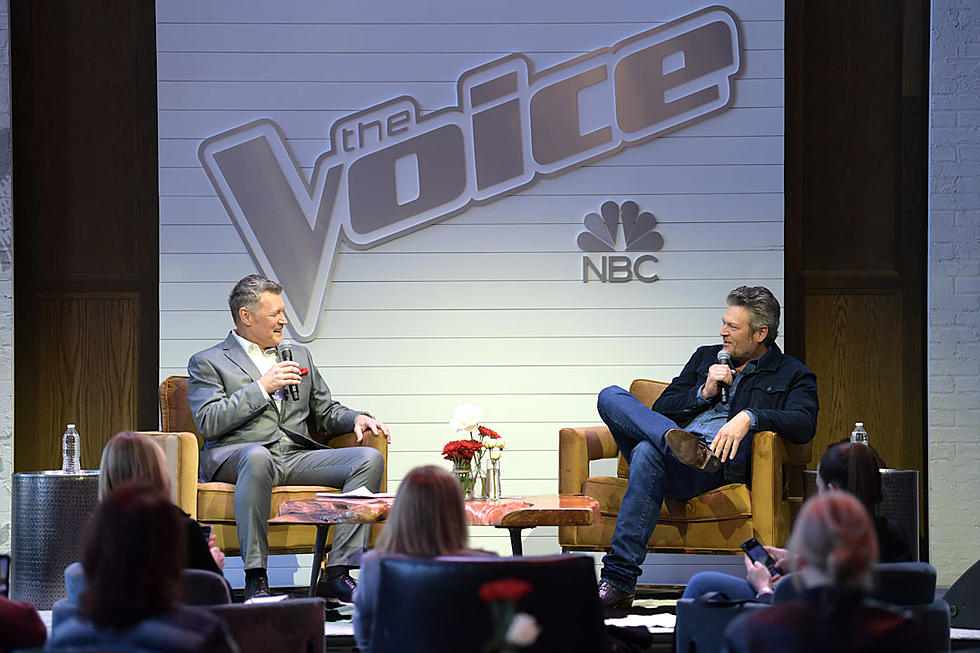 Blake Shelton Hands Out Compliments to Taylor Swift, Nick Jonas During 'The Voice' Panel
Jason Kempin, Getty Images
The day after the 2019 CMA Awards, Blake Shelton stopped by his Ole Red bar on Broadway in downtown Nashville for a special The Voice-themed event. He invited three of his current team members, Cali Wilson, Ricky Duran and Kat Hammock, to perform at his venue for a segment set to air during the NBC show.
Before Shelton warmed up the crowd with three of his own hits — "Ole Red," new single "Hell Right" and "God's Country — he spoke about all things The Voice in a discussion hosted by WSM's Bill Cody.
Here are 5 things we overheard during Shelton's The Voice panel:
On Kelly Clarkson: "I told her 'you're doing a great job of filling the Adam a--hole void.'"
When Adam Levine suddenly departed the show after 16 seasons as a coach, Shelton lost his favorite verbal sparring partner, and he admits he was worried how people would react to the new dynamics of the show. But he jokes that fellow coach Kelly Clarkson has helped level that playing field, acting as his counterpart to engage in competitive, but playful banter with.
"Trust me, Kelly and I, we butt heads every bit as much as Adam and I did. I told her, 'You're doing a great job of filling the Adam a--hole void.' And she didn't take that very well," he teases.
All joking aside, the country superstar says the relationship between Clarkson, John Legend, Gwen Stefani and himself that fans see on screen mirrors their chemistry in real life, confirming that the group dynamic couldn't be stronger.
"It's the first group we've ever had that exactly what you see on camera is how it is off camera. We're just having a blast," he raves. "And it's not the same, it is a different dynamic. But it's just such a good, fun group and a good feeling when you watch the show."
On Taylor Swift: "She's just a different level of knowledge."
Season 17 saw the return of two-time advisor Taylor Swift. The pop superstar served as a Mega Mentor to the Top 20 contestants across all four coaches' teams, and as much as she left the contestants awe-inspired, she made a similar impact on Shelton, who says her success is not only a result of her talent, but the intelligence behind it.
"She's just a different level of knowledge and she's just so smart," he praises. "We all know how talented Taylor is, but I think 50 percent of her success is also combining her talent with just literally how smart she is. Every time I'm around her, I love just kind of soaking it in and listening to her talk and how she always has something to say or way of looking at something that I never have thought that way."
On Danielle Bradbery: "It's not that often that it's so obvious who's going to win the show."
Serving as a coach for 17 seasons, Shelton has seen countless aspiring artists take The Voice stage. But when prompted about a former contestant that's stood out to him during his tenure on the show, his answer turned to Season 4 winner Danielle Bradbery.
The "Sway" singer was 16 when she auditioned for the show on a whim, and Shelton says that in spite of the fact that she was a newbie, she would "slay" her performance every week, proving herself to the competition.
"My favorite I think as far as the entire journey goes was Danielle Bradbery," he says. "It's not that often that it's so obvious who's going to win the show."
Shelton also shared that going into the finale, he sat down with Bradbery and her parents for an open conversation regarding her post-Voice goals, knowing she was so young and still trying to determine what path she wanted to take in life.
"I don't think anybody in the mix expected that to happen," Shelton says of her decision to continue with music. "We all wanted her to pursue this, and thank God she did, but that was a crazy season with her."
On Nick Jonas: "He can kiss my a-- until the season's over, and then I'll go back to liking him."
It was recently announced that Nick Jonas will join the show in Season 18, replacing Shelton's girlfriend Gwen Stefani, who's taking a break from the show to focus on her other ventures, including a Las Vegas residency. Shelton says he and Jonas have briefly crossed paths over the years — they both voiced characters in the animated film UglyDolls — and he is "excited" to have the Jonas Brothers star on the show.
"I know that he's a pro and he works hard. You can't have somebody as a coach on that show that can't be a team player, and I knew he would be that," Shelton says of Jonas.
But Shelton's tone turned humorous as he described Jonas as a "tough guy" to compete with, especially with the younger crowd, as they tape Blind Auditions for the upcoming season.
"When you turn your chair around and there's a young person up there and they're trying to choose between me ... and then Nick Jonas sitting down there, I'm screwed almost every time," he jokes. "So he can kiss my a-- until the season's over and then I'll go back to liking him."
On Gwen Stefani: "We're not seeing the last of Gwen on that show."
Though Stefani will step away from the red chair next season, Shelton doesn't believe it's a permanent goodbye. He'll miss having her three chairs down, of course, but the country star knows the show has to constantly evolve in order to engage viewers and firmly believes that the door to return to The Voice is open to Stefani.
"I make it known that I don't ever want her to leave, but I also know at the same time that the show needs to keep reinventing itself, and the only way to really do that is to change the coaches out every season a little bit — as long as it's not me," he quips.
"We're not seeing the last of Gwen on that show by any means. I wouldn't say we've seen the last of anybody whose every been on that show," he adds. "They've said from the beginning once somebody's a coach on The Voice that they're always a part of the family." 
Season 17 of The Voice airs through Dec. 17 on NBC.
See The Voice Stars, Then and Now: