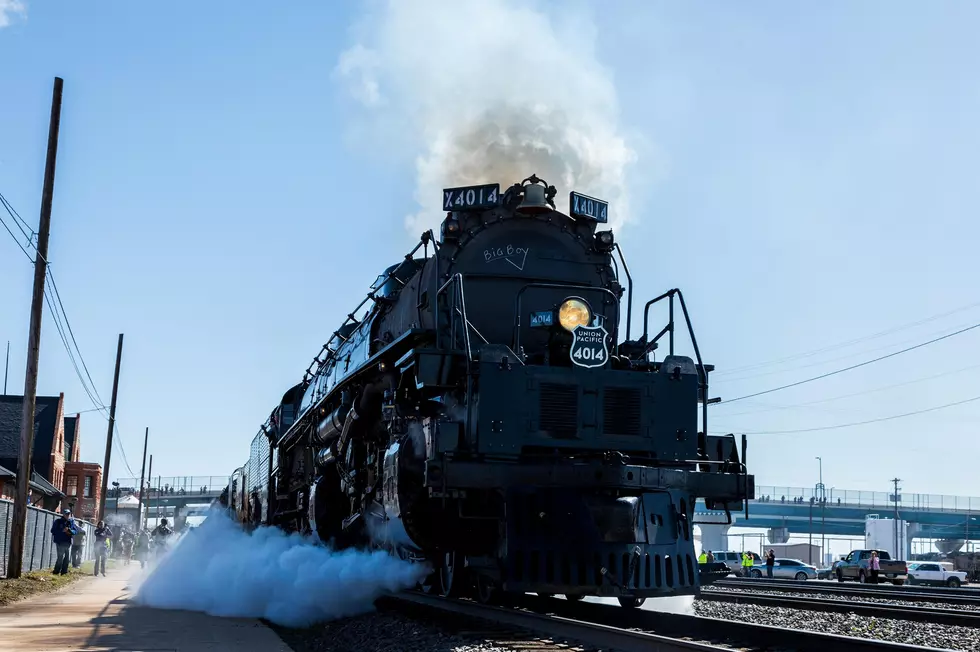 World's Largest Steam Locomotive Making Rare Stops in East Texas
A once-in-a-lifetime event is coming to East Texas, and for train enthusiasts, you definitely don't want to miss it.
The world's largest steam locomotive, Union Pacific's Big Boy No. 4014, has embarked on its third and final tour celebrating the 150th anniversary of the transcontinental railroad's completion. The newly restored locomotive has been travelling across Texas since the first of the month, giving rail fans across the Southwest an opportunity to experience history.  'Big Boy' will be making scheduled stops in parts of East Texas from November 8th through November 12th.
On Friday, the locomotive will be rolling from Houston to Bryan/College Station with stops in Spring and Navasota. Then, on Saturday afternoon, Big Boy will be rolling in Palestine for an overnight stay, before setting out again with stops in Jacksonville, Longview, and Marshall.
According to the Union Pacific website, twenty-five Big Boys were built exclusively for Union Pacific, the first of which was delivered in 1941 to handle the steep terrain between Cheyenne and Ogden. Of the eight still in existence, No. 4014 is the world's only operating Big Boy, weighing in at 1.2 million pounds. In May, it completed its inaugural tour to Ogden for Union Pacific's 150th anniversary ceremony. The Big Boy and historic steam locomotive Living Legend No. 844 met nose-to-nose, recreating the iconic image taken May 10, 1869, when the last spike was tapped into place at Promontory Summit, creating America's first transcontinental railroad.
Union Pacific strongly encourages visitors to keep safety top of mind while viewing and photographing No. 4014 on its journey. For everyone's safety:
Remember, trains can't stop quickly to avoid people or vehicles on the tracks.
A train's distance and speed can be deceiving.
The average train overhangs the track by at least three feet – take extra precaution and stand back at least 25 feet.
Railroad tracks, trestles, yards and right of way are private property.
Never assume tracks are abandoned or inactive – always expect a train.
The Experience the Union Pacific Rail Car, a new, multi-media walk-through exhibition providing a glimpse at the past while telling the story of modern-day railroading, will accompany the Big Boy on its tour. A route map and No. 4014's GPS location tracking information is available at upsteam.com. Due to the dynamic nature of these operations, running times and scheduled stops are subject to change.