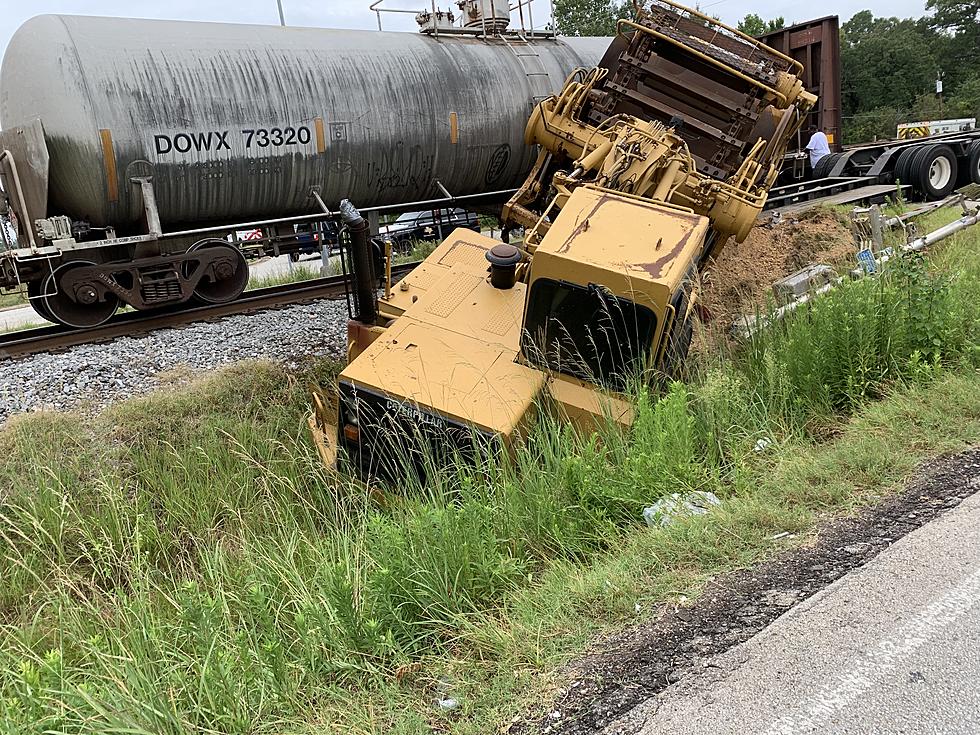 Accident Involving An 18-Wheeler And A Train In Lufkin, Texas [GALLERY]
Dan Patrick - TSM Lufkin
The Lufkin Police Department is currently working an accident involving an 18-wheeler and a train. It is currently blocking many intersections around town. Hazmat teams have been called in to help clear the scene.
Railroad crossings are blocked at Feagin/Southwood at Loop 287, Lazy Lane at Feagin Drive, and Feagin Drive at Pershing Street. Officers are at the scene working to get things moving again. The train did not derail, and no major injuries have been reported.
Avoid these areas at this time if you can. You can't get across the tracks, but you can continue straight; it's just slow going. The 18 wheeler was hauling a Caterpillar 623 dirt scraper, and you can see it in the ditch in the photos below.
What Happened?
This was a wide load and perhaps a heavy load for this to have happened. Details on what actually happened to cause this accident haven't been made available. Going through this area, I saw no chemical spills or anything on the ground.
They are calling out hazmat teams due to the tanker being hit by the machine on the 18-wheeler. You can never be too cautious when you don't know exactly what the train is hauling. Hopefully the area will be cleared soon. 
Last Time It Was A Near Miss 
On July 23rd, 2021 we posted up a near miss between an 18-wheeler and a train at this same location. Everyone knew that this was a bad intersection for trains and trucks. De,Vante Miller provided the video CLICK HERE to see it.
18 Wheeler Vs Train Lufkin
Look Inside The Most Expensive Home For Sale In Lufkin
A New Perspective On Lufkin
LOOK: Here is the richest town in each state
Just saying the names of these towns immediately conjures up images of grand mansions, luxury cars, and ritzy restaurants. Read on to see which town in your home state took the title of the richest location and which place had the highest median income in the country. Who knows—your hometown might even be on this list.