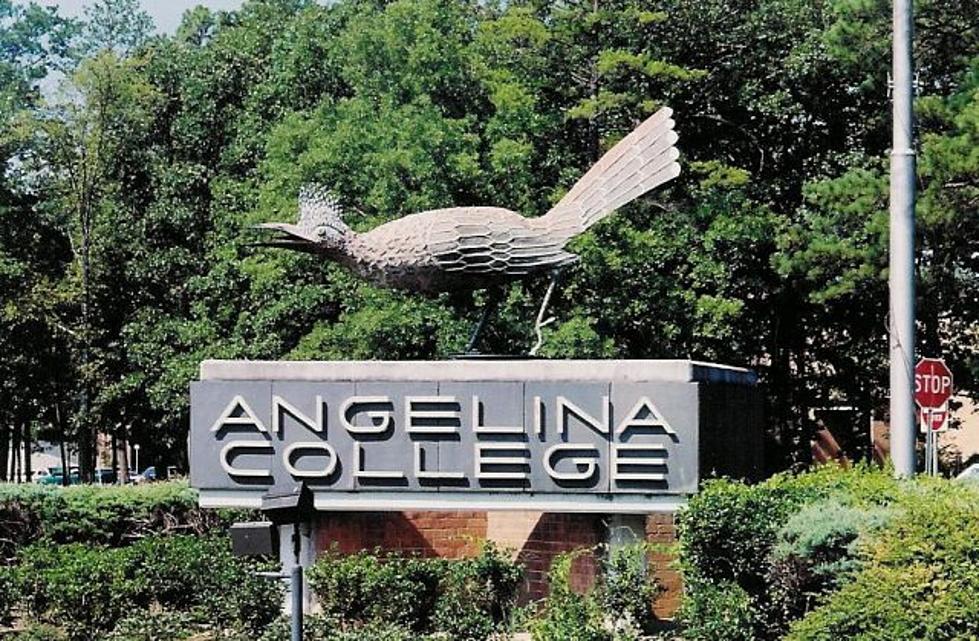 Angelina College in Lufkin Honors Students on Fall Scholars Lists
AC FB Page
This is the season for Christmas shopping, holiday decorations, and nativity scenes. However, this time of the year marks the end of the Fall semester at schools in our area.
Classes have come to a close for Angelina College in 2022 and officials and faculty members there are pleased to release the names of students who excelled during this past school year.
Let's start with the young scholars who were named to the President's Honor List for the Fall 2022 semester. To qualify, students must have enrolled in at least 12 semester hours of college-level work and have attained a grade point average of 4.0.
Those students who list their hometown or city of residency from Deep East Texas are included.
Angelina College Fall 2022 President's Honor List:
 Alto
Apple Springs
Ashley Contreras
Douglas Maxfield
Coldspring
Diboll
Clarissa Alday
Sariah Cruz
Deandre Ikpe
Yanelys Pulido
Douglass
Grapeland
Groveton
Hydee Drake
Rebecca Langley
Hemphill
Hudson
Huntington
Hannah Matteson
Lindsey Newcomb
Jasper
Kennard
 Livingston
Robin Assuncao
Erica Baker
Jordan Charlie
Holly Lenox
Lufkin
Yasmine Acevedo
Anson Adams
Ajetutu Akinlade
Spencer Alexander
Alondra Almaguer
Rogelio Alvarado
Candace Barron
Abigail Bennett
Rachel Bonnin
Yadira Caldera
Kaylyn Collins
Carmeisha Davis
Susana De La Paz
Kinley Earnest
Nathan Edwards
Deondra Eleby
Shadye Forrest
Camila Garcia
Naydi Gonzales
Griselda Herrera
Simone Hunt
Just Jackson
Donald Jefferys
Jenna Jones
Kiersten Landrum
Samantha Lizarraga
Avery Maclaren
Lorenzo Mansilla
Christian Marquez
Kiarra McCloy
Jesse McLain
Alex Mendoza
Natalya Mitchell
Arianna Montoya,
Luis Morales
Avery Neal
Joyce Olvera
Daphne Ortiz
Hannah Pierce
Julissa Ramirez
Pranav Rao
Jose Rojas
Adrian Roman
Emily Sanchez
Nathaly Sarmiento
Dillon Standley
Stormie Sterling
Perla Tovar
Brooke Washburn
Jacob Weibe
Alyssa Willis
Nacogdoches
Lucia Cruz
Makena Meador
Madysen Morrow
Kayli Samford
Addyson Williams
Stephanie Williams
Pollok
Shelbyville
Warren
Zavalla
Angelina College officials and faculty members are also pleased to recognize those scholars named to the Dean's Honor List for the Fall 2022 semester.
To qualify for the Dean's List, students must have enrolled in at least 12 semester hours of college-level work and have attained a grade point average of 3.5 with no grade lower than a "C".
Angelina College Fall 2022 Dean's Honor List:
Alto
Coty Allen
Rhett Black
Olivia Low
Broaddus
Center
Chester
Kaitlyn Clack
Susanna Olbrych
Garren Toler
Colmesneil
Crockett
Ryan Arvizu
Wendy Carcamo
Alonzo Cervantes
Brian Fiolek
Mayra Martinez
Isaac Perez
Matthew Wheeler
Cushing
Bradi Bradshaw
Bethany Dawson
Diboll
Victor Arreola
Breahna Cordova
Edward Danini
Jaime Franco
Aracely Gonzalez
Olivia Havard
Alivia Jackson
M'lisa Loving
Mayra Medina
Kody Owens
Anna Romero
Tanya Scott
Rafael Sepulveda
Tyra Stewart
Coral Tamez
Garrison
Grapeland
Hemphill
Analuisa Cisneros
Justin Simpson
Huntington
Jasper
Haley Primrose
Martha Segura
Daniel Wade
Kennard
Ava Barclay
Emma McMullen
Kaydence Northcutt
Nicholas Pennington
Lufkin
Sarah Ackley
Cassidy Adams
Ezequiel Alanis
Kayla Allen-Torres
Giselle Anaya
Jaelah Bennett
Justin Black
Sydney Blanton
Stuart Brimmage
Jessica Brockett
Tommy Butler
Julia Cabrera
Devin Capps
Jorge Cervantes
Ian Cox
Kayley Daniels
Leah Davis
Miguel De La Cruz
Maddux Dezern
Hunter Ditsworth
Sandra Dominguez
Jacqueline Escobedo
Jessica Escobedo
Isaac Estrada
Chad Fischer
Liberty Goins
Leah Gonzalez
Joshua Gutierrez
Mary-Beth Harbuck
Morgan Hay
Jonathan Holt
Demi Treanna Johnson
Allyson Lea
Monserrat Lopez
Zachary Lumpkin
Ashton Martin-Kibbey
Yajaira Mendoza
Marvin Mendoza-Duran
Xstacia Newton
Cy Ochoa
Jontreace Pierson
Arnold Ramirez
Crystal Reynolds
Jordan Rhodes
Paulina Rios
Mayra Rivas
Miguel Rodriguez
Luis Ruiz
Martin Salinas
Saul Santoyo
Teresita Santoyo
Logan Taylor
Cecilia Vallejo
Parker Winthrop
Alicia Zavala
Jonathan Zuniga
Livingston
Jennifer Altom
Miles Burkhardt
Ashley Fletcher
Kara Gardner
Billy Lewis
Shakel Sykes
Gavin Tardy
Jorge Trejo
Moscow
Nacogdoches
Daniel Acevedo Rodriguez
Ty Baker
Crystal Ballard
David Boyer
Chelsea Brookshire
Cory Cadle
Katherine Chidester
Sydney Collins
Collin Fuller
Yuan Huang
Brittany Hutto
Morgan Johnson
Rebecca Johnson
Amber Lee
Haylee Lewis
Collyn Lobb
Lorena Macias
Gabriela Martinez 

Noriega Llanas

Alejandro Martinez
Kendall McCollum
Israel Pedroza Flores
Angelica Pelaez
Markee Rasberry
Ashley Riley
Trey Smith
Jordan Thompson
Tyler Young
Onalaska
Tamara Ernst
Annanell Franklin
Tiffany Watters
 Pollok
Jacob Anderson
Jennifer Harkless
Kristie Wright
Riverside
San Augustine
Spurger
Trinity
Wells
Woden
Woodville
Zavalla
Kennedy Peeples
Trevor Reppond
Burial Sites of Honored Texans
Since its statehood in 1845, Texas has been the home of thousands of honored and well-known men and women. Let's take a look at the final resting place of these men and women, as well as a world-famous bull and rumored extra-terrestrial.
1707 Copeland, Lufkin
This home in the Brookhollow neighborhool in Lufkin was recently listed. Let's take a look inside this $1.1 million home.