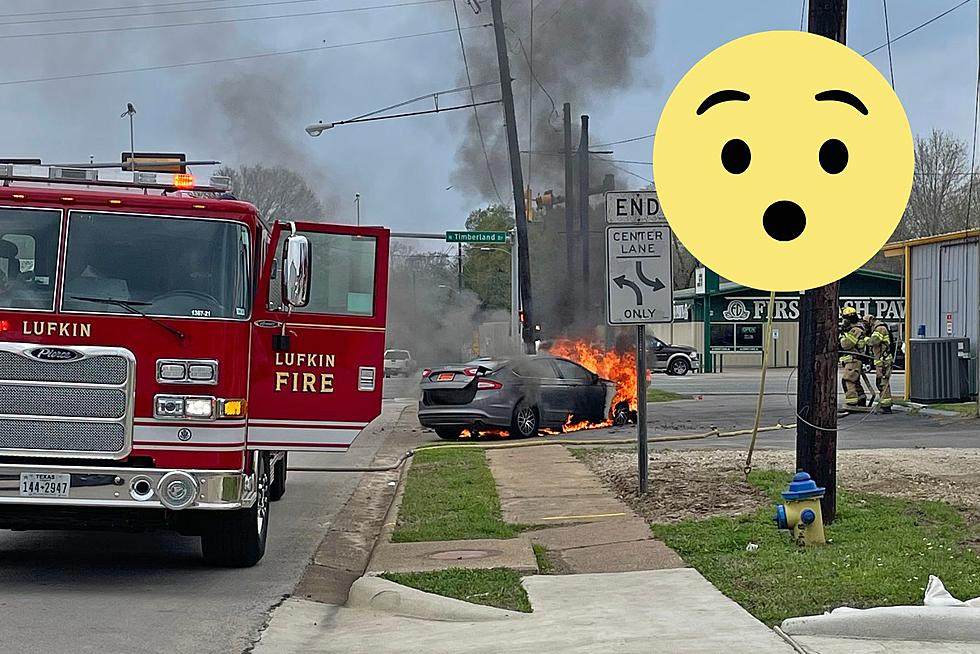 Massive Car Fire During A Test Drive In Lufkin, Texas
lufkin police department/canva
Everyone got out safely
A man and a woman were on a test drive
Car fire in the parking lot of In N Out Daiquiri
It was a nice, warm, partly sunny day today in Lufkin and a local couple were just looking to purchase a new-to-them vehicle.
According to the Lufkin Police Department, around 1 PM the Lufkin Fire Department was called out to a report of a vehicle fire in the 500 block of North Timberland Drive.
Once firefighters arrived on the scene, there were flames coming out of the hood and undercarriage of a grey late-model Ford Fusion sedan. You might have seen this in the parking lot of In N Out Daiquiri, formerly Jacks Records and Tapes.
Firefighters quickly extinguished the fire, while officers from the Lufkin Police Department provided traffic control in the area. This occurred right when everyone was trying to get back to work after lunch.
There Was A Car On Fire Today On Timberland Drive In Lufkin
There were two people in the car when the blaze started. A man and a woman were on a test drive, and noticed smoke coming out of the air conditioning vents.
Once they pulled over and stopped the vehicle in the parking lot of In N Out Daiquiri, flames quickly engulfed the vehicle. Luckily they escaped the car safely and no injuries were reported.
I didn't recognize which used car lot the vehicle came from, but there are quite a few in this area. You might be able to recognize the bright orange dealer tags.
It is Illegal to Throw These 5 Things Away in Texas
So, yeah, if you're like me you've known things like tires and paint in the trash could potentially catch you a case, but a few things on our list may surprise you.
These are Apparently the Top 20 Worst Places to Live in Texas
Well in this case things including crime rate, or vicinity to crime; some may be close worse neighborhoods or adjacent cities. Also the rate of natural disasters was taken into consideration. Hurricanes are not something that'd land on the "pro" side of your pro/con list. Flooding would likely fall on the con side too.
To help you know the places you may want to avoid, or for a list to throw in the face of your cousin who lives in Lubbock, here are the 20 worst places to live:
8 Reasons To Work For The Lufkin Fire Department
There are so many benefits to being a hero in your community.