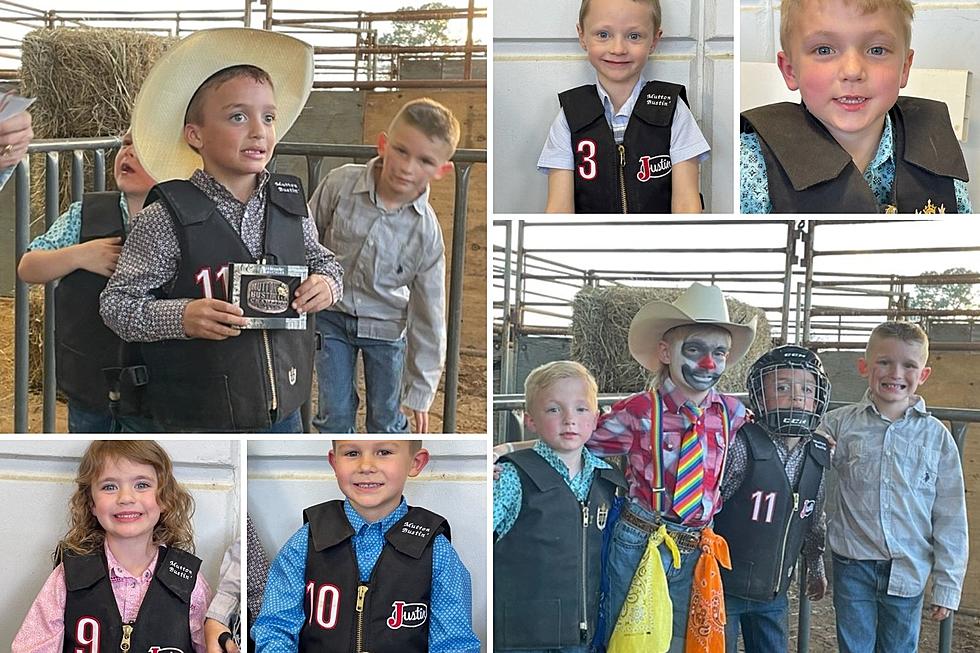 'Sheep Thrills' Friday Night at Mutton Busting in Nacogdoches, TX
KICKS 105
It was another great night of mutton busting at the Nacogdoches Pro Rodeo. Five riders had rides of 78 points or better.
78 - Lathan Mora
79 - Addy Bickham
80 - Colt Hoya
81 - Kooper Selman
82 - Tony Piazza
When it was all said and done, 7-year-old Tony Piazza from Garrison, Texas took home the buckle and Justin Boots voucher with his 82-point ride. Kooper Selman from Lufkin and Coly Hoya from Nacogdoches each earned a season pass to Splash Kingdom for their 2nd and 3rd place finishes.
We're not done just yet. Saturday night will feature another 15 riders vying for the buckle. The competition gets underway at 7 at the Nacogdoches County Expo Center.
Here are the contestants for each night of mutton busting.
Thursday's Riders
Adalynn Caldwell, 5 - Center
Axton Caldwell, 3 - Center
Brigham Barton, 4 - Tenaha
Cora Bennett, 6 - Nacogdoches
Ivy Gigler, 5, Nacogdoches
Noel Gonzalez, 6 - Garrison
Kase Hargrove, 4 - Garrison
Cayd Merriman, 5 - Etoile
Cohl Merriman, 6 - Etoile
Kru Murray, 5 - Garrison
Kaegan Owens, 7- Nacogdoches
Korgan Owens, 7 - Nacogdoches
Addilyn Sprayberry, 6 - Nacogdoches
Cason Wagstaff, 6 - Nacogdoches
Bransen Yates, 6 - Garrison
Friday's Riders
Braylee Barthol, 7 - San Augustine
Adelina Bickham, 6 - Nacogdoches
Bear Carthel, 5 - Nacogdoches
Pedro Castaneda, Jr., 7 - Nacogdoches
Aiden Crist, 5 - Rusk
Cannon Fitzgerald, 5 - Garrison
Lane Freeman, 5 - Nacogdoches
Colt Hoya, 7 - Nacogdoches
Cambry Hurst, 4 - Nacogdoches
Lathan Mora, 6 - Garrison
Tony Piazza, 7 - Garrison
Brantley Ross, 5 - Mount Enterprise
Kooper Selman, 5 - Lufkin
Corbin Southwood, 4 - Lufkin
Rex Wittpenn, 4 - Nacogdoches
Saturday's Riders
Rhett Bivens, 4 - Lufkin
Avery Brown, 4 - Lufkin
Carson Brown, 7 - Lufkin
Reed Creel, 5 - Nacogdoches
Rhett Creel, 3 - Nacogdoches
Carter Dees, 7- Center
Kira Donahoe, 5 - Center
Adilynn LeBlue, 7 - Chireno
Easton LeBlue, 5 - Chireno
Skylar Mercer, 7 - Corrigan
Brady Richards, 6 - Nacogdoches
Spur Vergara, 7 - Nacogdoches
Hayven Williford, 6 - Nacogdoches
Zaine Zavala, 6 - Douglass
Zandrex Zavala, 5 - Douglass
Nacogdoches Rodeo Mutton Busting 2023
Here are the young cowboys and cowgirls who competed in the 2023 Mutton Busting at the Nacogdoches Pro Rodeo
Here are the riders from Thursday night
Nacogdoches Mutton Busting - 032323