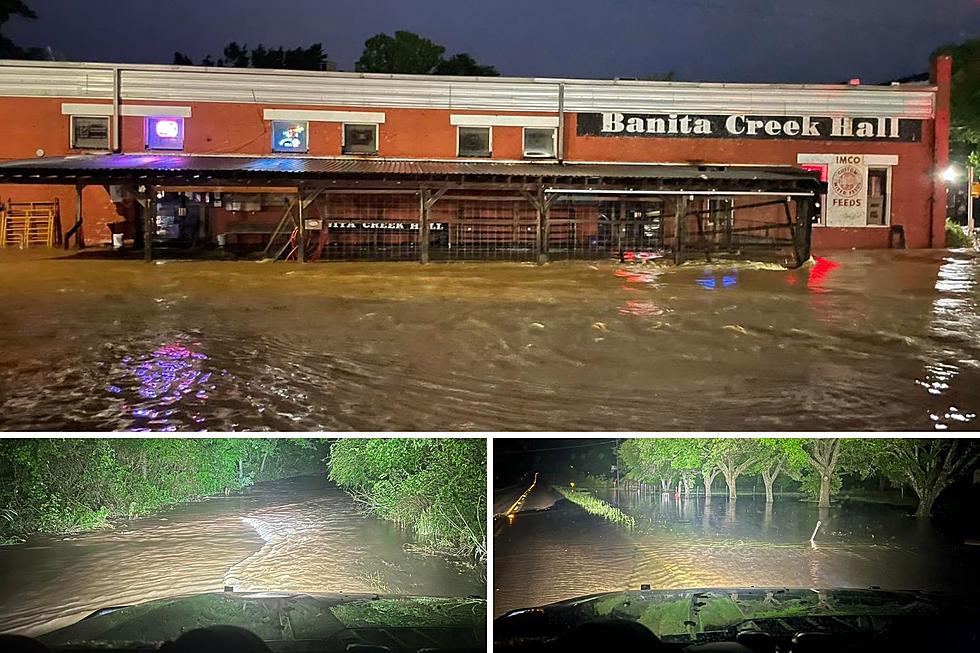 East Texas Downpours Cause Flooding, School Delays/Cancellation
Banita Creek Hall/Rusty Nix
Overnight downpours in parts of the Pineywoods have led to flash flooding in portions of Nacogdoches, Rusk, Cherokee, Shelby, and Panola Counties.
Some of the rainfall amounts include:
Fredonia Hill (Nacogdoches) - 4.7 inches
Southeast Nacogdoches - 3.4 inches
Lake Nacogdoches - 3.1 inches
Central Heights (CR 2664) - 5.6 inches
Nacogdoches (near Walmart) - 5.5 inches
Appleby - 5.6 inches
Mt. Enterprise - 5.3 inches
Garrison/Timpson - 7.77 inches
A Flash Flood Warning remains in effect until 9 this morning for northwestern Shelby, central Rusk, and all of Panola County. A Flash Flood Warning which included Nacogdoches County was allowed to expire at 6:30 a.m.
Even though that warning is no longer in place, many roads and streets remain underwater and may be impassable. Please use caution when traveling this morning. Flooding is reported near Lanana and Banita Creeks.
Banita Creek Hall said through their Facebook Page that due to flooding they will be closed to the public for a while.
Some schools have had to alter plans this morning as a result of the heavy rain. Mt. Enterprise ISD will be canceling classes for the day, not only due to the flooding but also due to area power outages. Garrison ISD will be having a delayed start this morning. Buses will be running two hours later than normal.
If you have questions concerning your school district, please check with their website or social media pages.
The good news is that the worst of the weather continues to move northeastward, out of the Deep East Texas area. The rain chances will drop off to a 20% chance for the remainder of today, and for Friday. However, the chance of rain will bump back up to a 40% chance for Saturday and Sunday afternoons.  High temperatures will be in the mid to upper 80s.
Always remember, turn around...don't drown.
Little Rock Tornado Damage - March 31
A giant swath of severe weather unleashed numerous violent tornadoes across the Midwest and South on March 31. Here are photos of the damage from one of those twisters that struck the western side of Little Rock, Arkansas