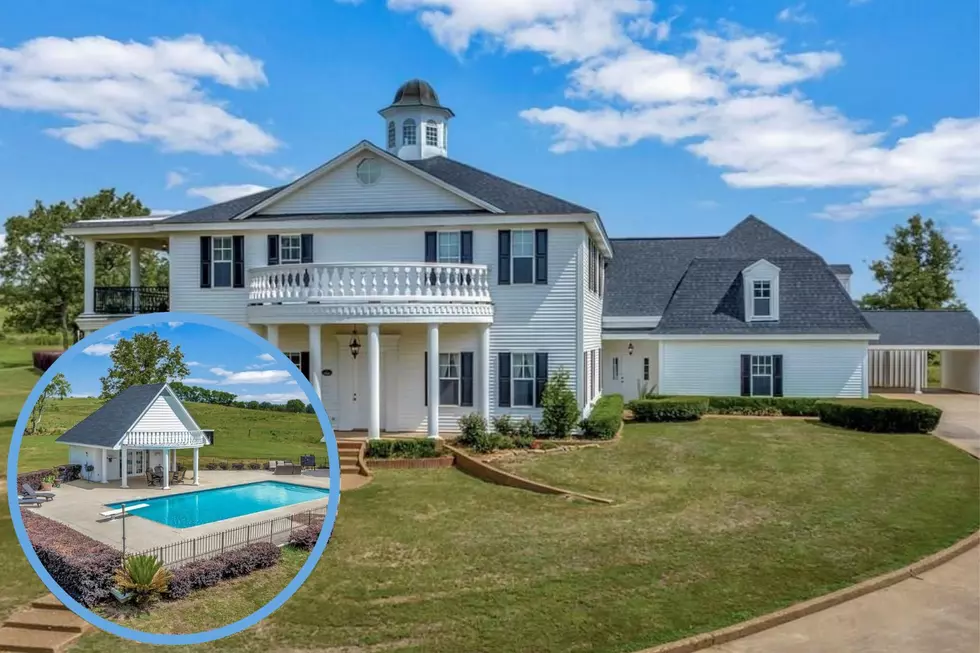 This House In Cushing, Texas Is Channeling Charleston, SC
Katie Turner ETX Realty LLC MLS # 22200488
When looking at this house in Nacogdoches County you might do a double take. It might be hard to believe that you are not in Charleston, South Carolina.
The home brings all of that Charleston southern charm right to East Texas. It even has a piazza to seal the deal.
The place also looks much older than it really is. Historic homes in Charleston were built around the same time as the birth of our nation in 1776. This home on 28.9 acres was built in 1992.
Get An Oversized Barn & Mother-In-Law Suite With This Home In Cushing, Texas
Austin stone adorns the main gated entry to this over 6,000 square foot home in Cushing. There are four bedrooms, 3 full baths, and a half bath in the main house with an additional 1 bedroom and 1 bathroom apartment located separately on the property.
You will also find a pool with its own pool house for entertaining, an oversized barn with 10 stalls for livestock, and a shop with multiple bays.
If you love the house and all it has to offer, but don't need 28.9 acres, the owners are willing to split it into 7 acres. That might help reduce the price as the home is currently listed at $1,199,000.
Beautiful Kitchen With Viking Kitchen Appliances In This Cushing, Texas Home
If kitchens and bathrooms sell houses, this one should not have any issue. The kitchen looks updated with all Viking appliances and a neutral white and grey scale appearance.
The huge walk-in shower in the primary bathroom includes a rain shower and wand with a large soaking tub nearby.
Take a look inside this one-of-a-kind home at 9280 FM 343 Nacogdoches, Texas 75964.
This Cushing, Texas Home Is Channeling Charleston
Cushing, Texas in Nacogdoches County is a long way from Charleston, South Carolina but it won't feel like it if you buy this home.
The Most Charming Historic Home In Lufkin On Airbnb
If you are looking for a unique getaway close to home this one is within walking distance of downtown Lufkin.
Historic Downtown Apartment Building In Downtown Nacogdoches, Texas
The Maria A.Davidson apartment building was originally built in 1928 to cater to single women working in shops in Downtown Nacogdoches, Texas
Brookhollow House Fit For A Princess In Lufkin, Texas
Start your own fairytale as you walk down this magnificent staircase.
Luxury Estate Sale In Nacogdoches, Texas
This estate sale has tons of items that you might already collect.