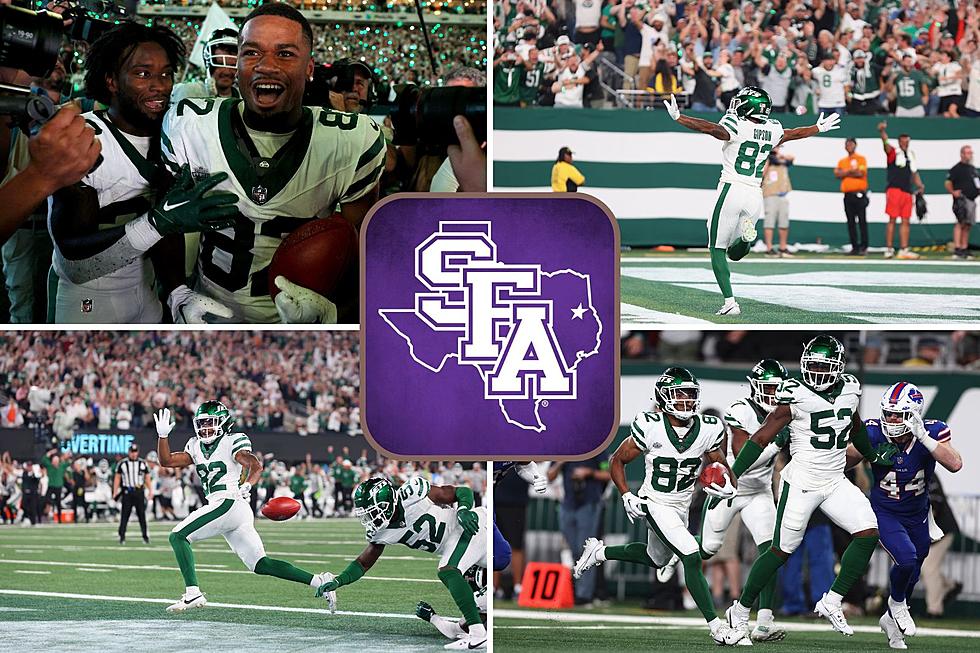 [PHOTOS] The Jets Exciting Game-Winning TD by SFA's Xavier Gipson
Getty Images/Elsa/Mike Stobe/SFA
When Xavier Gipson went undrafted in the 2023 draft, the SFA Lumberjack wide receiver signed on as a free agent with the New York Jets. The chances of making the team's final roster were slim at best.
The chances of being the hero in the Jets' first game of the season...probably about the same as winning the lotto, twice.
Never Say Never
Gipson made the team, and following a 3-and-out on their first series in overtime, the Buffalo Bills punted the ball to New York. There stood Xavier Gipson at the 35-yard line waiting to make magic happen.
Immediately following Gipson's touchdown, I did a search on Getty Images to download some photos of him. The search found no images of Xavier. So, I waited a few minutes.
Then, I performed another search on Xavier Gipson. This time, the photos kept multiplying. I've taken all those photos and put together a gallery of Gipson's touchdown return.
The pictures capture the last 25 yards of his touchdown run, his 'hand-waving' celebration in the end zone, and then being mobbed by his teammates and head coach in a celebratory dog pile.
Speaking of the Jets Head Coach, in his postgame remarks, Robert Saleh said that the entire team is not surprised by Gipson's heroics. Through the preseason training camp, Gipson proved that he was 'electric' whenever he had the football.
The Jets victory came with a very bitter pill to swallow as Aaron Rodgers left the game in the first series in what manner are calling a season-ending injury.
The SFA Lumberjack Nation continues to celebrate, just take a look at the explosion of comments on their Twitter page.
SFA's Xavier Gipson Scores Game-Winning Touchdown for the New York Jets
Xavier Gipson who played college football for the Lumberjacks of SFA, returns a punt 65 yards in overtime for the game-winning touchdown.
Top Ten Super Bowl Performances by Players Born in Texas
Here are the top ten individual performances for Super Bowl 1 through Super Bowl 56 by players that were born in the Lone Star State.