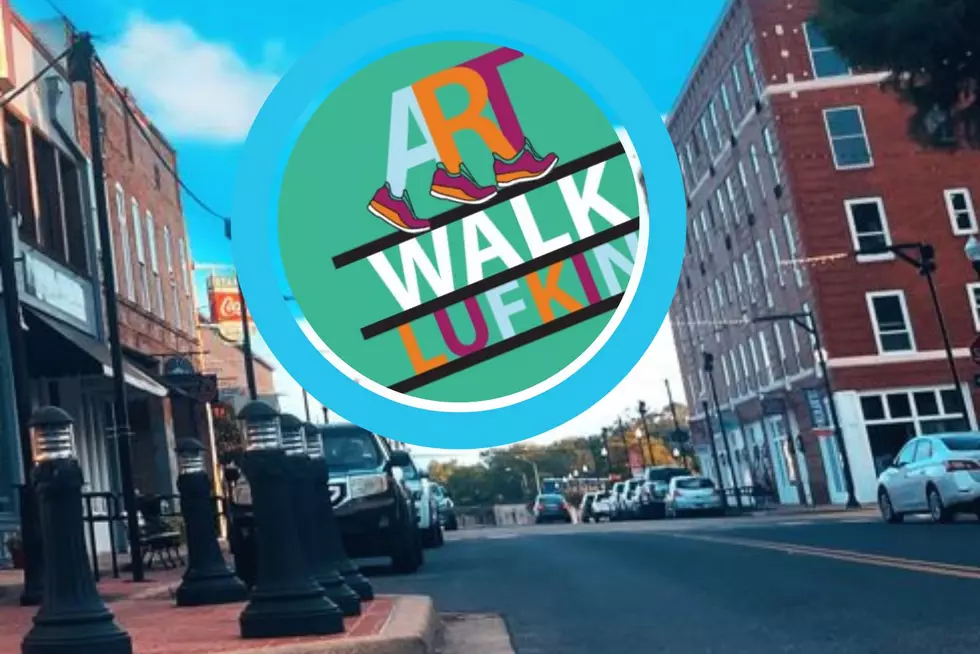 Creative Talent Of Lufkin, Texas Showcased At First Art Walk
Lufkin Creative/Canva/Facebook
There will be food trucks, live music, and beautiful art in downtown Lufkin Saturday, January 28 2023 from 1- 4 PM.  Lufkin Creative has a new event for everyone in the community to join in on.
The weather is a bit up in the air for Saturday, but this event is going to happen a rain-or-shine. Featured artists and events on the sidewalks of downtown will be moved to Gracepoint Church on Lufkin Avenue if it is raining.
The kids will enjoy the Children's Interactive Booth near Orange Blossom and Fig and there will be a rock painting station from The Museum of East Texas outside of Standpipe.
Live Music In Downtown Lufkin This Saturday From 1 - 4 PM
Joe Cuellar, Haylee Lewis, and Warren Smyrl will all be performing at 58J Cafe during the Art Walk. Fred Limbston, TaKisha Kegler, and Felipe Hernandez will be on the Cotton Square stage.
A new event from a new group in Lufkin is always a great thing. The Lufkin Creative was formed to put Lufkin on the map in the Texas art community.
Their goals of improving the local economy and attracting new businesses are somewhat hinging on this very first event. If you want Lufkin to be a better place to live your attendance is a great first step to a  thriving arts and cultural environment.
Help Lufkin Achieve Recognition From The State As A Cultural District
I just signed this form to help them in their goal to get Lufkin established as a cultural district and you should too.
Lufkin Theater Revives America's Horror Poet For Halloween Show
The Green Room Theatre is host to Disappearing Pants Productions, a theatrical production company started over 10 years ago by Angelina county locals. They have all had professional and educational experiences elsewhere and decided to come back to Lufkin to showcase their growth and bring their style back to their roots in this community. It is their goal to introduce original works by local artists, and exciting spins on the classics. The following pictures were from the 2021 production of Nevermore: A Night In The Mind Of A Madman.
Uptown Fashion House In Downtown Lufkin
Big-city fashion with small-town sensibilities.