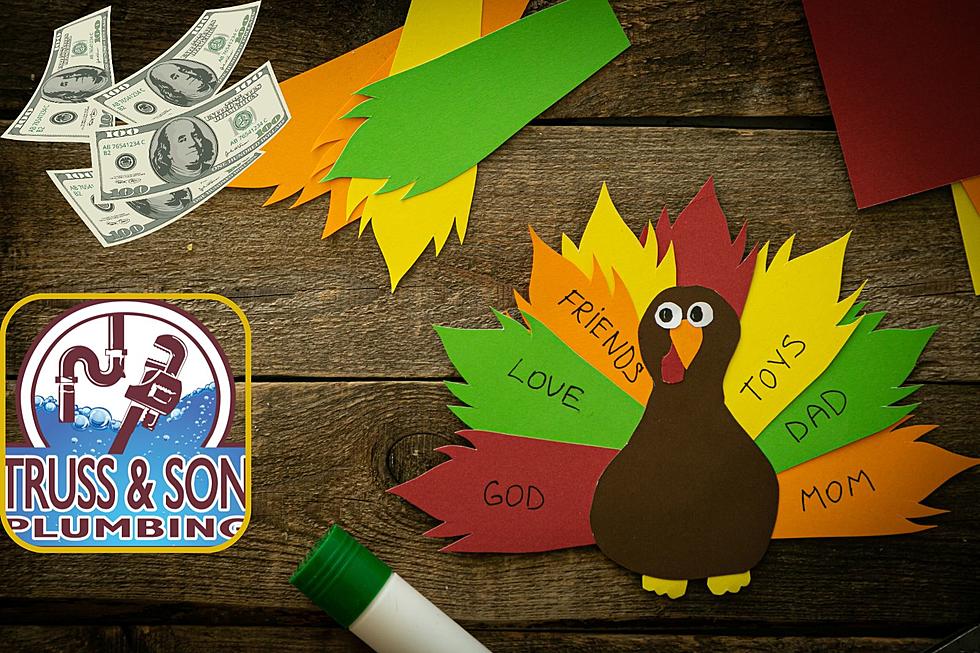 Win $100 With the KICKS 105 Thanksgiving Cash Giveaway
Canva
Congrats to our Winners -
Thomas Fortenbaugh - Livingston
Jessica Black - Lufkin
Karen McWright - Nacogdoches
Lori Thomas - Huntington
Shannon McBrearty - Lufkin
Thanksgiving is almost here!
How in the world did that happen so fast? Wasn't it just a few weeks ago that we were enduring 105 heat and burn bans throughout the Pineywoods?
The Sanderson Sisters have come and gone, and we've had community-wide tributes to our Veterans. Now, it's time to turn our attention to turkey & dressing, visiting friends and relatives, and lining out our Christmas shopping list.
A Little Help From Your Friends
That Thanksgiving meal, the traveling around, and the Christmas gifts all cost money. How about a little help from KICKS 105 and Truss & Son Plumbing?
Between now and Thanksgiving Weekend, we will be drawing five winners who will each receive a $100 VISA Gift Card. That certainly won't take care of all your holiday expenses, but hey, every little bit helps, right?
How to Win
Take advantage of the ways to get multiple registrations below. Visit our KICKS 105 Facebook Page, take a look at our YouTube Channel, and go to the Truss & Son website (that will get you two entries, by the way).
We will start drawing for winners on Monday, November 20, and draw for our last winner on Wednesday, November 22. If we draw your name, we will announce it on the Merrell in the Morning Show, plus we will notify you by e-mail. So, make sure that the e-mail address you have registered in your KICKS 105 VIP account is up to date.  
Good luck and Happy Thanksgiving from KICKS 105 and Truss & Son Plumbing!
2023 Movies That Got a 0 on Rotten Tomatoes
These movies pulled off an impressive feat: They did not get a single positive review on Rotten Tomatoes.
50 Best Episodes of 'Friends' Ever
Stacker
complied a list of the 50 best episodes of the hit TV show
Friends
.
Gallery Credit: Annalise Mantz