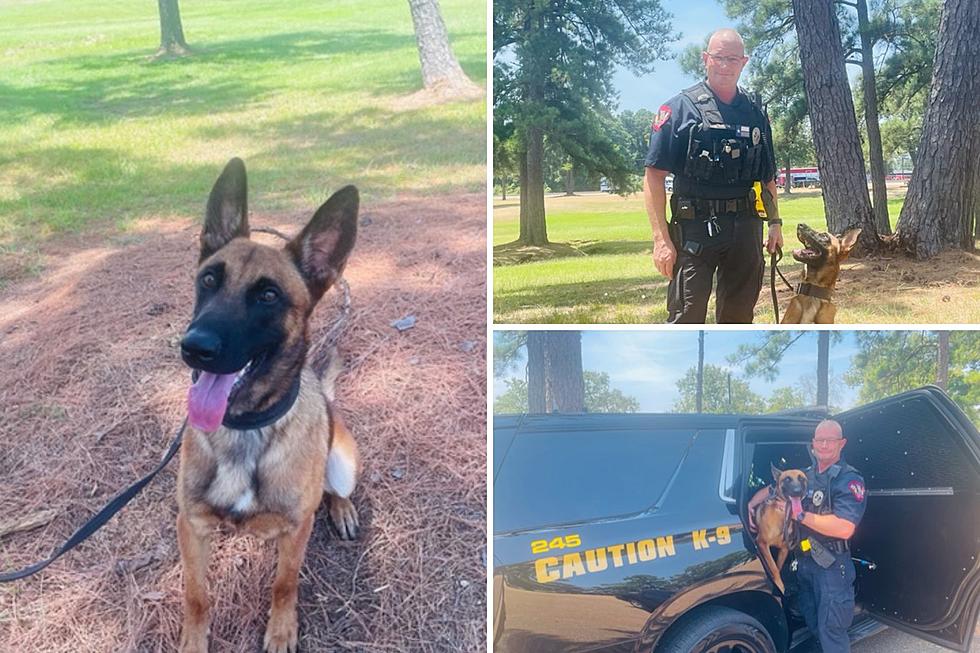 All The Way From Poland, Nacogdoches PD Welcomes New K9 to Texas
Contributed Photos/NPD Facebook
The newest member of the
Nacogdoches
Police Department has some unique features about him. First of all, he comes from Europe...Poland to be exact. However, you can't tell by his accent. He also wears a thick coat and walks on all fours.
Nacogdoches PD Welcomes K9 Hamer
The Oldest Town in Texas has a new K9 in the police ranks. Hamer is an 18-month-old Belgian Shepherd that was bred in Poland but received his training in Liberty Hill, Texas. I'm assuming his name is pronounced 'HAY mer', although I did some research and the Polish pronunciation may be closer to 'KYE mer'.
Regardless of how you say his name, Hamer has already started on the force. His first day on patrol was Tuesday, August 1st. Hamer is certified in narcotics odors and has spent the past two weeks with his handler Officer Atticus Shelton.
When asked about his new K9 partner, Officer Shelton stated, "I'm excited to see his potential as he progresses in his career."
How Much Does a K9 Officer Cost?
The cost widely varies, but they aren't cheap. Funding for Hamer came through many of the stops and arrests that happen in Nacogdoches. Chief of Police Scott Weems advised the new K9 was purchased using seizure funds and stated, "We are happy to have Hamer join us in serving Nacogdoches. He will be a great asset to us."
As you can tell by the pictures below, Hamer looks like he has a great and lovable personality, however, as is the case with any service animal, be sure to get permission from their owner/handler before approaching or petting.
Hamer
Here are Some of The Largest Bass Caught in Deep East Texas in 2023
Numerous big bass have been caught in Pineywoods-area lakes in 2023. Here's a look at some of those catches according to the Toyota ShareLunker program