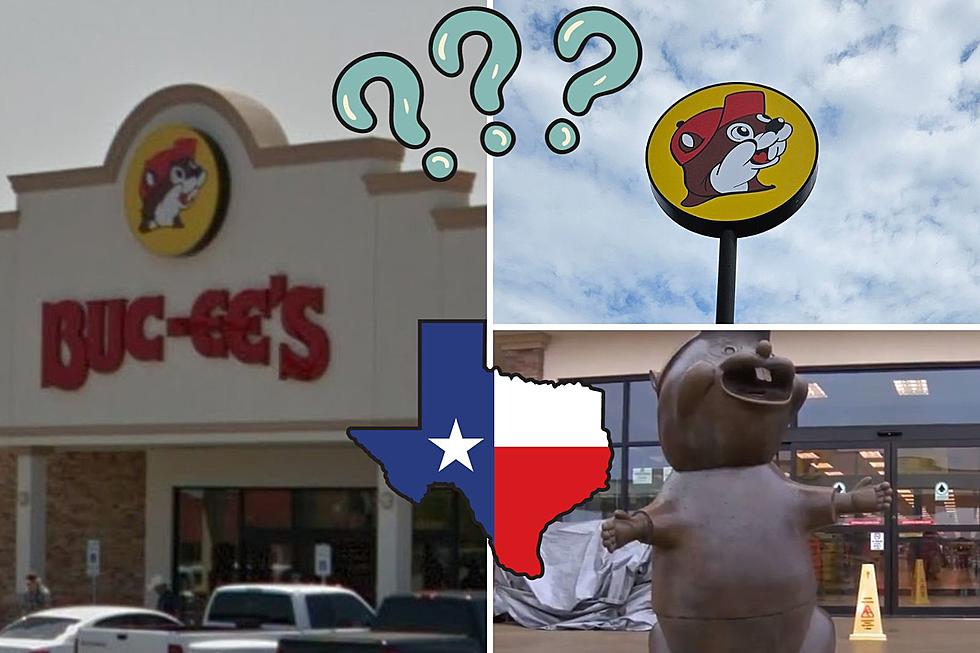 10 New Buc-ee's To Open Soon, Which Texas Cities Are On The List?
Aaron Savage/TSM/KICKS 105/Canva
When a city gets word that a new Buc-ee's will be opening there, it must feel like winning the lottery.
That city gets a major economic shot in the arm, the area workforce has access to jobs with great pay, incentives, and benefits, plus, residents have quick access to all the great items sold at Buc-ee's.
Of course, residents who prefer a quiet and peaceful neighborhood will be in for a shock.
Buc-ee's Continues to Expand Across the Nation
The store with the pristine bathrooms and beaver mascot continues to expand outside its Texas home. In addition to their 34 stores in Texas, Buc-ee's has locations now in Alabama (4), Florida (2), Georgia (2), Tennessee (2), Kentucky (1), and South Carolina (1).
The Biggest Buc-ee's is...always changing
The store in Sevier, Tennessee holds the record for the biggest Buc-ee's of all (for now), with 74,000 square feet of shopping space. However, an under-construction store in Luling, Texas will soon take over that title. But then one of the new stores that is expected to open in the next 2-3 years, should be approaching 80,000 square feet.
10 New Buc-ee's Locations
Let's start with the ones already under construction.
Luling, Texas
The original store in Luling was the home to the first mega-sized Buc-ee's family travel center. That 35,000 square feet store will be shut down, however, when the new 75,000 square footer is opened.
Johnstown, Colorado
This store was expected to take over the biggest Buc-ee's of all, that is until the Luling expansion was announced. This store, just a little north of Denver, should open in 2024.
Springfield, Missouri
This 53,000-square-foot store will be just northeast of Springfield, off of Interstate 44. Officials have even changed the name of the intersecting road from North Mulroy to Beaver Road. It is expected to open late in 2023 or early in 2024.
Hillsboro, Texas
When completed in 2024, the Hillsboro location will be one of the biggest Buc-ee's in existence with around 74,000 square feet of shopping space. It will be located just south of the Interstate 35 split towards Dallas and Fort Worth.
Smith's Grove, Kentucky
This location will be around 54,000 square feet and is expected to open sometime around the Summer of 2024.
Boerne, Texas
The San Antonio area will be getting a new Buc-ee's in 2025. This one will be located northwest of the Alamo City in Boerne, Texas. Apparently, this 54,000-square-foot store was on the drawing board several years ago, but the pandemic pushed the plans back a few years.
The previous six stores are mentioned in the 'Contact' section of the Buc-ee's website, however, the next four stores were compiled in an article in USA Today.
Huber Heights, Ohio
Once completed in the next few years, this Buc-ee's will be the northernmost store of the chain.
Ocala, Florida
If reports are to be believed, this Buc-ee's in Ocala will be the biggest of them all. Apparently, this home of the beaver is expected to top off at 80,000 square feet. An opening sometime in 2025 is rumored.
Fort Pierce, Florida
Apparently, the beaver is a fan of Florida. This 73,000 square feet Buc-ee's is planned for Fort Pierce, near Port St. Lucie, and will be the fourth one in the state.
Anderson, South Carolina
The anticipated Anderson location is just east of the Georgia border. Anderson will join the newly-opened Florence location as the second Buc-ee's in South Carolina. An opening in 2025 or 2026 is expected.
How About a Buc-ee's on the I-69 Corridor?
The transition of Highway 59 to Interstate 69 continues to take shape in the eastern third of Texas. There has been much progress, but there are still a few decades to go before its completion in the Lone Star State.
However, a new Buc-ee's location or two somewhere along that corridor between Houston and Texarkana would seem to make sense. Until then, the closest sparkling restrooms will remain 90 miles away in Madisonville.
Buc-ee's, Baby! 12 Things You Didn't Know About This Texas Fan Favorite
Texas - Do You Agree With This Ranking Of Buc-ee's Snacks People Should Try?
So many in the state of Texas have a favorite snack from Buc-ee's, but how could they be ranked? We have one individual's opinion to discuss.
Comments on Tennessee Woman's Viral Birthday at Buc-ee's TikTok Video