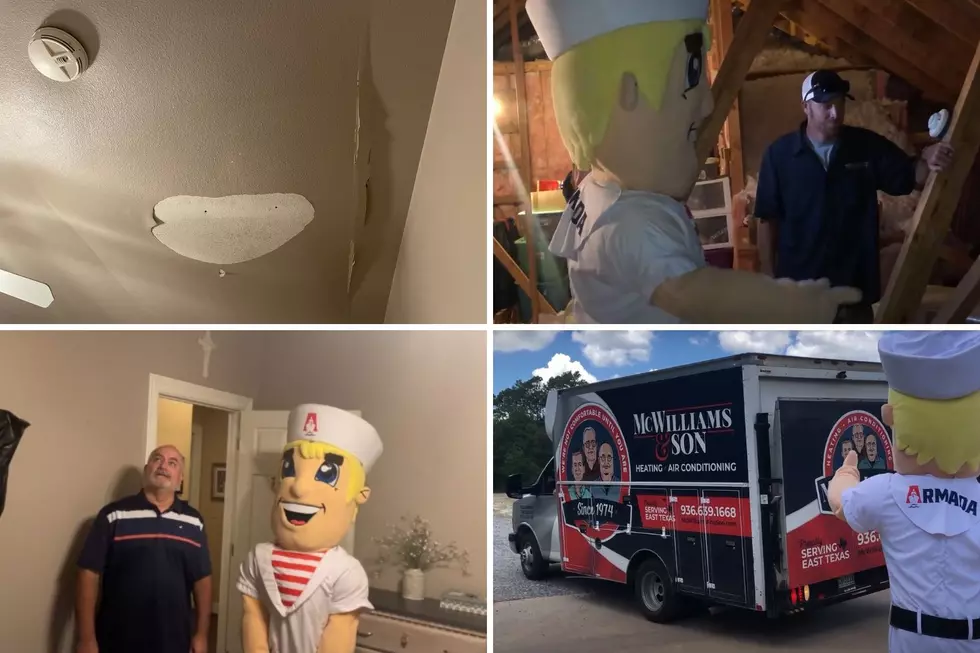 When Water Came Pouring From the Ceiling at Danny Merrell's Home
KICKS 105
Dad! Why are my shoes soaking wet?!
Not the question you want to hear from your son when his shoes are in the middle of the bedroom far removed from any water source. As I looked at his sneakers, I realized the only way that water could have reached his shoes was from above, and I'm not talking about some sort of divine intervention.
I Looked Up and This is What I Saw
I'm not sure if the picture really does justice to the situation. Water was dripping from the ceiling at a pretty steady pace, and it looked like that segment of the ceiling was about to come crashing down at any time.
Hindsight is 20/20
Over the past two years, I've had technicians from McWilliams & Son Heating, AC, and Plumbing come out to do inspections of my HVAC units.  It's all part of their Advantage Plan.
Recently, they told me that one of the units in my attic was on its last legs and that it would be a smart thing to replace it sooner than later. But, it was still cooling, so what's the hurry, I thought.
A few months later I noticed that water was collecting into the drip pan around the unit, but I made sure that the tubing was unobstructed and the water could flow outside; and, the unit was still cooling. So, once again, why make the call to replace the unit?
Well, somehow that tube became blocked, and you can guess what happened next.  Yup, my son's shoes got soaked. We turned off the unit, brought a kiddie pool into the bedroom, and poked a hole in the ceiling for the water to drain.
Hello, Sailor Mac...Help!!
Those were pretty much the first words out of my mouth when making the sheepish call to McWilliams & Son. They were willing to come out the very same day thanks to their same-day air promise, but I explained that I still had cool air pumping from other units, plus I needed a day or two to have the ceiling repaired.
A few days after the catastrophe, Sailor Mac and his crew pulled into the driveway and got to work. I explained to Sailor Mac the error of my ways, and he assured me that the unit in the attic and the condenser unit outside would soon be replaced with their high-quality Armada brand.
Within just a few hours the task was completed. During that time, I had several conversations with Sailor Mac including one outside where the temperature in the direct sunlight topped 120 degrees. This all happened in late July, but as anyone from East Texas will tell you, running the AC is something that's never out of season, especially now that we're welcoming fall with another scorching heat wave.
Morals of the Story
It shouldn't be too difficult to figure out the lessons learned in this scenario.
Make good use of the McWilliams & Son Advantage Plan.  It can help you avert major disasters in the future.
Take heed and act upon the advice that the technicians give you
Sailor Mac is a pretty cool dude...and much taller in person
Here's a video recap of my great experience with McWilliams & Son Heating, AC, and Plumbing and Sailor Mac.
Did you know that you can win $1,000 worth of gas from KICKS 105 and McWilliams & Son Heating, AC, and Plumbing?  Here's how.
Top 25 Delicious Foods & Drinks That Define The Great State of Texas!
There's more to Texas than just Dallas Cowboys and oil in fact, Texas has helped shape the taste of America. From BBQ, to Tex Mex to Ice Cream and beyond, Texas has introduced the rest of the U.S. to the Texas way of life through food. So what foods and drink make Texas so special? Let's take a look.
36 Crazy and Hilarious Things Your Grandparents Used to Say
I thought it would be fun to ask you what crazy things your grandparents would say to you and they are more than funny, they are hilarious.