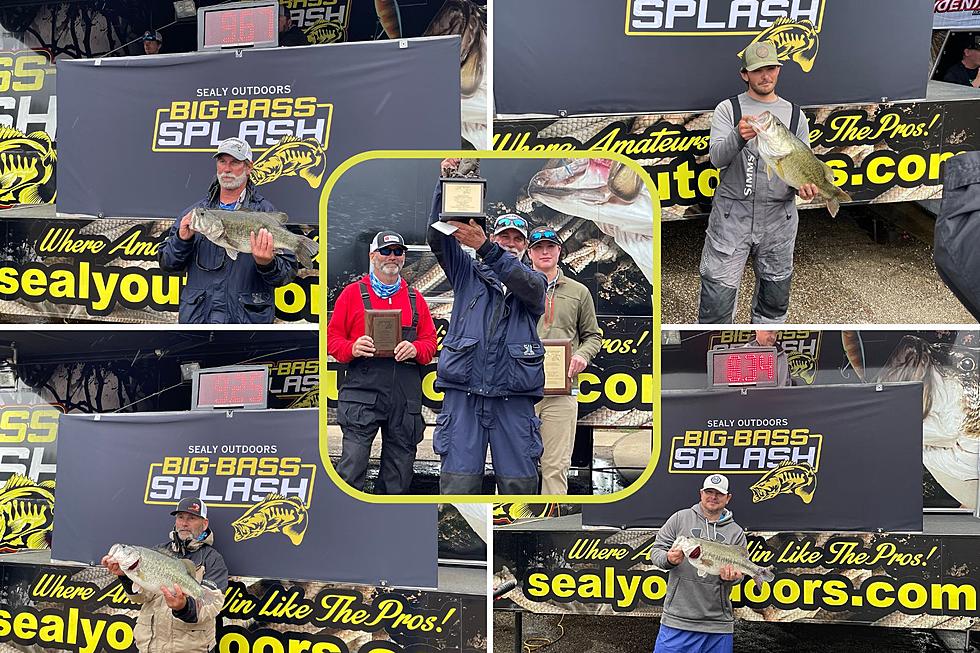 Last Minute Catch Earns Angler $125,000 in Texas Fishing Tourney
KICKS 105
"It Ain't Over, 'Til It's Over"
Bob Sealy from Sealy Outdoors uses that phrase often at his Big Bass Splash tournaments. Even though it may look like an angler is about to win the top overall spot, you never know what a little persistence and luck may bring.
That's how it played out in the final 20 minutes of the final day of the 39th Annual Big Bass Splash on Lake Sam Rayburn. It looked like Jackson Culpepper from Houston was about to be crowned the champion for this year's event. The 17-year-old high school junior brought in a mammoth 9.41 bass earlier on Sunday morning and at 1:36 p.m., Culpepper looked to be on his way to claiming the $100,000+ grand prize package.
1:37 P.M.
With 23 minutes to go in the tournament, Kevin Creel of Lake Charles came into the weigh-in tent.
Usually, tournament officials get alerted whenever a significant fish has been caught and will soon be weighed in. That was not the case this time.
Martin Painter of Quitman, Texas had brought in a bass weighing 9.25 the previous hour. Bob Sealy was tipped off about that fish and told the crowd to get ready for a possible lead change. Painter's bass was able to take over the second overall spot, and most thought Culpepper was well on his way to becoming the 2nd youngest Big Bass Splash angler to win the overall championship (a 12-year-old won some years ago).
The fish was placed on the scale and the readout showed 9.67 pounds.
$125,000 Grand Prize Package
Kevin Creel's surprise bass earned him the championship of this year's Big Bass Splash on Lake Sam Rayburn. That grand prize package includes a Phoenix 21PHX Bass Boat, powered by Mercury, equipped with Minn Kota, Humminbird, Navionics and Power Pole. He also won a new Ram Pick-up Truck and $10,000 cash.
Here are the overall top 5
1. Kevin Creel, Lake Charles, LA - 9.67 (prizes listed above)
2. Jackson Culpepper, Houston, TX - 9.41 ($20,000)
3. Martin Painter, Quitman, TX - 9.25 ($15,000)
4. Billy Cloud, Brookeland, TX - 9.10 ($10,000)
5. Hayden Heck, Lufkin, TX - 8.91 ($5,000)
2023 Big Bass Splash Sam Rayburn
Here are some of the enormous bass and other notable moments from the 2023 Big Bass Splash on Lake Sam Rayburn
2022 Big Bass Splash on Lake Sam Rayburn
Here's a look at some of the highlights from the 2022 Big Bass Splash on Lake Sam Rayburn