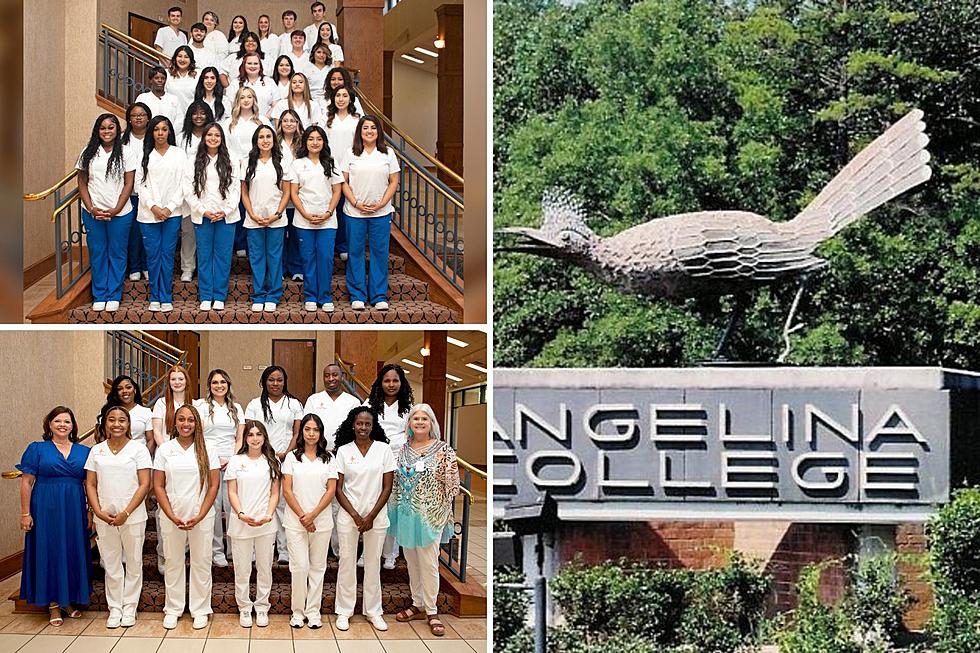 Angelina College Honors Graduates from School's Nursing Program
Contributed Photos/Gary Stallard AC News Service
Congratulations are in order for recent graduates from the nursing program at Angelina College. According to a news release from the school, AC on Thursday held a traditional pinning ceremony inside Temple Theater for more than 40 students of the AC Nursing program.
Students from the Vocational Nursing program (Hudson-Livingston Cohort) and students from the MEEP (Multiple Entry-Exit Program) strolled the stage to receive their pins from family members, friends, or instructors.
Following the individual pinnings, the new nurses participated collectively in the traditional candle lighting, symbolic of Florence Nightingale's gesture to "show the world what her caring heart and hands can do." The graduates then recited together the Nightingale Pledge.
Dr. Winifred Ferguson-Adams, Dean of Health Careers at Angelina College, praised the graduates but reminded them of the support they'd received from family and friends throughout their journey to their new profession.
"You're not always going to have these lovely people right there with you once you walk out that door," Ferguson-Adams said. "You're going to be looking for support, and you'll wonder what's going on, but you have to remember how far you've come and how far you can go."
Keynote speaker Dr. Sandy Brannan shared snippets from her more than 50-year career, reminding the new nurses that the learning doesn't stop on the graduation stage.
"I want you to be appreciative of what you've earned, of what you've gained and where you're going," Brannan said. "But remember you're not finished learning yet. I encourage each of you to continue your pursuit of education throughout your careers."
Vocational Nursing (Hudson-Livingston Cohort) graduates include Jonita Ashworth (Lufkin), Atyquanika Duncan (San Augustine), Elizabeth Gray (Lufkin), Yadira Llanos (Trinity), Jaida Lockhart (Crockett), Lilian Lumumba (Huntsville), Braneesha McDuff (Rusk), Risper Nyabicha (Huntsville), Kevin Osano (Magnolia), Emma Rawlinson (Lufkin), Solaye Rawls (Lufkin) and Emileigh Schmidt (Diboll).
MEEP graduates include Lissett Aguilar, Natalie Aldape, Daniella Alldredge, Samuel Belasco, Yanely Castillo, Joseph Clark, De'Breonia Cooper, Jessica Crisanto, Tationna Crosby, Angela David, Leticia De La Torre, Sandy Eastepp, Christian Elizondo, Evelyn Flores, Whitney Greenup, Briauna Jernigan, Rebeca Leyva, Cesar Lopez, Laci Neff, Nancy Njenga, Lilian Olima, Adriana Ortega, Natali Ovalle, Vanessa Porras, Caleb Powell, Giselle Rivera, Katelyn Rogers, Madalynne Samuelson and Madison Smith.
Angelina College Nursing program faculty members include Dr. Winifred Ferguson-Adams (Dean), Dr. Sandy Brannan (Program Director), Dr. Susan Adams (Hudson VN Instructor), Dr. Charlet Blades (Vocational Team Lead), Patricia Hooks (Livingston VN Instructor), Dr. Bobbie Williams (faculty), Dr. Nancy McClurg (faculty), Kathy Jackson (faculty), Vergie Hines (faculty), Alicia Hayden (faculty), Kelly Durr (faculty) and Anna McReynolds (faculty).
2023 Senior Salute Photos
Here's a look at the pictures that were sent in for our 2023 Senior Salute Giveaway