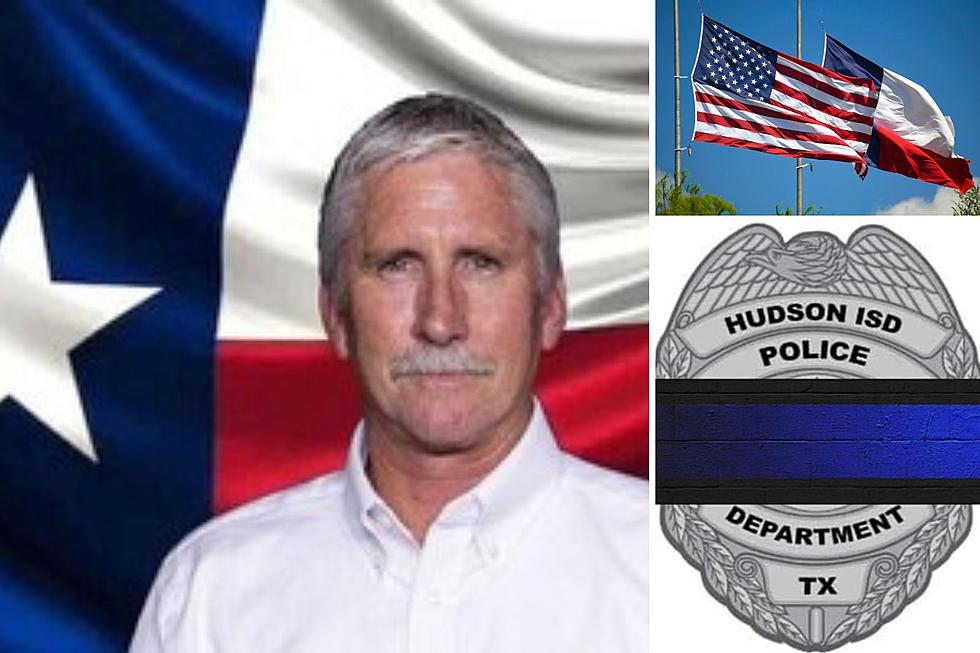 Angelina County Honors Fallen Officer, Flags Flown at Half-Mast
Canva/Hudson ISD/Carroway
The tributes to Hudson ISD Police Officer Bryan Holley continue to pour across social media and the East Texas community. Officer Holley passed away Friday in the line of duty while at Bonner Elementary on the Hudson ISD campus.
Holley had wrapped up his morning school traffic duties and was at the school when a medical situation arose and emergency personnel was called. No official word on the cause of his death has been released.
Bryan Holley, 57, was loved and respected by so many, young and old alike. Hundreds have shared their personal stories on social media. Holley's police vehicle is parked in front of Bonner Elementary acting as a temporary memorial to the fallen officer.
Angelina County Judge Keith Wright issued a proclamation honoring Holley. In addition to recapping the officer's stellar contributions, Wright also has ordered flags at all county facilities to be flown at half-mast through Friday, August 28. That proclamation was posted on the ACSO Facebook Page.
Funeral services for Bryan Holley, 57, will be held Saturday, August 26, at 1:00 p.m. at Timber Creek Church with Kent Henson and Brother Richard Owens officiating. Following the services, there will be a procession to Bonner Elementary School for a 21 Gun Salute. The procession will then travel through all other Hudson ISD campuses and end at Carroway Funeral Home.
Cremation arrangements are under the direction of Carroway Funeral Home.
The family will welcome friends and loved ones from 6:00 to 8:00 p.m. Friday evening at Timber Creek Church, located at 2021 South John Redditt Drive in Lufkin.
I'm sure that many others have given thought to this already, but I hope that the powers that be set forth the plans to rename that portion of Ted Trout Drive in front of Hudson schools to the Bryan Holley Memorial Highway.
2023 Senior Salute Photos
Here's a look at the pictures that were sent in for our 2023 Senior Salute Giveaway