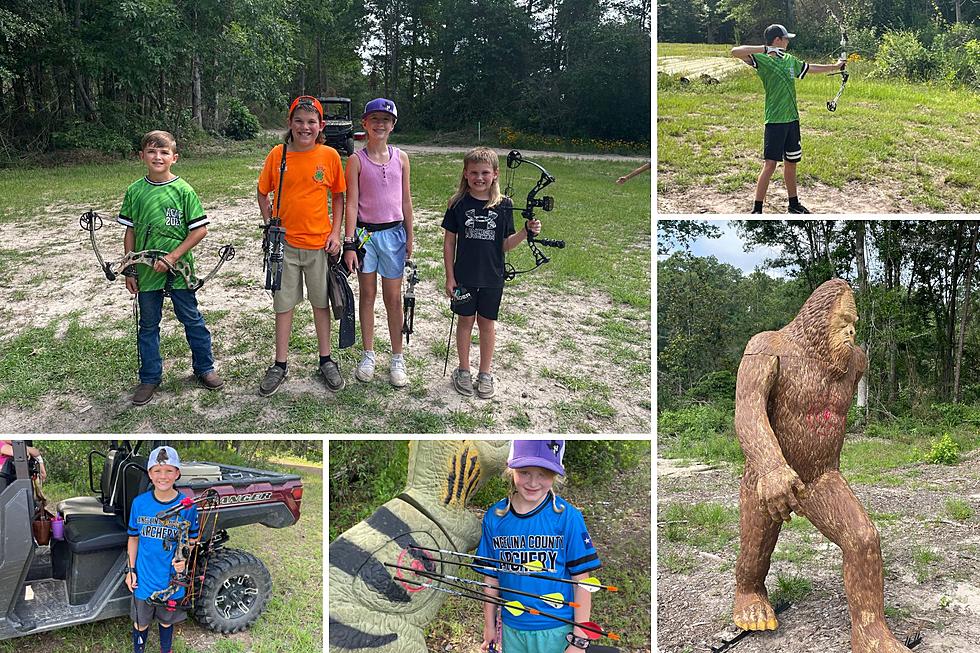 Bigfoot Beware! Youth Sharpshooters Impress at Lufkin 4-H Event
KICKS 105
Ryan Merrel is an Angelina County Extension Agent and is also in charge of the county's 4-H and Youth Development. He invited me to come out this past Saturday to the first-ever Angelina County 4-H 3D Archery Meet.
When I arrived at the Pines Sporting Clays Gun Club, Ryan along with Sheryl Herrington, with the Newton Area Youth Gun & Bow Club, loaded me up in a side-by-side and gave me a tour of the various stations, and introduced me to some of the young competitors.
After watching some of the skills of these youngsters, I learned several things. Number one, whether for sport or hunting, the youth of Angelina County and the surrounding area are top-notch when it comes to handling a bow and arrow. Number two, East Texas need not worry if we ever come under attack by a dinosaur or Sasquatch.
This grouping by 6-year-old Alli Parrott should scare off any dinosaurs at the mere mention of her name.
No one had launched any arrows into this big guy when I passed by, but given the sharpshooters roaming about, I don't think this 300-pound creature stood much of a chance.
The 3D Archery event was open to youth from 3rd grade to 12th grade. There were also adult divisions. I talked to contestants from Lufkin, Crockett, Nacogdoches, and Saratoga, Texas. I know other towns were represented as well.
Volunteers from Heritage Land Bank were on hand to fire up the grill in the oppressive heat and prepare lunch for all the folks that participated in the event.
You can find a readout of all the scores from the Angelina County 4-H Archery Facebook Page below.
Angelina County 4-H Archery