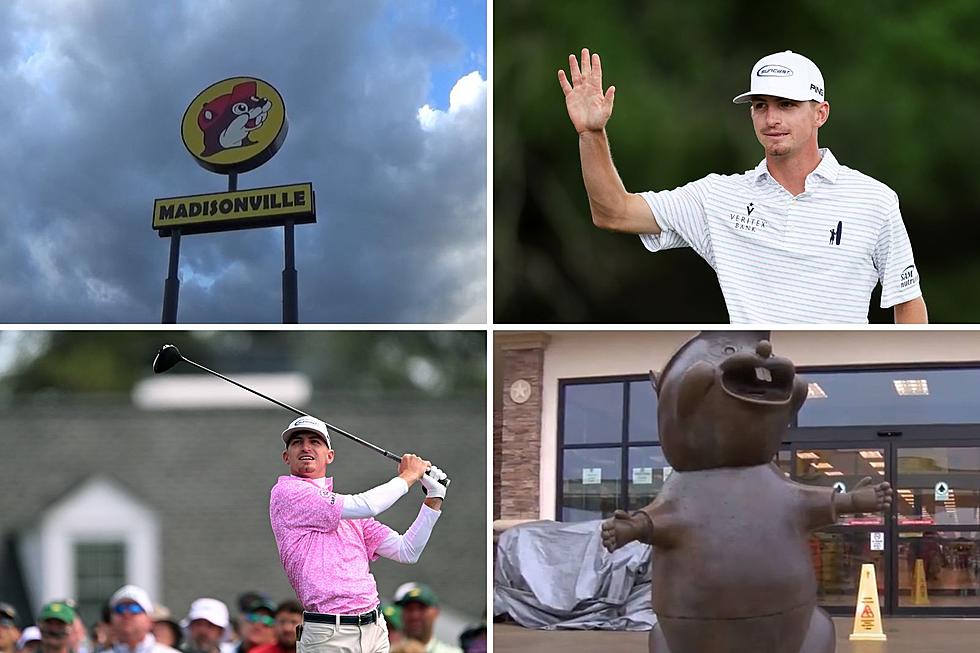 Beaver Nuggets! Top 5 Reasons Buc-ee's Can Not Miss This Chance
Getty Images/Andrew Redington/Christian Petersen
What Comes to Mind When East Texans Think of Madisonville, Texas?
A place to play sports is probably one answer that comes to mind. The Mustangs are in the same district as several East Texas teams including Hudson, Rusk, Jacksonville, and Palestine.
Through the years, Madisonville has also been a common neutral site for regional high school playoff games, whether it be baseball, softball, or basketball.
But, the Top Thing Is...
Buc-ee's, of course.
The grand colossus of convenience stores is Buc-ee's, and the one at the intersection of I-45 and Highway 21 in Madisonville will be celebrating its 15th year in 2024.
Midas had the golden touch, but Buc-ee's has the golden beaver, or at least the bronze one. The Texas-based chain has become synonymous with delicious food, the cleanest bathrooms, top-rate marketing, and the ability to make you spend more money than you ever intended.
The Perfect Madisonville Match
Let's talk more about that top-rate marketing that Buc-ee's is famous for. From t-shirts and fashion to home decorations and seasonal items, the image of the famous beaver has found its way into millions of Texas homes and beyond.
Now, the marketing gurus at Buc-ee's have a perfect match that has just landed in their lap.
This 23-year-old Texan has spent the last few days making himself known to the world of golf at the 2023 Masters. The 5th-year student at Texas A&M is playing as an amateur, and after the first two rounds, he found himself in the top 3 of the tourney.
He ended up finishing tied for 16th overall at 2 under par. He was by far the low amateur player at this year's Masters.
Did I mention that Bennett is a graduate of Madisonville High School? Yes, that Madisonville, the home of Buc-ee's. Bennett's star is going to continue to rise, so it seems a no-brainer that these two strike a deal that will have the ball-capped beaver logo as a long-term fixture on all things Sam Bennett.
Top Five Reasons for Buc-ee's To Sponsor Sam Bennett
BEAVER NUGGETS!!
Some of the folks that attend PGA golf events love to be noticed by shouting phrases immediately after the golfer strikes the ball. It all started innocently enough with folks offering comments such as 'great shot' or 'atta boy'. Somehow the comment 'You da Man' started taking off, but now, some in the gallery are shouting headscratchers such as 'Mashed Potato' or 'Yabba Dabba Do'.
I say it's time to move on to 'Beaver Nuggets'. Whenever Sam Bennett blisters a drive down a fairway, someone should shout out BEAVER NUGGETS! It rolls off the tongue better than mashed potato, and hearing that repeatedly at the British Open will surely open the door for the Buc-ee's franchise to move into the United Kingdom.
2. BUC-EE'S GOLF HEADCOVER
The covers that are used on drivers have become quite the statement over the past couple of decades. Tiger Woods has his signature tiger headcover and Rory McIlroy has been known to sport a St. Bernard headcover.
We need a Buc-ee the Beaver sitting on top of a driver.
It sure looks like they already exist. Bennett needs to add this to his golf bag. Speaking of which, Buc-ee's needs to use the potential sponsorship to grow an entire line of golf-related items such as golf bags, golf tees, and golf shoes.
3. BEAVER BALLS
Move over Titleist and Srixon, and get ready for the only golf ball used by Sam Bennett - Buc-ee's Beaver Balls.
Here's your slogan - "With teeth like this, nothing bites harder on the green."
4. BUC-EE'S VERY OWN PGA EVENT
As Sam Bennett continues his rise as a professional golfer, so will the imprint of Buc-ee's grow into the golf landscape. It should be just a matter of time before the beaver has its own tour golf event.
The tournament should be held somewhere in Texas, the event should feature the cleanest bathrooms of any PGA tour event and plenty of jerky and chopped BBQ sandwiches at the concession stands.
Plus, the championship trophy should incorporate the beaver statue you find in front of the stores.
5. TIE-DYED JACKET
This is an extension of the Buc-ee's golf tournament, but instead of the winner getting a green jacket like the Master's Champion, the winner gets to sport a tie-dyed jacket, and, of course, a lifetime supply of beaver nuggets.
Some of the Best Snacks at Buc-ee's
The Healthiest Things You Can Eat At Buc-ee's
Being on the road isn't a great time to switch up your diet. If you are trying to eat clean, here are some choices at Texas' favorite rest stop.
Look: Buc-ee's, Whataburger and 9 Other Iconic Companies Started Up in Texas