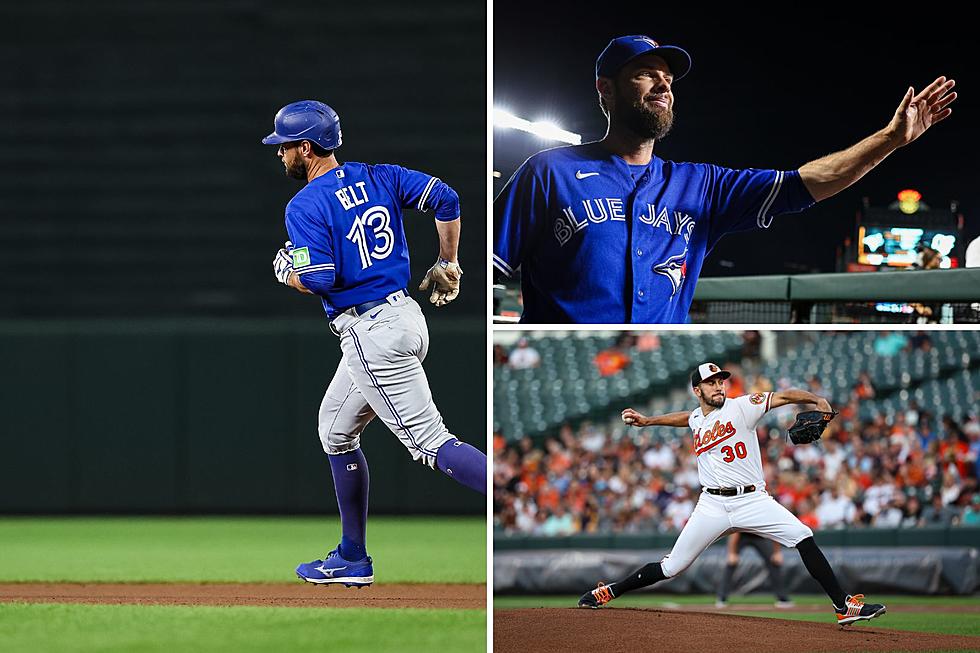 East Texas Showdown, Rodriguez Has Solid Outing, But Belt is Hero
Scott Taetsch/Getty Images
Tuesday night's showdown between the Baltimore Orioles and the Toronto Blue Jays was the start of a three-game series that could have some major playoff implications. The Orioles find themselves with a slim lead atop the American League East, while the Blue Jays are immersed in a very tight and hotly contested four-team battle for three wild card spots.
There was also another captivating reason to follow this game, that is if you're from East Texas.
Central Heights Blue Devil Grayson Rodriguez got the start for Baltimore tonight. In the visiting dugout and getting the start as the designated hitter was the former Hudson Hornet, Brandon Belt.
Grayson Not Dominating, But Solid
Rodriguez was coming off his best performance as a Major Leaguer when he went 7 innings and picked up the win against the San Diego Padres.
Tuesday, Grayson scattered 8 hits through 6 innings while striking out 5 and giving up three runs. Rodriguez left the game with the game knotted up at 3 apiece.
Belt Struggles Early, But Ends Up The Hero
Brandon Belt faced his fellow East Texan three times. Rodriguez, for the most part, got the better of Belt. Brandon walked his first time against Grayson, then followed that up with a strikeout and a line out to the center fielder.
However, Belt would have the game-winning hit for Toronto. In the top of the 10th inning, Brandon launched a fastball 417 feet for a two-run homer. The Blue Jays ended up winning the game in extra innings, 6-3.
Brandon Belt continues to be on a tear as of late. He has hit 3 homers in his last 2 ball games. He now has 14 dingers on the season. 
Top Ten Super Bowl Performances by Players Born in Texas
Here are the top ten individual performances for Super Bowl 1 through Super Bowl 56 by players that were born in the Lone Star State.