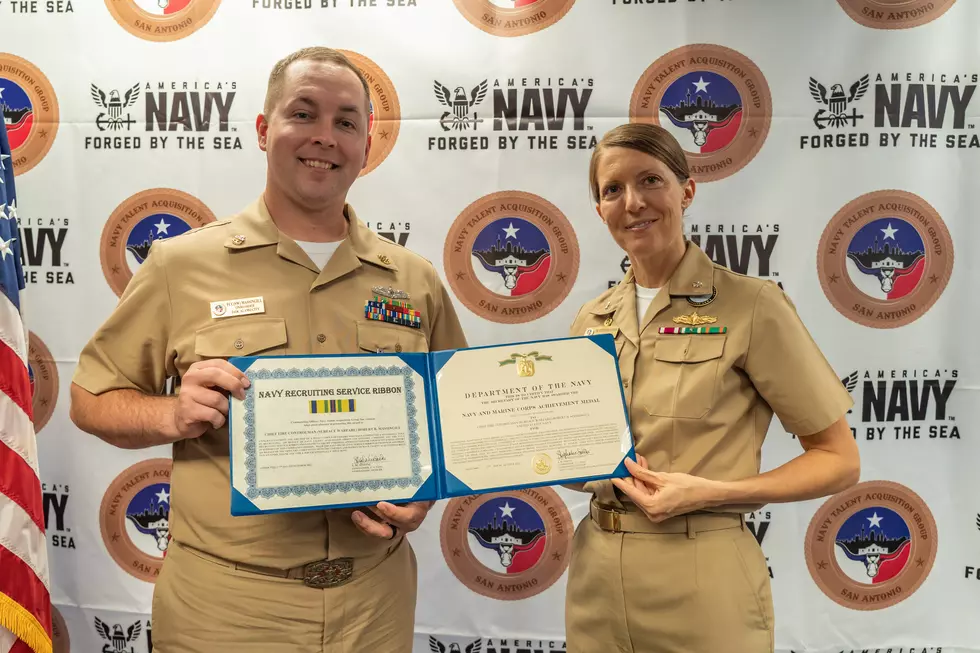 Lufkin High School Graduate Honored for Exceptional Naval Service
Contributed Photo - US Navy
A Lufkin High School graduate has been recognized by the United States Navy for the remarkable performance of his duties.
Chief Fire Controlman Robert B. Massingill who has served as a Leading Chief Petty Officer, Lead Onboarder for Navy Talent Acquisition Group (NTAG) San Antonio since 2019, earned a Navy and Marine Corps Achievement Medal and Navy Recruiting Service Ribbon for his dedicated service. Massingill was recognized and pinned by NTAG San Antonio Commanding Officer, CDR. Stephanie Simoni with the assistance of the Executive Officer, CDR Stacey O'Neal, and Command Master Chief, DMDCM Samuel Bernal.
Massingill, who is a Lufkin High School Graduate and joined the Navy in 2011, was recognized for performing his demanding duties in an exemplary and highly professional manner which resulted in the attainment of eleven contracts, and as a Leading Chief Petty Officer led, trained, and mentored 241 Future Sailors.
Massingill's efforts played a substantial role in the command attaining the fiscal year 2020 Navy Recruiting Bronze and Gold Recruiting "R" Awards thereby lending further recognition for his exceptional professionalism, unrelenting perseverance, loyal devotion to duty, and keeping with the highest traditions of the United States Naval service.
In his closing words, Massingill thanked those present for their support and recognition and shared admiration for his time with the command.
NTAG San Antonio's area of responsibility includes more than 30 Navy Recruiting Stations and Navy Officer Recruiting Stations spread throughout 144,000 square miles of Central and South Texas territory.
Congratulations to Chief Petty Officer Massingill for his recent accolades.
Burial Sites of Honored Texans
Since its statehood in 1845, Texas has been the home of thousands of honored and well-known men and women. Let's take a look at the final resting place of these men and women, as well as a world-famous bull and rumored extra-terrestrial.
Ellen Trout Zoo - Zoo Boo 2022 Saturday Photos
The last night of this Ellen Trout Zoo Halloween event was well attended and even bigger than the Friday night event.