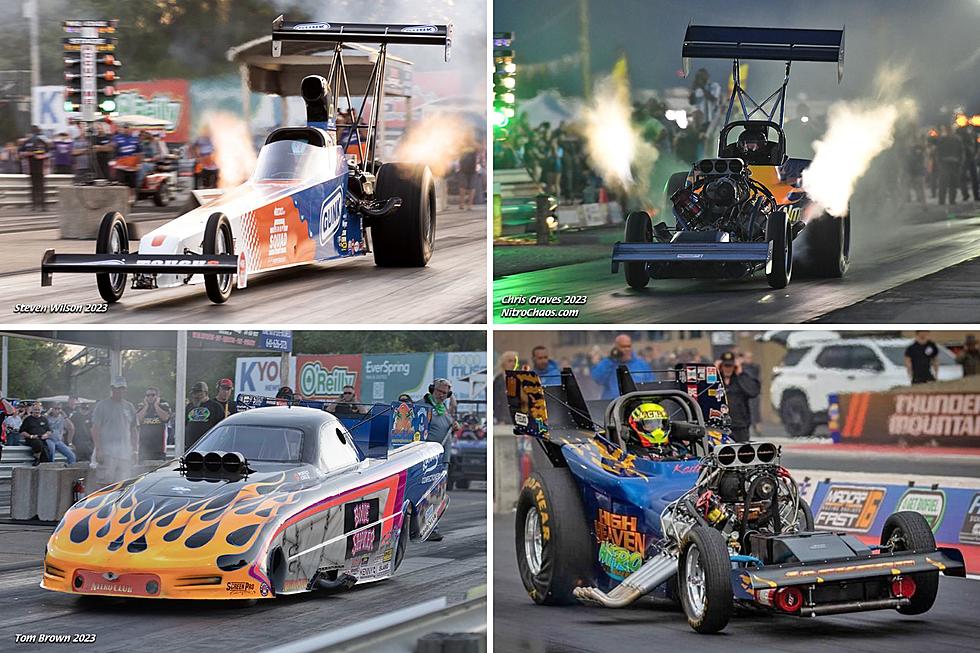 Pine Valley Raceway to Host Championships of Nitro Chaos Series
Contributed via Nitro Chaos website
Friday, September 22, and Saturday, September 23, the earth will be quaking as the championship round of the Nitro Chaos Finals invades Pine Valley Raceway, just northeast of Diboll, Texas.
Since April, the series has rolled through Ohio, Missouri, and Indiana. Now, it's time for the champions to be crowned right here in East Texas.
What is Nitro Chaos?
These events are solely designed to satisfy the craving for that wicked potion...The yearning of the sights, sounds, and bone-rattling power from within the pipes...for all racers and fans...who have nitromethane running through their veins.

 
Any nitro-powered drag racing machine is allowed to enter. The ONLY rule is, the car must run on a MINIMUM of 80%+ nitromethane. Fuel will be checked randomly. There are no rules or limitations on engine combination, car style, weight, or fuel pumps.
The list of nitro dragsters and funny cars scheduled to compete is impressive!
Ticket Info
Adult Admission
Friday - $20
Saturday - $25
Two Day - $40
Kids 12 & Under FREE
Every Ticket is a Pit Pass!
Military $5 Off w/ID
Parking Info
General Admission Parking is free
VIP Pit Side Parking - $20 Per Car / Per Day
Trackside Tailgate Spots
Spectator Side - $50
Pit Side - $75
(Full Weekend)
RV · Motorhome
$100 Weekend Pass
Dry Camping On Pit Side
Daily Schedule
Friday · Sept 22
Pit Gate opens @ 10 AM
Spectator Gate opens @ 3 PM
Test & Tune Session 1 @ 6 PM
Nitro Q1 @ 7 PM
Test & Tune Session 2
Nitro Q2 @ 9:30 PM
Jet Dragsters
Saturday · Sept 23
Pit Gate opens @ 10 AM
Spectator Gate opens @ Noon
Sportsman Racing + TNT @ 2 PM
Nitro Q3 @ 3 PM
Sportsman Racing + TNT Continues
Nitro Eliminations @ 6 PM
Jet Dragsters
Sportsman Racing + TNT Continues
Nitro Semi-Finals @ 8 PM
Jet Dragsters
Sportsman Racing + TNT Continues
Nitro Finals @ 10 PM
Complete Additional Finals
Wanna Ride in a Dragster?
KICKS 105 has your chance to ride in a 2-seat dragster down the quarter-mile drag strips. Just enter below (must be 18 or over). The winner will be selected on September 20 on the Merrell in the Morning Show.
PICTURES: See Inside NASCAR's Most Expensive Mansions
The largest NASCAR driver home includes an indoor aquarium and more than 19,000 square feet of living on 415 acres. The No. 10 home on this list of the 10 most expensive is hardly a postage stamp by comparison.
Taste of Country recently compiled the priciest NASCAR driver homes, and while a few famous names make the list, a few not-quite-as-famous names do, too. Dale Jr., Denny Hamlin, Danica Patrick and the Busch brothers are a few of the drivers to look for on this list of mega-mansions. See pictures of all 10 and a full home tour of the No. 1 house.
PICTURES: See Inside NASCAR Champ Kyle Bush's Astonishing $13 Million Waterfront Estate
NASCAR champion Kyle Bush is selling his $13 million waterfront estate in North Carolina, and pictures show a lavish property with top-of-the-line amenities across the board.