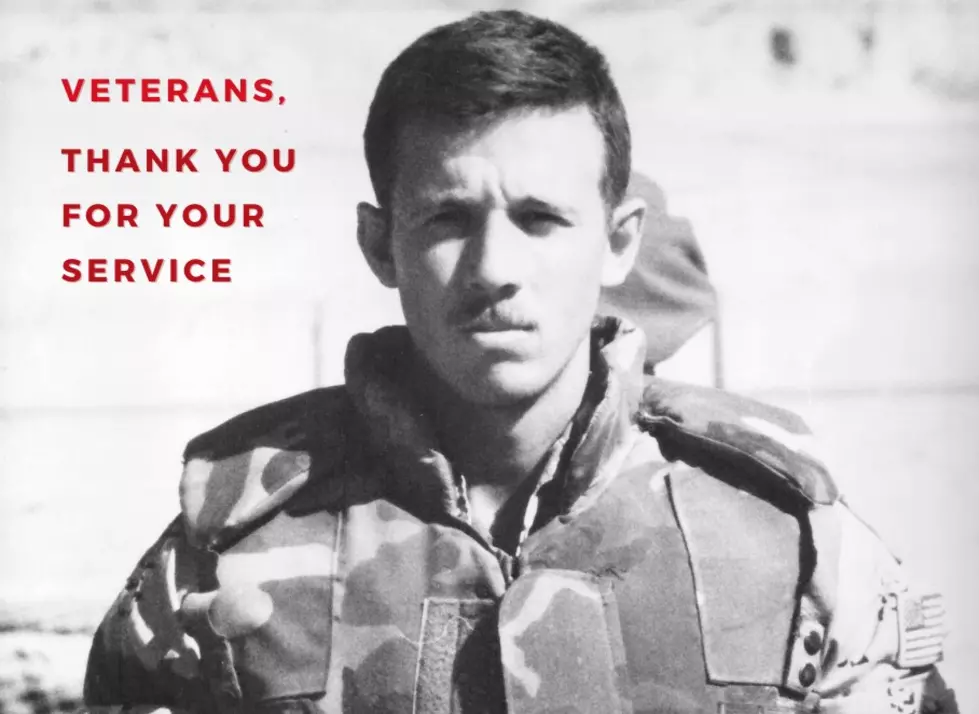 Red Cross Honors Deep East Texas Veteran for His Years of Service
Contributed Photo/American Red Cross
This Veterans Day, the American Red Cross is making it a point to recognize veterans who continue their service in local communities across the country. One of those is Chester Jourdan Jr., Southeast and Deep East Executive Director of the American Red Cross.
For six years, Jourdan Served in the United States Army with the 82nd Airborne Division, Fort Bragg, North Carolina, and the 101st Airborne Division, Fort Campbell, Kentucky. Before deploying with the 82nd Airborne Division to the Middle East, Chester Jourdan Jr. and his wife found out they were expecting their first child.
His wife, Cheryl, went into labor three months early, and while out on patrol during deployment, his command received a call from the American Red Cross to inform Jourdan his wife gave birth to a healthy baby girl. One month later, Jourdan returned home to be reunited with his wife and meet his daughter, Casey.
"I've always appreciated the role the American Red Cross played," said Jourdan. "I also appreciate what the American Red Cross continues to do, not only for active-duty men and women but for veterans and families too."
After his time in the military, Jourdan received his undergraduate from Stephen F. Austin University in Nacogdoches and went on to obtain his master's from the University of Texas in Austin. In 2000, he became the Executive Director of the Southeast Texas Regional Planning Commission after working for over a decade in the Federal Government.
His role required working closely with the local American Red Cross chapter. When Hurricane Rita and Katrina hit, they were able to provide services to 27,000 Hurricane Katrina evacuees. Only three weeks after Hurricane Katrina, Hurricane Rita struck causing damage to Jourdan's home and community. A year later, he took a position in Columbus, Ohio, for six years before returning to his roots. He became the Executive Director serving 17 counties for the Southeast and Deep East Texas Red Cross Chapter in 2014.
"This is where I live, this is where I was raised," said Jourdan. "My family has been in Deep East Texas for over seven generations, and so it was a natural fit. It's not only a job for us, but it's our family, as well as the folks we know, grew up with and live next to."
As Executive Director, Jourdan's the voice of the chapter. He provides information on organizations that offer different services and advocates for the organization, community, and volunteers. When not working in the district, Jourdan deploys all over the nation as an Elected Official Liaison to participate in Disaster Relief Services. On top of it all, he speaks to groups like Services to the Armed Forces and other Veteran organizations to continue giving back.
Born and raised in Jasper, Texas, Jourdan graduated high school from the Port Neches school district where his wife now works for its school district. His youngest daughter, Callie is a graduate student and softball player at Ouachita Baptist University in Arkadelphia, Arkansas, while his oldest, Casey teaches for Port Neches School District. Callie is hoping to follow in her sister's footsteps in becoming a teacher in their family's deep-rooted district.
"You know the thing that I can do or anything else is to support them," said Jourdan. "To support our volunteers, services, resources and Services to the Armed Forces."
Farm House On The Hill In Nacogdoches, Texas
You won't be roughing it in this two-story home on 40+ acres out in Nacogdoches County.
Texas 6 Most Wanted Fugitives
Take precaution and familiarize yourself with the following faces. These criminals are currently listed in the Texas 10 Most Wanted.