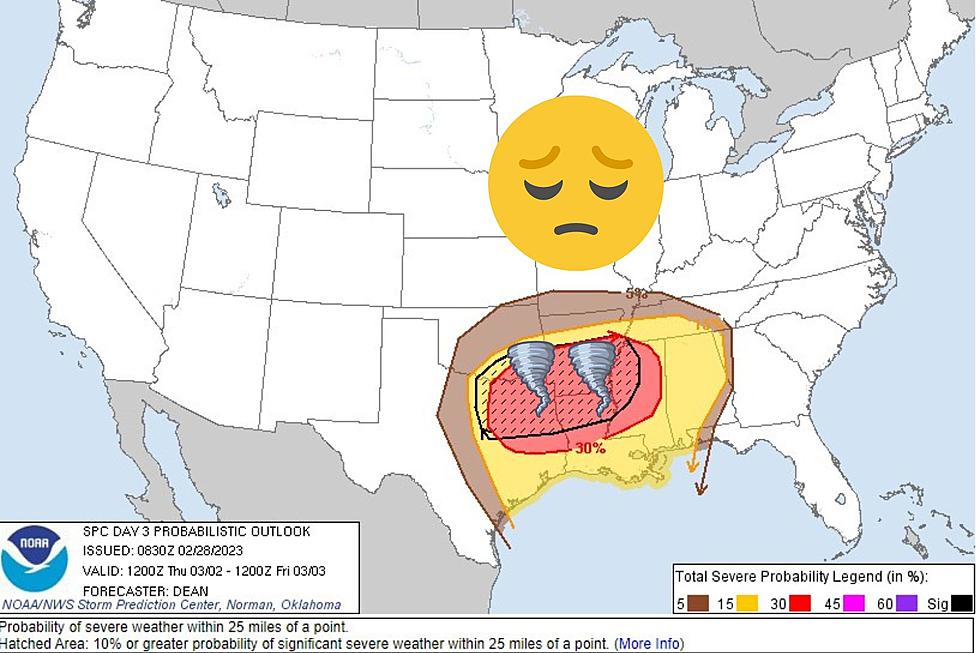 East Texas is in the Target Zone for Dangerous Storms on Thursday
NOAA/Canva
March Is Coming In Like a Lion
There's an old saying that goes, "March comes in like a lion but goes out like a lamb." It usually means that during the first days of March, it's still cold, but by the end of the month, warmer weather returns.
Obviously, that cliche is not targeted at the southern states. Around these parts, March comes in like a lion, and the lion stays through the spring.  That lion is severe weather, and it will be roaring into East Texas on Thursday.
This Map is NOT a Good Look for Thursday
According to the Storm Prediction Center, severe storms will be erupting across much of Deep East Texas on Thursday afternoon and continuing into the nighttime hours.
Damaging straight-line winds, large hail, and EF2+ (111 mph+) tornadoes are possible throughout the Pineywoods, as well as into northern Louisiana and southern Arkansas.
That hatched area in the map above is expected to have a pretty decent chance of seeing 'significant severe weather'. It's not a guarantee, but you should still think ahead and prepare in case a severe storm pops up in your neck of the woods.
This Map is Expected to Change...for the Worse
As of this posting, Angelina, Nacogdoches, and all adjacent counties are in the 'enhanced' zone for the possibility of severe weather on Thursday afternoon and night. If you live in Lufkin, Nacogdoches, Center, Crockett, Diboll, San Augustine, and Jasper, you are included in this zone.
Meteorologists with the Storm Prediction Center anticipate that portions of this enhanced zone will be upgraded and shaded to red which indicates a 'moderate' chance for the worst of the storms.
Be Ready and Download Our App
When the forecasters are confidently predicting an outbreak of severe weather and strong tornadoes three days in advance, it's a good idea to take heed and prepare.
Some of these storms may happen after the sun has set, so have an idea of where you would go within your home if a tornado threatens. If you live in a mobile home and a tornado warning is issued for your immediate vicinity, have a plan in place to evacuate out of that home.
Download our App for breaking weather updates to be sent to your smartphone. 
8 Ways To Prepare For a Tornado
Check Out These Tornado Pictures From Killeen, Round Rock and Temple, Texas
Texas had a few tornadoes on Monday, March 21. Thankfully there haven't been reports of deaths or major injuries in our area, but there was plenty of damage.
We asked listeners from Central Texas to send us your storm photos, and this is what we've got so far! If you've like to send us more to share with the rest of the community, head to our Facebook page or tap the Chat feature in
our free app
.