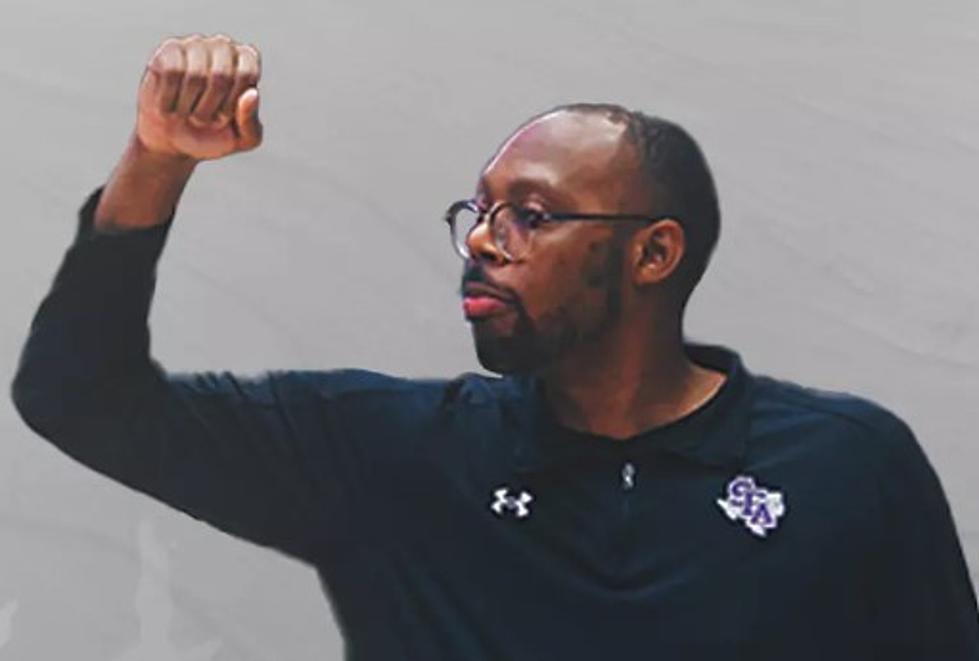 Bishop Takes King, SFA Ladyjacks Reveal New Head Basketball Coach
SFA Sports
I've spent the last 30 or so years handling the public address duties at SFA Lumberjack and Ladyjack basketball games. In that time, I've seen a lot of great players and coaches in that time.
I was not surprised when the word came a little over a week ago that SFA Ladyjack head coach Mark Kellogg was hired away by West Virginia University. Kellogg is one of the best in the business, and even though I was hoping we could hold onto him for another season or two, he deserves everything good coming his way.
Over the past 7 seasons, I've also observed the contributions of Ladyjack Associate Head Coach Len Bishop. Given what I have seen during this time, I must say that I'm extremely pleased with the announcement today that Coach Bishop will become the new head coach for Ladyjack Basketball.
A press conference to introduce the next Ladyjack Basketball Head Coach is set for Tuesday, April 18, beginning at 12 p.m. inside the William R. Johnson Coliseum. There will be seating provided on the court and the doors will open at 11:30 a.m. The press conference will also be streamed on Facebook Live found on the SFA Athletics Facebook account.
"This is a great and historic day for our storied and rich Ladyjack basketball program, and all of SFA Athletics," Director of Athletics, Ryan Ivey, shared. "Our program is a national brand in women's college basketball.  As such, it demanded that we initiate a thorough and exhaustive national search.  As that search evolved over the last 10 days, it landed right back where we started, in Nacogdoches, and I couldn't be more excited and proud."
Most recently serving as the Ladyjacks Associate Head Coach, Leonard has been the architect of recent successes as his teams have worked to continue the winning tradition of Ladyjack basketball since his arrival. Entering his 9th season in the Sawmill, Coach Bishop leads a team coming off of a 27-7 season in 2022-23, a record-breaking 28-5 season in 2021-22 that resulted in winning both WAC League and WAC Tournament titles along with an NCAA tournament appearance and a stellar 24-3 campaign in 2020-21 that saw the Ladyjacks exit the Southland as both SLC League and SLC Tournament winners along with another NCAA tournament appearance. Over the last 8 seasons, the Ladyjacks have advanced to the postseason 6 consecutive times, including dominant performances in the NCAA first rounds against the University of North Carolina (2022) and Georgia Tech (2021) which came down to the wire in what may have called "instant classics".
"I am happy that Coach Bishop will be the next head coach of the Ladyjacks.  He has prepared his entire life and I am convinced he will carry on the great legacy of our storied program, without pause," said SFA President Dr. Steve Westbrook.
Developing players has been a strength of Coach Bishop's career having coached numerous All-Conference and All-Tournament players every place he has been. Leonard will now look to build on his current team and will continue to put his stamp on the Ladyjacks style of play and talent that walks the halls of the Sawmill for seasons to come.  A native of Dallas, Texas, Bishop played college basketball at Three Rivers Community College, Collin County Community College and at Texas A&M-Commerce, graduating in 2008.
Ivey continued to say, "The past is historic, the present is exciting, and the future is bright for this iconic SFA women's basketball program.  Coach Bishop has been an instrumental part of the sustained success model over the last 8 years, and I have no doubt that he will be able to move us forward and continue our momentum of success, while understanding and respecting the giants of the game that have come before him."
Grayson Rodriguez Major League Debut
Grayson Rodriguez who played high school baseball at Central Heights made his Major League debut on April 5, 2023, pitching against the Texas Rangers.
Top Ten Mispronounced Towns in Deep East Texas
Some East Texas towns are a tongue twister in themselves. Correctly pronouncing others is just a matter of where you emphasize the syllable. Here's a look at the top 10 mispronounced towns in the Pineywoods.