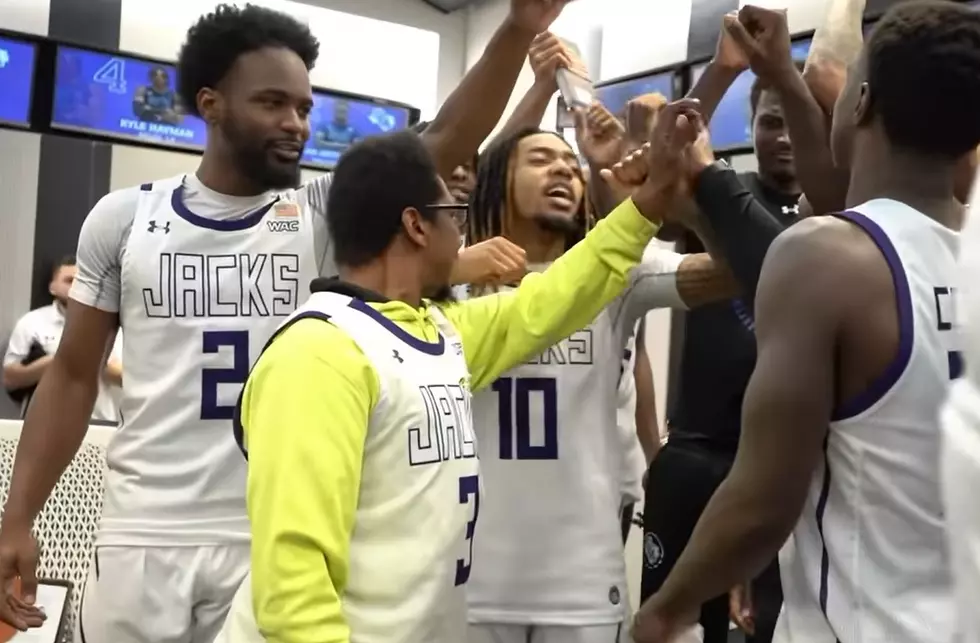 WATCH: SFA Basketball Players Give Uplifting Birthday Wish to Fan
Screenshot/Lumberjack Basketball Facebook
On Saturday afternoon, the SFA Lumberjacks basketball team pulled off their biggest victory of the year thus far. It was a battle between two first-place teams in the Western Athletic Conference.
A large crowd of over 3200 was at the 'Sawmill' hoping that the showdown would live up to the hype.  It more than did. The Lumberjacks and the 'Lopes traded lead changes and scoring runs, but in the end, the 'Jacks would get their 14th straight conference win, 73-68.
Best Performances of the Afternoon
Numerous SFA players made big contributions to help the Lumberjacks get the victory, but the most notable performances of the day happened well after the game was over. It had nothing to do with made shots, rebounds, or hustle plays. It had to do with the heart and some very impressive singing voices.
A Very Special Birthday
You probably won't find a bigger SFA basketball fan than Anthony (Ant). No matter the struggles he faces on a daily basis, he's at the coliseum cheering on the SFA teams.
It just so happened that Saturday was his birthday. Not only did he get his name announced during the game, but he got treated to a special gift (and serenade) following the game.
'
Anthony wished for a 'game-worn' jersey, and he was presented with the #3 jersey worn that afternoon by Day-Day Hall. Thanks to the SFA Men's Twitter Page for the video.
And How About Those Singers?!
SFA basketball players Latrell Jossell, AJ Cajuste, and Robbie Armbrester obviously have another great talent besides what they do on the court.
Maybe this could be the start of a new singing group. They could call themselves 'Jacked Up'.
It was a great way to cap off a huge day for SFA Basketball.  They got a major win and gave a young man a birthday he'll never forget.
Axe 'em!
24 Unique or Odd Texas School Mascots
People are proud of these unique mascots in the state of Texas.
Magnificent $1.2 Million Dollar French Estate In Nacogdoches
Dream big with this massive hidden estate right behind Nacogdoches High School.