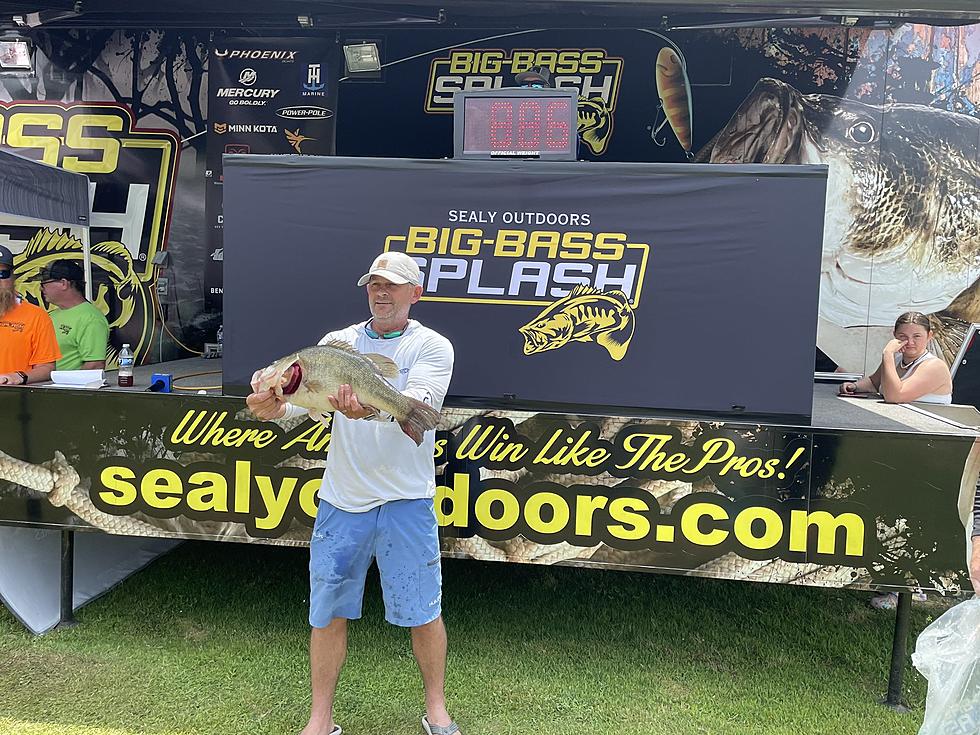 2023 Big Bass Splash on Lake Toledo Bend – Sunday Standings
KICKS 105
Day two of the KICKS 105 Big Bass Splash on the Toledo Bend Reservoir brought several changes to the overall leaderboard as we head into the third and final day of the tourney. Clay Carpenter, who lead after the first day of fishing, was knocked back to second when Bobby Henderson weighed in an 8.86-pound bass in the final hour on Saturday.
Here are the top five overall fishermen after Day Two of the 2023 Toledo Bend Big Bass Splash.
Bobby Henderson, Stonewall, LA - 8.86
Clay Carpenter, Pasadena, TX - 8.74
Robert Watkins, Carencro, LA - 8.30
Dennis Pattison, San Saba, TX - 8.12
Kasidy Despaux, Marrero, LA - 8.03
Two out of the three exact-weight fish were claimed on Saturday, with the 5.00 being the only $5,000 bass to go unclaimed. That cash will be randomly drawn during the closing ceremonies on Sunday.
$15,000 in exact weight payouts are up for grabs again on Sunday.
This year's Big Bass Splash features half a million dollars in guaranteed cash and prizes.  The grand prize for the largest bass overall includes
Phoenix 721 Pro XP powered by Mercury, equipped with Minn Kota, Hummingbird, Navionics, Power Pole; RAM Truck; Plus . . . $5,000 Cash
There are also huge prizes for the overall 2nd through 5th place finishers.
2ND PLACE:  . . . $15,000 Cash
3RD PLACE:  . . . $10,000 Cash
4TH PLACE:  . . . $  5,000 Cash
5TH PLACE:  . . . $  2,500 Cash
Fifteen places will be paid each hour of each tournament day beginning with the 7-8 am hour and continuing through the 1-2 pm hour for the 15 heaviest bass weighed in for the hour.  Additionally, $5,000 will be paid to the first exact weight 3.00, 4.00, and 5.00 pound bass brought in each day of the tournament. That's over $250,000 in cold, hard cash that's guaranteed to be paid out for the top 15 each hour as well as the exact weight winners.
The tournament officially gets underway each morning at 6 with the official notification on KICKS 105.  The first hour (6-7) is a fishing hour.  Weigh-ins will not start until the 7 am hour.
Stay up to date on all the important weigh-ins by following our Twitter page. Get updates on all the exciting stories with our App alerts.  Be sure to listen live for updates as well.
Below are the hourly standings for the KICKS 105 Big Bass Splash tournament on Sunday, May 21.
Friday Standings | Saturday Standings
Claude Thompson, Evans, LA - 6.83
Jewel Hunt, Montgomery, TX - 6.45
Ssm Laprarie, Pineville, LA - 6.34
Ted Pate, Alexandria, LA - 6.10
Eric Jeansonne, Brookeland, TX - 5.83
Zachary Norwood, Stonewall, LA - 5.16
Jacob Ingraham, Colfax, LA - 5.16
Cory Hyden, Silsbee, TX - 5.08
Yarri Shreibvogel, Brookeland, TX - 4.78
Jimmy Jeansonne, Natchitoches, LA - 4.78
Rickey Garrett, Hemphill, TX - 4.59
David Lee, Purvis, MS - 4.44
Joe Wilkerson, Many, LA - 4.44
Matthew Laprairie, Pineville, LA - 4.21
Chris White, Rosepine, LA - 4.20
Donnie Helton, Hemphill, TX - 4.06
Dustin Hazelton, Kennard, TX - 3.70

Cameron Head, Tenaha, TX - 8.42
Patrick Fairchild, San Augustine, TX - 6.16
Andrew Dean, Florien, LA - 5.76
Wesley Holt, Otis, LA - 4.97
Benji Gulett, Converse, LA - 4.97
Sam Laprarie, Pineville, LA - 4.53
Yarri Shreibvogel, Brookeland, TX - 4.49
Brian Bizette, Denham Springs, LA - 4.40
Brannon Mire, Broussard, LA - 4.32
Dakota Posey, Orange, TX - 4.19
Kevin Lasyone, Dry Prong, LA - 4.16
Dylan Nelson, Cove, AR - 4.03
Holden Ashworth, Vidor, TX - 4.01
Stephen Trail, Rector, AR - 3.88
Josh Deville, Pineville, LA - 3.86

John Turner, Hemphill, TX - 7.80
Benji Gulett, Converse, LA - 5.43
Mark Harveston, Church Hill, MS - 5.38
Jeff Brinegar, Woodway, TX - 5.34
Richard Ancheta, Leesville, LA - 5.22
Cole Stewart, Hemphill, TX - 5.13
Breech Leatherwood, Converse, LA - 4.78
Michael Ivey, Otis, LA - 4.72
James Dortlon, Marthaville, LA - 4.70
Matthew Laprarie, Pineville, LA - 4.68
Trail Lindhorst, Glendale, AZ - 4.53
Randy Gauntt, Natchitoches, LA - 4.16
Randal Cooper, Elmer, LA - 4.15
Ricky Howard, El Campo, TX - 4.10
Chad Willis, Ville Platte, LA - 4.07
Marc Winters, San Augustine, TX - 4.04
James Kezerle, Noble, LA - 4.00...$5,000!

Terry Wise, Mora, LA - 7.62
Ervin Gatson, Jr., New Llano, LA - 6.04
Wayne Ebarb, Many, LA - 5.99
Wendy Bryant, Marksville, LA - 5.10
Darryl King, Dry Prong, LA - 4.88
Joseph Storozyszyn, Deridder, LA - 4.75
Trenton Pitre, Thibodaux, LA - 4.64
Blake McKenzie, Pineville, LA - 4.64
Russell Smith, Ben Lomand, AR - 4.56
Wesley Dodge, Center Point, LA - 4.46
Shane Lurry, Boyce, LA - 4.14
Laramie Hill, Ponchatoula, LA - 4.09
Tom Nilssen, New Braunfels, TX - 4.07
Caden Hubbard, Orange, TX - 3.94
Johnny Finney, Grand Cane, LA - 3.92

Kenneth Craig, Frierson, LA - 7.36
Todd Robertson, Youngsville, LA - 5.74
Marc Winters, San Augustine, TX - 5.72
Boyd Mamolo, Gueydan, LA - 5.40
Bob Harvey, Pineville, LA - 5.37
Wayne Ebarb, Many, LA - 5.18
Bill Lambert, West Monroe, LA - 5.08
Greg Burrage, Caledonia, MS - 5.07
Austin Anderson, Kirbyville, TX - 4.99
Lane Smith, Shreveport, LA - 4.80
Paul Paille, Covington, LA - 4.66
Bryan Johnson, Mandeville, LA - 4.64
Brad Hillebrandt, Bagley, LA - 4.55
Casey Friday, Baytown, TX - 4.45
Jacob Powell, Colfax, LA - 4.41
Daron Gray, Winnsboro, LA - 4.07
Jeffery Tammen, Colfax, LA - 3.94

Robert Watkins, Carencro, LA - 7.56
Riley Harris, Orange, TX - 7.41
Holden Ashworth, Vidor, TX - 7.29
Chance Havard, Carenero, LA - 6.90
Casey Friday, Baytown, TX - 6.58
Eric Jeansonne, Brookland, TX - 6.27
Cameran Roane, Beaumont, TX - 5.94
Oscar Langele, Orange, TX - 5.76
Chad Willis, Ville Platte, LA - 5.38
Zander DuBose, Mauriceville, LA - 5.19
Byron Cooley, Deridder, LA - 4.97
Brian Schliesman, Irving, TX - 4.71
Dylan Breaux, Gray, LA - 4.43
Stacey Broussard, Longville, LA - 4.38
Dustin Rivers, Nobile, LA - 4.35

Ray Albritton, West Monroe, LA - 10.04
Cody Cooper, Garrison, TX - 7.17
Tater Reynolds, Florien, LA - 6.92
Steven Codey, Anacoco, LA - 5.96
Bryant Leblanc, Carencro, LA - 5.71
Tim McCormick, Lineville, AR - 5.50
Matt Jordan, Silsbee, TX - 5.22
Ricky Sims Jr, Center, TX - 4.93
Ryan Hanson, Bernice, LA - 4.80
Thomas McMillan, Choudrant, LA - 4.72
Joshua Mills, Leesville, LA - 4.65
Chris Draughn, Anacoco, LA - 4.54
Joshua Champagne, Breaux Bridge, LA - 4.45
Chad Willis, Ville Platte, LA - 4.39
Richard Gillespie, Vidalia, LA - 4.27
Charlie King, Coushatta, LA - 4.25
Cole Stewart, Hemphill, TX - 4.09

Ray Albritton, West Monroe, LA - 10.04
Bobby Henderson, Stonewall, LA - 8.86
Clay Carpenter, Pasadena, TX - 8.74
Cameron Head, Tenaha, TX - 8.42
Robert Watkins, Carencro, LA - 8.30