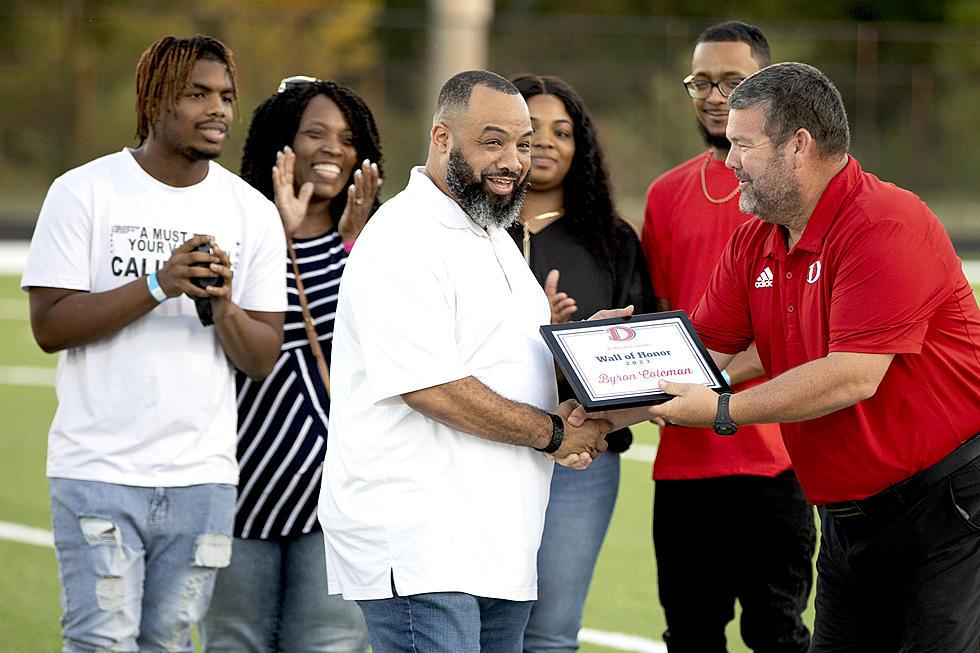 Angelina College Coach Inducted Into Diboll Wall of Honor
Gary Stallard/AC News Service
Angelina College head women's basketball coach Byron Coleman on Friday was inducted into the Diboll High School Wall of Honor. Coleman, a multi-sport athlete for the Lumberjacks in the 90s, won his 300th career game with the Lady Roadrunners earlier this year. Presenting the award was Diboll Athletics Director Blake Morrison.
Coleman has been at the helm of the Lady Roadrunners' basketball program for nearly two decades. Some of his accomplishments include having recorded three straight 20-plus-win seasons from the 2006-2010 seasons and compiling an overall record of 219-156.
His 2009-2010 team eclipsed the program mark for wins in a season with 26, including Coleman's 100th career win. He has coached the Region XIV Freshman of the Year in numerous seasons, including 2017-2018, and has had several players selected for All-Region and All-Conference honors. Some of his players have moved on to play professionally. Last season's appearance in the conference tournament made it 14 straight trips for Coleman and the Lady Roadrunners.
In 2017-2018, Coleman saw one of his players (Natasha Mack) selected for All-American status by two different organizations while in the same year earning Region XIV Freshman of the Year and 1st Team All-Region honors.
In addition, Coleman led the 2018-2019 Lady Roadrunners to the program's first conference tournament win and a first-ever berth in the national tournament. His team shattered the program mark for wins in a season with 29, and Mack was named the Spalding NJCAA Division I Player of the Year in addition to garnering two more All-American nods before signing to play with Oklahoma State University. For his efforts, Coleman was named the District L Coach of the Year.
In 2019-2020, the Lady Roadrunners again advanced all the way to the Region XIV Conference Championship Tournament, this time finishing as runners-up. Their appearance marked the first time the women's program ever competed for championships in consecutive seasons.
Coleman graduated from Angelina College in 2000 with an associate's degree in general studies; from there, he earned a degree in Kinesiology from Stephen F. Austin University and a master's degree in Human Sports and Performance from New Mexico Highlands University.
He was a three-sport athlete at Diboll High School, competing in football, basketball and track.
Top Ten Super Bowl Performances by Players Born in Texas
Here are the top ten individual performances for Super Bowl 1 through Super Bowl 56 by players that were born in the Lone Star State.
Gallery Credit: Danny Merrell
SFA's Xavier Gipson Scores Game-Winning Touchdown for the New York Jets
Xavier Gipson who played college football for the Lumberjacks of SFA, returns a punt 65 yards in overtime for the game-winning touchdown.
Gallery Credit: Danny Merrell