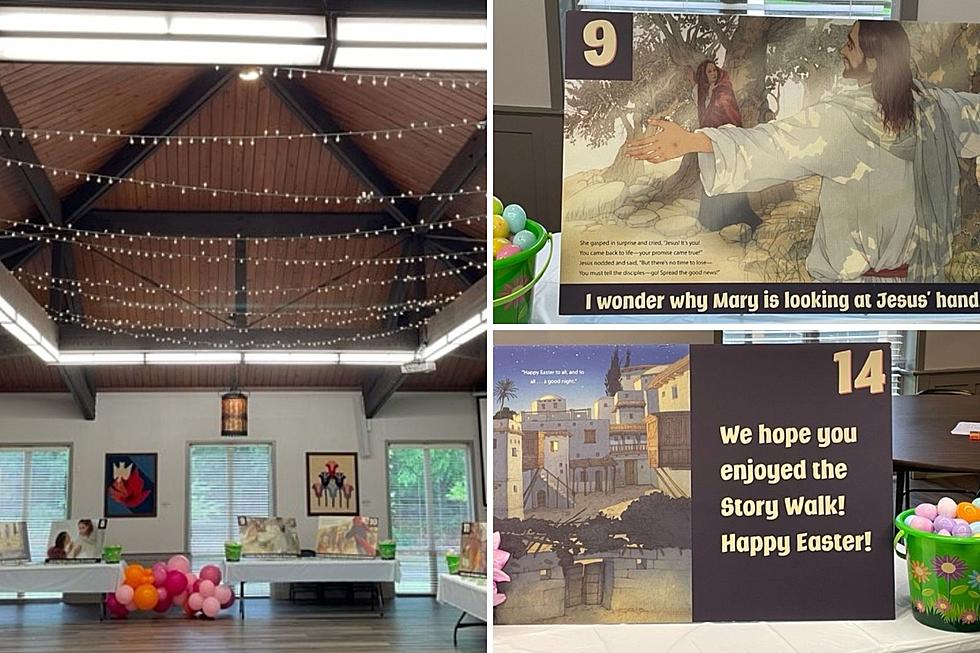 St. Cyprian's in Lufkin Is Hosting An Indoor Easter Story Walk
KICKS 105
Looking for eggs filled with chocolate and other goodies is a long-standing Easter tradition. There will be a lot of photos and videos taken over the weekend of kids wearing their Sunday best while hunting through a grassy field strewn with brightly-colored plastic eggs.
There might be a little problem with that scenario this weekend. We've had somewhere in the neighborhood of 4-5 inches of rain across much of the area over the last several days. Those fields may be a bit on the 'swampy' side, which doesn't make for good Easter egg hunting.
St. Cyprian's Episcopal Church Has An Alternative
Stay dry, get eggs, and learn about the true meaning of Easter.
The folks at St. Cyprian's Episcopal Church in Lufkin are hosting a FREE event that is continuing through Easter Sunday. It's called the Easter Story Walk and it's based on the book 'Twas the Morning of Easter written by Glenys Nellist, who is the author of multiple bestselling children's books.
The story of Easter is told at numerous stations. Children are welcome to bring their baskets and get a treat at each of the 15 stations. It's a wonderful way for kids and their families to experience the true meaning of Easter, and to get some goodies in the process.
The event was originally scheduled to be held from dusk to dawn outside on the church grounds. However, the recent heavy rains have forced the event to be brought inside the parish hall.
You're welcome to bring the kids to the Story Walk on Friday or Saturday from around 10 am to 6 pm, and then on Sunday during the midday hours.
St. Cyprian's is located at 919 S. John Redditt Drive in Lufkin.
Top 10 Easter Candies in the United States:
Chocolate is a favorite, but we also like some of the other candies you might find in your Easter basket.