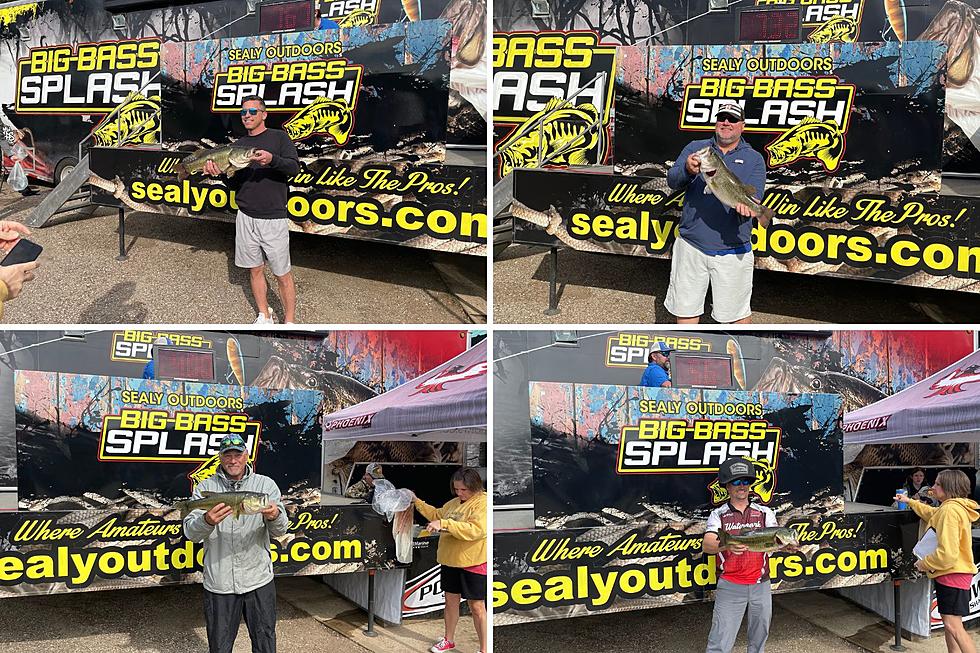 Results, Photos, and Videos From Day 1 of the Fall Shoot Out
KICKS 105
Tough lake conditions greeted anglers on the first day of the Sealy Outdoors 2023 Fall Shoot Out on Lake Sam Rayburn. A cold front brought northerly winds gusting to 25 mph throughout much of Saturday morning.
Thankfully, a number of competitors decided to take the safe route and trailer their fish to the weigh-in site at Umphrey Family Pavilion.
This year's Fall Shoot Out guarantees $200,000 in payouts in cash and prizes. That includes $2500 for each angler that brings in the first exact weight 3.00 and 4.00 bass of the tournament.  That can provide for celebrations and disappointments.
Even though the windy conditions hindered some of the fishing, there were still quite a few nice-sized bass that were brought to the weigh-in site.
The 10-11 a.m. weigh-in hour proved to be the most exciting of the day. Two fish over 7.3 pounds were brought in during that hour, plus, both $2500 exact-weight bass were hit as well.
Here's a look at the overall top 5 after day one of the Sealy Outdoors Fall Shoot Out
James Seek, Goodrich, TX - 7.67
Jeff Manous, Hemphill, TX - 7.35
Joe Daw, Montgomery, TX - 7.32
Zane Parker, Kingwood, TX - 7.10
Stephen Brandes, Montgomery, TX - 6.36
2023 Fall Shoot Out Day One
Fishing for day two of the tournament will get underway at 6 a.m. on Sunday morning, with the first weigh-in hour taking place at 7 a.m. Two more exact-weight $ 2,500 checks will be up for grabs, plus another $30,000 is ready to be paid out.
Download the KICKS 105 App to keep up to date with the standings. 
2023 Big Bass Splash on Toledo Bend
Ray Albritton of West Monroe won the Big Bass Splash with a 10.04 fish. Here's a look at his fish and many other 'hogs' that were caught during the three day tournament
Gallery Credit: sean ericson