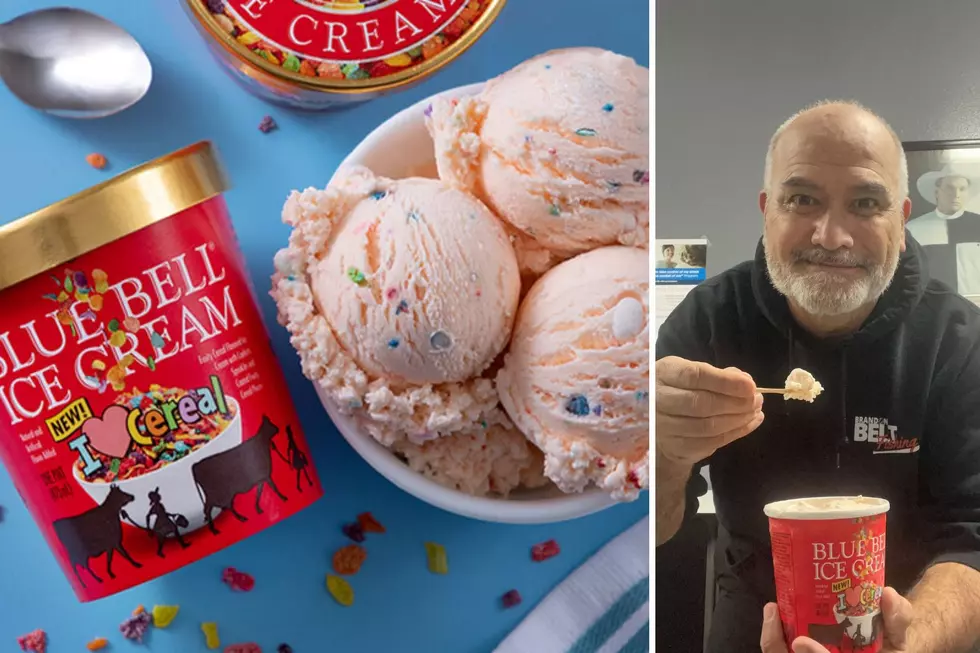 Feb 4 is Ice Cream for Breakfast Day & Blue Bell Has a New Flavor
Contributed Photo/Blue Bell
Quick, Name Five Foods You Might Have for Breakfast
Eggs
Bacon
Oatmeal
Cereal
Ice Cream
Whoa! Did I say ice cream?
Granted, ice cream may not be a breakfast staple, but you'd be hard-pressed to find someone to argue the point that anytime is a good time for ice cream.
Yes, There is a National Ice Cream for Breakfast Day
And, it just so happens that National Ice Cream for Breakfast Day is Saturday, February 4. So, if you're a kid, you can tell your parents that eating ice cream for your morning meal is the right thing to do. If you're a grown-up, no need to feel any guilt because Hey! It's a holiday...sort of.
Blue Bell Celebrates the Day
If there is a holiday involving ice cream, you can be that our friends from the little creamery in Brenham are going to be doing something special.
Blue Bell is releasing a new flavor today, I ❤ Cereal Ice Cream.
What is  I ❤ Cereal Ice Cream?
I ❤ Cereal is a delicious ice cream with the flavor of fruity cereal, combined with confetti sprinkles and coated fruity cereal pieces.
"What better way to start your day than with an ice cream inspired by cereal," said Carl Breed, Blue Bell general sales manager. "It is a great combination of two popular foods. Our new I ❤ Cereal is a mixture of vanilla ice cream to represent the milk, and fruity cereal pieces just like you would enjoy in your bowl for breakfast."
I ❤ Cereal is available in the pint size only while supplies last. If the flavor is not available at your store, be sure to ask your local grocer.
Also new and now in stores is Tin Roof. The flavor is a vanilla-flavored ice cream with a rich chocolate sundae sauce and roasted peanuts dipped in a dark chocolate-flavored coating. Tin Roof is sold in the half-gallon size, but only for a limited time.
"Our lineup is packed with new creations and fan favorites," Breed said. "We have even more delicious surprises to unveil this year. We are excited to bring these great products to a store near you."
For more information about Blue Bell and for a complete list of products now available in stores visit www.bluebell.com.
Roost Chicken Salad and Cafe
The Roost Chicken Salad and Cafe Opens on January 18 in Lufkin. Here's a look inside the diner and some photos of their delicious food.
Would You Eat It It? Check Out The Craziest Foods at the 2022 State Fair of Texas
If it exists, someone at the State Fair of Texas will fry it. But there's more to Big Tex's menu than fried randomness. Check these out.