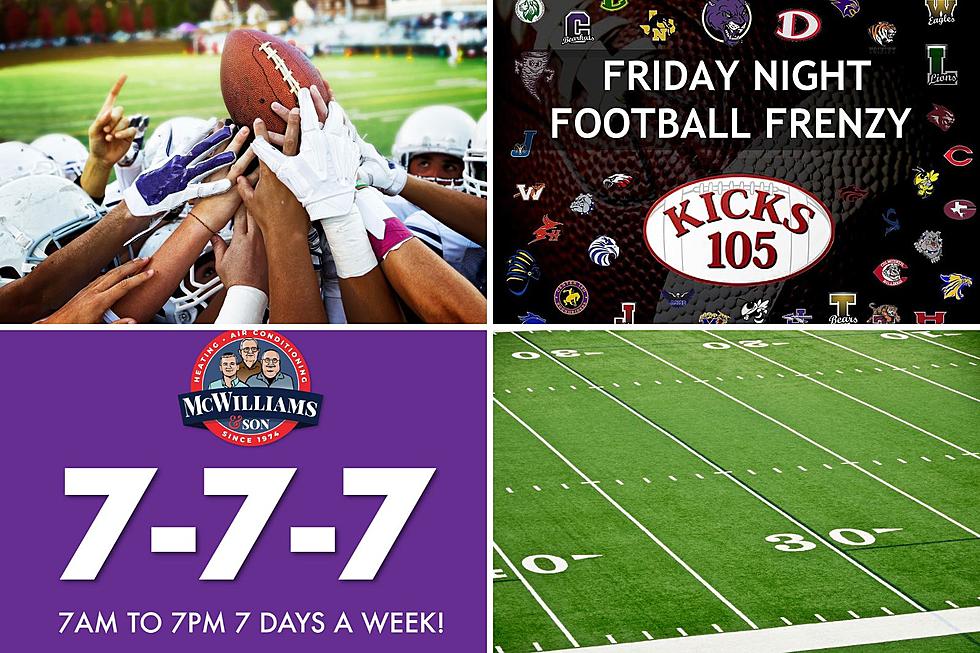 Make Your Playoff Picks for the 7-7-7 Moody Gardens Giveaway
Canva
High school football playoffs are here. We are down to our last two weekends of our Friday Night Frenzy 7-7-7 Pick 'Em Contest sponsored by McWilliam's Heating, Cooling, and Plumbing. These are the guys that offer the 7-7-7 guarantee. That means they'll do repairs at your home 7 days a week from 7 a.m. until 7 p.m. with no overtime charges.
Someone in East Texas will soon be winning free tickets to the many attractions along with a free hotel stay and rounds of golf at the Moody Gardens course.
That someone could be you if you are one of the contestants who have picked all 7 games correctly in our 7-7-7 Pick 'Em Contest.
7-7-7 Pick 'Em Contest
Every week, we will feature 7 high school football games from the Pineywoods. It's your job to try and pick the 7 teams you think will win. Anyone who picks all 7 games correctly will get an entry into a drawing that we will have following our last Friday Night Frenzy in mid-November.
Play every week because you'll get an entry every time you pick all 7 games correctly. One of our players got close last week and picked six out of seven correctly.
The drawing will be for a Moody Gardens Getaway to Galveston Island. This prize package includes a family four-pack to many of the Moody Garden attractions, a round of golf for two at the Moody Gardens Golf Course, and a one-night stay at the luxurious Moody Gardens Hotel.
 This Week's Games
Gilmer vs Center
Shelbyville vs Groveton
Diboll vs Buna
Jasper vs Columbia
Timpson vs Corrigan-Camden
Orangefield vs Woodville
Deweyville vs Mt. Enterprise
***ENTRIES THIS WEEK MUST BE RECEIVED BY 6 P.M. THURSDAY, NOV 9.
How To Enter
There are two ways. You can shoot us an e-mail at danny@kicks105.com or you can use the chat feature on our KICKS 105 App. Just include the 7 teams you believe will win. Be sure to also include your name and your hometown. All entries must be received by 7 p.m. on Friday. Only one entry per person and you must be at least 18 years of age to enter.
Here are Some of The Largest Bass Caught in Deep East Texas in 2023
Numerous big bass have been caught in Pineywoods-area lakes in 2023. Here's a look at some of those catches according to the Toyota ShareLunker program
Gallery Credit: Danny Merrell