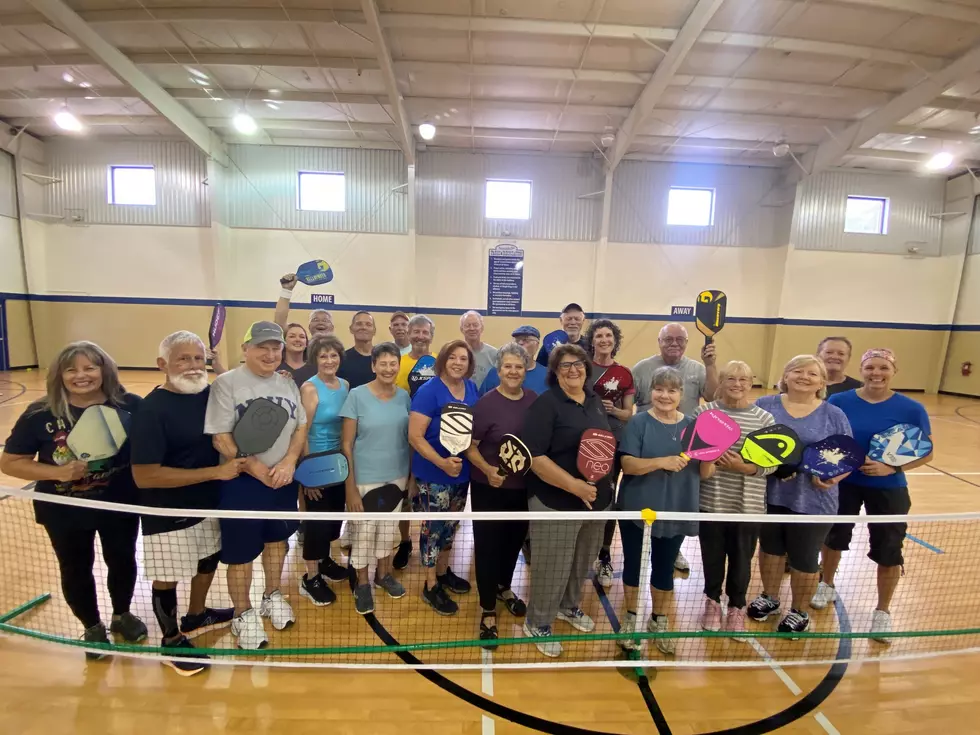 Texas Blueberry Festival Adds Pickleball To Events In Nacogdoches, Texas
Texas Blueberry Festival via Facebook
Pickleball is the self-proclaimed, fastest-growing sport in America. It was invented back in 1965, but has really been picking up speed.
If you were to put tennis, ping pong, and badminton in a blender, this is what would come out at the end. It's played on a badminton-sized court with a little lower net than tennis. You hit a durable, whiffle-style, plastic ball around with an enlarged ping pong-style paddle.
Possibly the reason that the sport is growing so quickly is that it's a little easier on the body than tennis. The rules are also simple, and within a few minutes of picking up a paddle you can be playing.
Nacogdoches Pickleball Group "Old Town Pickleball"
There is a pickleball group that plays at the C.L. Simon Recreation Center Monday - Friday from 8am - 12 noon. It just costs $2 a day to play and be active.
They are called Old Town Pickleball and their group seems to be the catalyst in getting this new event added to the Texas Blueberry Festival this year. If you are looking for something more active than a 42 tournament this could be the sport you have been looking for.
You could start practicing now and be good enough to keep up with what is going on during the 32nd Annual Texas Blueberry Festival. You will get to know the sport and pick up a paddle.
Get To Know Pickleball During The Texas Blueberry Festival
This is the first year for this event, and it seems to be more like an exposition. See what the sport is all about from 10 am to 4 pm Saturday, June 11th, 2022 at the C.L. Simon Recreation Center at 1112 North Street in Nacogdoches, Texas.
Get Up To Speed With Dating In Lufkin and Nacogdoches, Texas
People are speed dating right here in Deep East Texas with Loveocity Speed Dating.
New Café Opens In Diboll, Texas
M & J's Cafe is the new coffee spot in Diboll. Soon they will be serving more than just drinks and pastries.
Vintage Collectables Among Items At Huge Living Estate Sale In Nacogdoches, Texas
There are so many collectibles and vintage board games among all these amazing things.