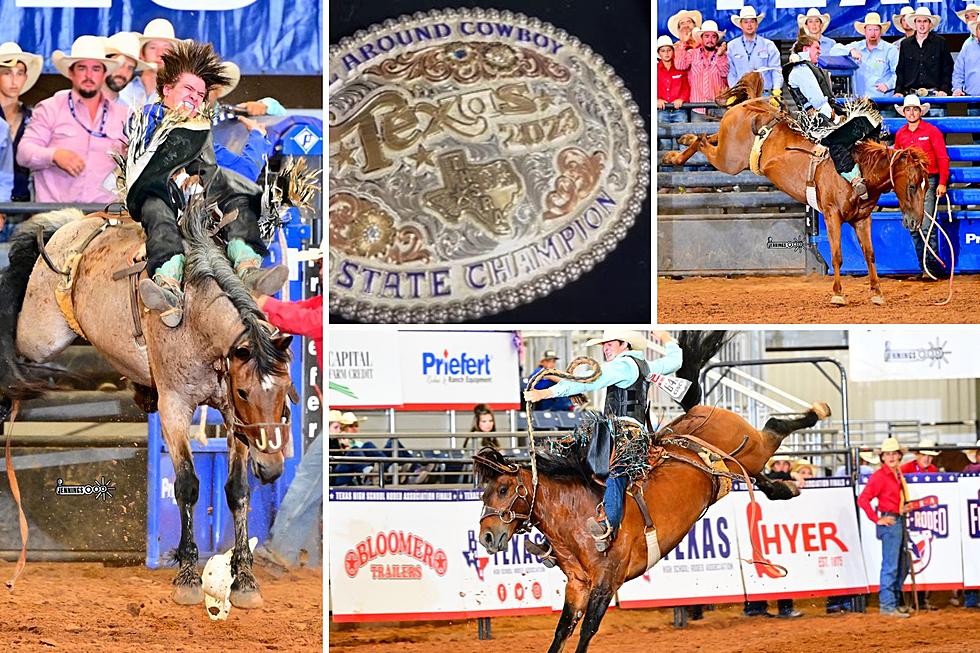 Cowboys from Lufkin, Alto, Jasper Qualify for National HS Rodeo
Jennings Rodeo Photography
The school year may have come and gone, but for the past week or so, some area student-athletes have been continuing their quest to earn state titles. Even then, their journey doesn't necessarily end there, as the chance to compete on the national stage looms ahead.
I'm talking about the Texas High School Rodeo State Championship. From June 1 through June 10, high school hopefuls from across the Lone Star State have been competing in Abilene for the chance to win a state title buckle and/or qualify for the shot to move on to the National High School Rodeo Championships in July in Gillette, Wyoming.
A number of East Texas-area cowboys and cowgirls qualified to make the state competition in Abilene. Many of those athletes compete in the Region V High School Division. Some from East Texas also compete in the Region IX Division.
Kash Martin of Lufkin and Landon Cook of Alto earned State Championship buckles at the finals in Abilene. They also punched their ticket to the nationals as a result. Also heading to the National competition in Gillette are Sam Shofner and Cole Pugh, both of Jasper.
Here's a Look at the Results
Bareback Riding
State Champion - Kash Martin, Lufkin - 232 points
Steer Wrestling
4. Sam Shofner - Jasper  14.3 aggregate (qualifies for Nationals)
Saddle Bronc
State Champion - Landon Cook, Alto - 230.5 points
Team Roping
4. Cole Pugh, Jasper, Sam Shofner, Jasper - 24.07 aggregate (qualifies for Nationals)
All-Around Cowboy Standings
4. Landon Cook - Alto
8. Kash Martin - Lufin
10. Sam Shofner - Jasper
Kash Martin and Landon Cook were also recipients of the 
@wcrarodeo
Division Youth Texas Trifecta $20,000 cash bonus.
To win the bonus, the athletes must have won the following in their respective discipline;
-First in their region
-Wins at least one go-round of competition at the THSRA State Finals
-Wins THSRA State Championship
The cash prize will be equally divided between the five qualified winners
2023 UIL State Track & Field Medalists from Deep East Texas
Here's a look at the East Texas athletes who took home medals from the State Track & Field Meet in Austin