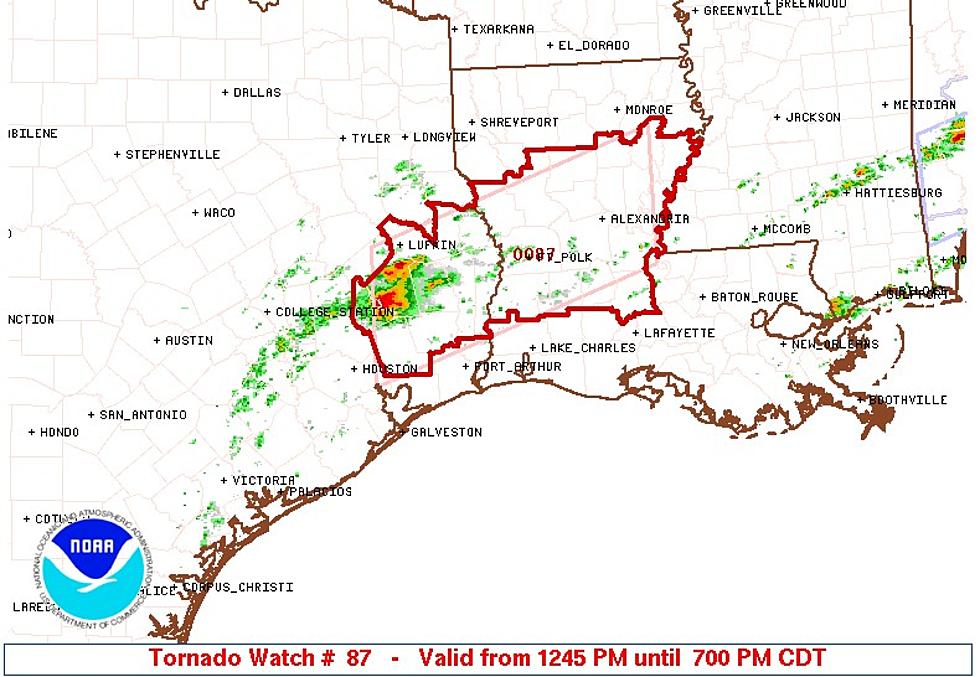 Another Dangerous Weather Outlook, Lufkin Under Tornado Watch
NWS
Fresh off the heels of a catastrophic tornado outbreak Friday night, the Storm Prediction Center has issued a Tornado Watch effective until 7 pm for much of central Louisiana and portions of Deep East and southeastern Texas.
The following counties are included in the watch area
Angelina
Polk
Tyler
Jasper
San Augustine
Sabine
Jasper
Newton
Trinity, Houston, Cherokee, Nacogdoches, Rusk and Shelby Counties are NOT INCLUDED in this current watch, but residents there should remain alert to changing weather conditions.
What To Expect for Those in the Tornado Watch Area
Forecasters are warning persons that tornadoes could form quickly. Unfortunately, some of these tornadoes could be intense (EF2 or stronger) and long-track. It is estimated that the tornado that hit north-central Mississippi was an EF4 tornado.
Extremely large hail is also a possibility in the tornado watch area.  Some hailstones could be larger than golf balls. Straight-line winds of 70 mph or more could also occur in parts of east Texas and central Louisiana.
As of 1 p.m., a couple of strong thunderstorm cells have popped up near Livingston and Corrigan.  One of these storms now has a severe thunderstorm warning attached to it. This warning is for southeastern Nacogdoches, southeastern Angelina, and central San Augustine Counties.
Keep in mind that conditions are favorable for the development of tornadoes, and this storm could form a tornado.
Download our station app to have weather alerts sent to your smartphone. 
These are the 10 Deadliest Tornadoes to Have Struck Texas Since 1900
Tornadoes are nothing new to us in East Texas or throughout the state of Texas. Being on the bottom end of Tornado Alley means we've seen some powerful tornadoes strike in our state.