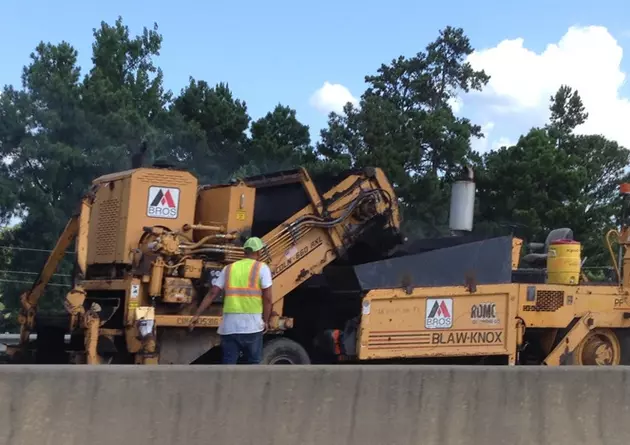 TxDOT Urges Caution Today, This Week Through These Congested Areas
File Photo
UPDATED FOR TUESDAY (1/31) TxDOT is continuing a mill and inlay operation on Loop 287 through today and into tomorrow. The entrance ramp from Chestnut Street onto the loop southbound will be closed today and also the inside southbound lane from US 69 South to FM 58 on Looop 287.  
In addition, a sign crew is working to replace signs on overhead sign bridges on the loop in the same area. Motorists will experience heavy traffic control and single lane traffic in northbound lanes between US 69 and FM 58. Motorists are urged to stay alert and obey all traffic control devices, flaggers and respect safety cones and barrels through this area. Prepare for delays or take alternate routes.
It's another busy week for work crews with the Texas Department of Transportation (TxDOT) in East Texas, however, two areas have been singled out for caution and patience today (1/30).
TxDOT is performing mill and inlay in the southbound lanes of traffic on State Loop 287 near US 69 South in Lufkin. Motorists entering the loop from US 69 or other entry points are required to yield to loop traffic. Congestion is heavy in this area and will be throughout the day.
Please be alert to moving equipment and oncoming traffic. Obey all traffic control devices and follow orange cones. Please do not drive through barrels or cones to gain access to the loop. It is not safe and this is not the proper way to merge into traffic in a work zone. Be patient and merge safely.
In Nacogdoches, motorists will experience delays today and continuing through most of the week on US 59 South at State Loop 224 in Nacogdoches as work is planned to cement treat the soil for the future right turn lane for eastbound traffic onto the loop.
Webber, contractor for the $14 million construction project, will begin the treatment today through Tuesday. Traffic will be confined to one northbound lane during work hours near the intersection. On Thursday, work is scheduled to move traffic in a final configuration, except for the right turn lane exiting onto SL 224 East. The intersection at Spradley Street is also scheduled to open. As striping is applied, traffic will be slowed through the area.
Motorists are urged to be alert to work through the project area this week as work begins to complete in some areas. Obey all traffic control devices and watch for workers near the lanes of traffic. Remember, traffic fines double when workers are present.
All work schedules are subject to change in inclement weather. For daily closures and updates, visit drivertexas.org and follow TxDOTLufkin at Twitter for updates or alerts