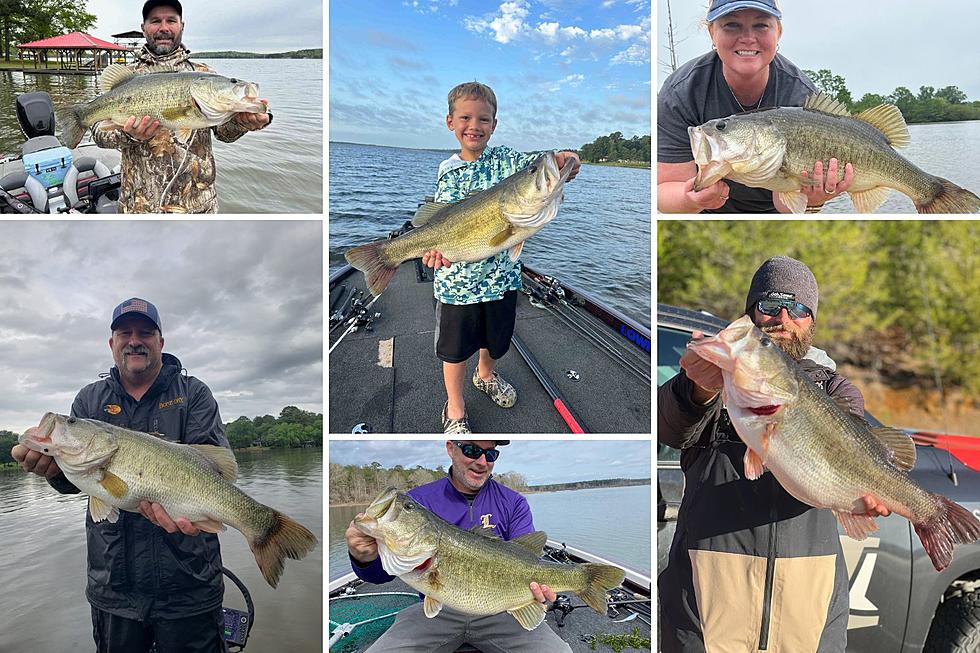 LOOK: Some of the Biggest Bass Caught in 2023 on East Texas Lakes
Texas Parks and Wildlife via Sharelunker
When it comes to bass fishing, numerous Texas lakes are mentioned by experts as the best places to fish. O.H. Ivie near San Angelo is known for consistently producing 13+ pounders, while East Texas lakes such as Lake Fork, Toledo Bend, and Sam Rayburn are often touted as great experiences for catching large bass.
Every year, the Texas Parks and Wildlife Department in conjunction with Toyota features their ShareLunker program. Anglers are given the opportunity to be recognized for catching bass that weigh in at 8 pounds or over.
ShareLunker Categories
Lunker Class - Catch a lunker that is at least 8 lbs. or 24 inches to become part of the ShareLunker program and be recognized in the Lunker Class.
Lunker Elite Class - Anglers catching a double-digit bass are recognized in the Lunker Elite Class.
Lunker Legend Class - Only a select few have ever crossed the 13-pound threshold. These anglers are slotted into the Lunker Legend Class.
Lunker Legacy Class - Anyone catching a 13+ pound bass and loaning it to the ShareLunker program during the spawning period (January-March), will be recognized as a member of the Lunker Legacy Class for supporting bass breeding in Texas.
The Toyota ShareLunker website gives Texas anglers the opportunity to post their lunker fish online. We have scanned the lunker list for 2023 to post some of the biggest bass caught so far this year on Pineywoods-area lakes.
Lakes such as Fork, Murvaul, Palestine, Conroe, and Jacksonville have produced some whoppers, but for this article, we are highlighting lakes such as Sam Rayburn, Toledo Bend, Nacogdoches, Naconiche, and Houston County.
We realize there have been many other monster bass landed this year on these lakes, but these are ones easily available from the Toyota ShareLunker site. If you have a picture of an 8-pounder or better bass that you've caught this year, feel free to send it to us through our KICKS 105 App. 
Here are Some of The Largest Bass Caught in Deep East Texas in 2023
Numerous big bass have been caught in Pineywoods-area lakes in 2023. Here's a look at some of those catches according to the Toyota ShareLunker program
2023 Big Bass Splash on Toledo Bend
Ray Albritton of West Monroe won the Big Bass Splash with a 10.04 fish. Here's a look at his fish and many other 'hogs' that were caught during the three day tournament
2023 Big Bass Splash Sam Rayburn
Here are some of the enormous bass and other notable moments from the 2023 Big Bass Splash on Lake Sam Rayburn
2022 Brandon Belt $100K Grand Slam Fishing Tournament
Here's a look at some of the action and huge fish brought in for this inaugural tournament which paid out over $400K to anglers and over $100K to charity.