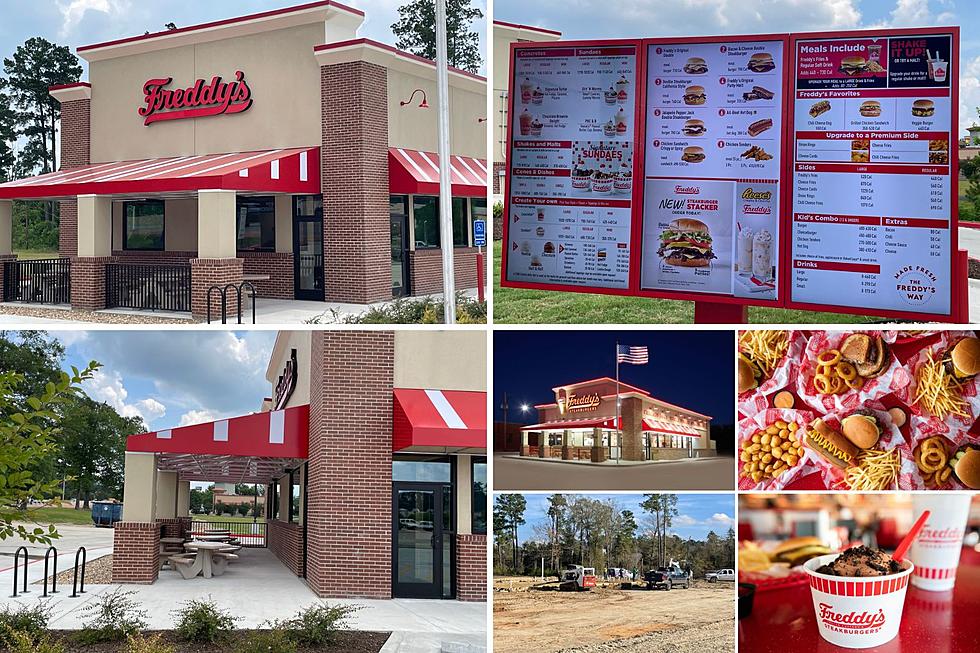 When is Freddy's Grand Opening in Lufkin? What About Nacogdoches?
Freddy's/KICKS 105
In early January, I wrote a story about the construction that was taking place next to Chili's on the Loop in Lufkin. Dirtwork was underway for a new eatery at 4103 S. Medford Drive - Freddy's Frozen Custard and Steakburgers.
Kim Huynh, Assistant Public Relations Manager with Freddy's, let me know that the restaurant was on track to open in late June or early July of 2023. So, we knew that we'd have to wait about 6 months to enjoy those delicious steakburgers, cheese curds, french fries, and frozen custard...and their new-to-the-menu Reese's® Creamy Peanut Butter Shake and Crunchy Peanut Butter Concretes.
Here's the Latest
Thankfully, it looks like everything is on track as scheduled. Kim Huynh with Freddy's said that late June is still the targeted opening date. Hopefully, by the week of June 18, we will have a specific date to report.
With the grand opening less than a month away, that means staffing is already underway. If you have an interest in working for this fast-growing chain, you can apply at this link. It looks like the Lufkin location has openings for crew members, shift leaders, and shift supervisors.
What About Nacogdoches?
The folks at Freddy's also recently broke ground across the street from Northview Plaza at 3706 North Street for another East Texas location. According to Huynh, the Nacogdoches location of Freddy's is slated for a mid-October opening. As of now, the Freddy's careers page has not listed any openings for the Nacogdoches store. Ram-Z Restaurant Group will operate both stores.
Freddy's Lufkin
Lufkin, Texas - 10 Year Challenge
The 10-year challenge is getting quite the attention on social media. Let's take a look at how certain areas around Lufkin have changed over the past ten years or so.