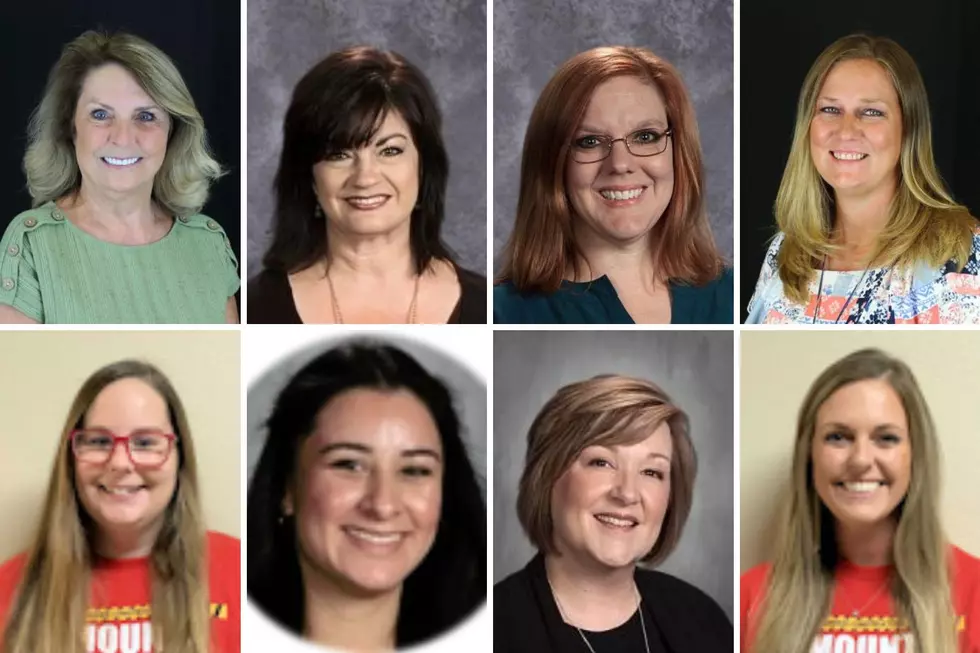 Here are some of the East Texas Teachers Nominated to Win $1,000
School Websites
Thanksgiving week is here which means that we are just a few weeks away from area schools going on Christmas break.
You know what that means, right?
KICKS 105 and Whataburger will soon be making an appearance at an East Texas classroom to surprise an educator with a $1,000 classroom grant. Over the past five years, nearly a dozen area teachers have been the recipients of the Teacher of the Day giveaway. You can see previous winners later in this story.
In order to have a chance to win, teachers are nominated through the KICKS 105 App or website. Toward the end of each school semester, a teacher is drawn to receive the $1,000 classroom grant. There is still time to nominate teachers for this semester's drawing.
Here's a look at some of the teachers that have been recently nominated along with what the nominators had to say about them.
Werner Burwood - Hemphill Middle School
Mr. Burwood goes above and beyond to attend almost every extracurricular activity. He shows the kids he just doesn't care only about their grades but also their interests. He is a great Texas History teacher and brings history alive to students.
Sunny Whittington - Hemphill Middle School
Mrs. Whittington could have retired a few years ago, but she didn't cause she loves her job. She works with students to help them become better students. She is also our middle school cheer sponsor. She stays late to work with us and goes to all of our games.
Tammy Hand - McMichael Middle School in Nacogdoches
Tammy teaches at one of the largest junior high schools in Texas. Every day is a challenge with the many students at this school. Imagine a PE class with nearly 200 students in it, with some days working from early dawn until after 10 PM, on game days. Imagine keeping the peace with this many kids. Imagine driving the bus on game days, coaching the games, feeding the kids then getting them home safely after the games. This is a job few want but Tammy does it day in & day out for the kids.
Lana Procella - Hemphill Middle School
Always puts forth the most for her students. Supports her students in Sports, Ag, and any activity they are involved with. Spends lots of after-school time with kids. She goes the extra mile to make her science, STEAM and GT classes interesting and exciting for the kids.
Amie Holeman - Garrison High School
Amie goes above and beyond, not just for her students, but all students at GHS.
Rachel Clifton - Woden Elementary
She has a passion for teaching and she loves her kids. She is so outgoing towards her students bringing a huge smile to their faces with all the crafts and activities she comes up with for them. Always has others on her mind first just to touch their life and expand their learning experience. Mrs. Clifton has a passion for teaching. Her students are her top priority. She puts in 110% to ensure her students have the best education possible.
Doyle Alfred - Nacogdoches High School
Mr. Alfred teaches math at Nacogdoches high school. He unselfishly gives his extra time to help the students and makes sure everyone understands. He makes lasting friendships with the kids and several have told him that he has inspired them to become teachers. In his free time, he umpires little league baseball and is a football referee in the fall.
DeAnna Standley - Woodville Wheat Elementary
Mrs. Standley is an awesome teacher!! She devotes her time and dedication to her kindergarten class and considers them all as one of her own. She is one of the most loving and passionate teachers and truly loves her job and it shows in all of her actions. She always has a positive attitude and loves being at school. She makes learning fun and connects with all of her kids so that they love being at school and learning. She is always supportive of her kids and other kids at school and outside of school, even showing up to cheer her kids and others on at their games, including ones she has taught in the past or has come through the grade level she has taught, remembering all their names!
Mrs. Standley is also supportive and helpful to staff and is always helping in any way she can. She is truly a blessing to Wheat Elementary!!
We were able to find school website photos for the following nominees:
Fall 2022 Teachers
KICKS 105/Whataburger Teacher of the Day $1,000 Winners
Every semester KICKS 105 teams up with Whataburger to award an area teacher a $1,000 classroom grant. Here's a look at the winning teachers so far.